ROD HUTCHINSON | Infusion Range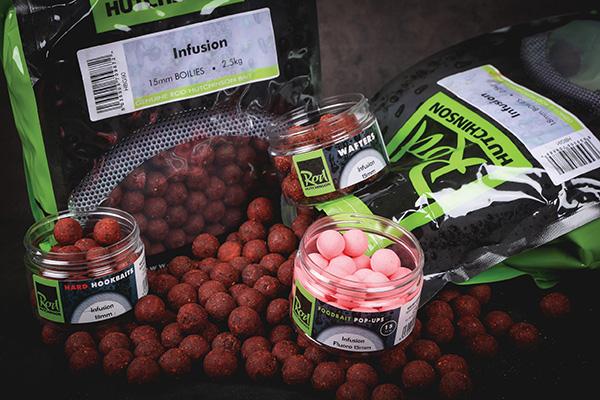 When we asked the team at Rod Hutchinson what was in the new bait, it was described to us as nutritionally balanced, but of course we didn't stop there, and neither did the honesty and clarity with which they then discussed and educated us on all 22 key ingredients, yes that's right, 22 ingredients, which have been blended and tweaked in various amounts over a strenuous period of development – we are talking years in the making – to now proudly bring to the market the Infusion, a bait worthy of the brand's name.
The base of the Infusion is a clever blend of fishmeal', that make up 33 per cent of the overall bait contents. These are made up of squid meal, krill meal and sardine and anchovy meal. Not only do these key bulk ingredients provide valuable protein they also have rich levels of amino acids, which carp simply adore.
Although we are often led to believe carp are protein monsters and the higher the content and the more oil the better, this is not entirely the case. The next step of the ingredient list provides the carbohydrates, fats and various vitamins and trace elements not found in the fishmeals. So the next 30 per cent of the bait is made using a micro seed egg biscuit bird food; not only does this provide nutrition but also gives a wonderful texture too. In this mix you will find other proven bait ingredients such as durum wheat semolina, full fat soya and for the trace elements a good helping of kelp meal.
If this wasn't already enough to produce a bait that will be sure to catch a carp or two, you will find there are various stimulants and digestion aids such as semi-soluble and milk proteins, which are included at optimum doses, plus liver powder, sodium caseinate, belacham and yeast. All four are proven fish catchers – there isn't a big carp that swims that isn't partial to a bit of liver powder or yeast for sure!
Finally we have the solubles, which are pure minamino and another classic liquid attracter, shellfish sense appeal, and a little sweetener that help to finish of a well-rounded bait that is somewhat porous, ensuring once the bait is submerged the attractants begin to expel their distinctive pulling power.
Within the range you will find everything you need to put more carp on the bank, including:
Freezer baits in 15mm and 18mm – 5kg £48.98; 10kg £94.98
Shelf-life baits in 15mm and 18mm – 2.5kg £26.50; 5kg £48.98; 10kg £94.98
Food bait pop-ups £7.20
Fluoro pop-ups £7.20
Hard hook baits £7.20
Wafters £7.20
Hookbait Dip £8.99
Naturalz £7.20
WEBSITE: www.rodhutchinson.co.uk