NUTRABAITS | Cream Cajouser Range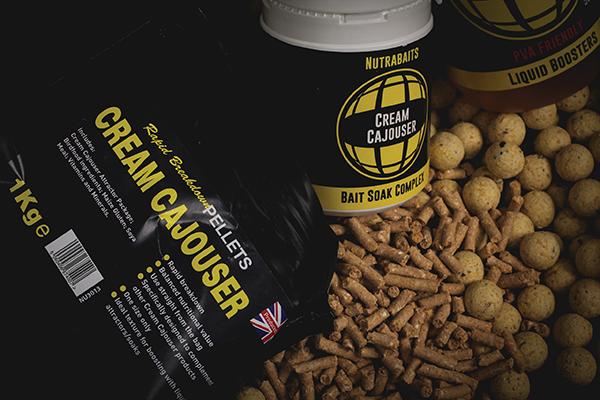 Nutrabaits has an extensive shelf-life boilie range that has been around for many decades, all of which have proven track records both home and abroad, yet the Cream Cajouser is often a firm favourite for many.
Upon opening a bag of said boilies your nasal passages are instantly flooded with a deliciously unique and creamy blend of attractors. Among these are betaine and minamino, two exceptional carp attractants, which are then mixed and packed into a quality birdfood base mix.
The bait is also very pale in colour and gives a washed-out appearance straight out of the bag, which may prove useful on pressured waters, especially on boilie-dominated venues. The baits are also soft enough to break between thumb and forefinger but firm enough to resist unwanted attention from species other than carp.
Cream Cajouser boilies are available in two different sizes – 15mm and 20mm – and are provided in a choice of 400g, 1kg or 5kg bags. Being shelf-life, these boilies are stable under warm temperatures without turning and can be used all year round, thanks to the highly digestible and soluble ingredients.
To complement the boilies are a number of products matching the same attractor and flavour profile, in liquid, paste and pop-up form. The Cream Cajouser supplied in a 50ml bottle is a preferred addition to any base mix for those who enjoy making their own baits, while the Bait Soak Complex is perfect for soaking baits, the longer the better.
A PVA-friendly Liquid Booster can also be applied to a whole array of baits including boilies, groundbaits and particles, creating further pulling power towards the baited area. Modern hook bait presentations such as the multi rig, Ronnie rig or snowman can be achieved with the ultra-buoyant Cream Cajouser Pop Ups and are available in 12mm, 15mm or 20mm pots. Paste is still very much underused on many waters and not for any good reason either, as the matching shelf-life paste that has not been boiled contains unrivalled attraction when moulded around the hook bait.
RRP: £Various
WEBSITE: www.nutrabaits.net