All the floater gear you need from Nash!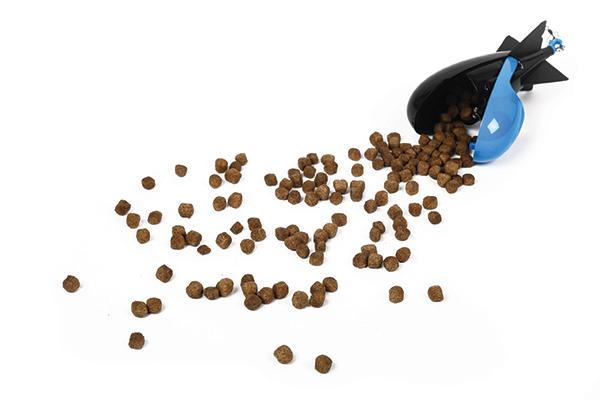 NEW Flota Rota Rod 12ft 2.5lb
RRP - £159.99
Summer isn't complete without a 'Flota Rota' session! Arguably one of the most engaging and exciting, albeit frustrating ways to catch a carp in the warmer months, Nash is proud to release the brand new 12ft Flota Rota rod.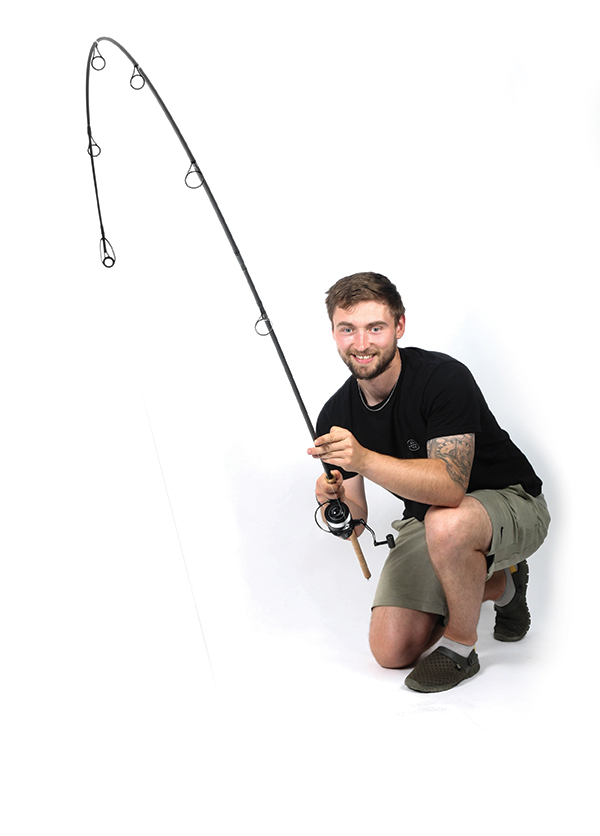 This special edition release has been designed and engineered with the committed surface angler in mind. Constructed from a responsive but still powerful 1k carbon weave blank, you can expect a crisp and lightweight feel, perfect for casting controllers with accuracy, but light enough to enjoy fishing for carp of all sizes. You will find a 12mm to 40mm ringing throughout the blank, with super-light, low-profile Sea-Guide intermediates for an uncompromised fish playing action. Finished with a keeper ring at the spigot, reel seat and butt to keep your hook and hook link secured when walking your chosen venue, the rod also benefits from a classic old school full cork flared handle with unique Flota Rota cosmetics.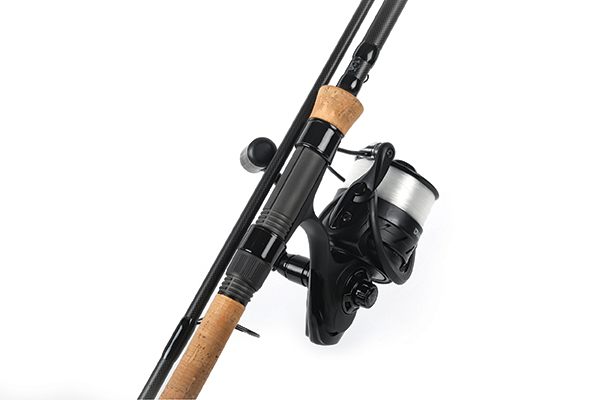 Despite being the biggest advocate of the short rod revolution, a day's surface fishing is when you will still find Alan Blair with a 12ft rod for the superior line pick-up to strike takes more effectively and mend the line effortlessly to ensure correct presentation of a controller in crosswinds and drift. If it is good enough for Alan, what are you waiting for?
NEW Spot On Dot Spod Impact & Air
RRP - £11.99 to £17.99
Following on from the success of the Dot Spod, 2023 sees the Dot Spod restyled to further its efficiency, aerodynamic stability and accuracy.
In testing the Spot On Dot Spods have been cast to 180 yards, and thanks to the design all of the weight is held at the front of the body and with no mechanism to jam or fail, you can rest assured they will open every time, even when landing on their side!
What's more the Air version opens on the impact of you hitting the clip on your reel, allowing your bait to dapple the surface in a good spread, while the Dot Spod simply flutters down on to the surface. Great for targeting fish on the surface with mixers at range and utilised to great effect by those who prefer to keep quiet whilst still getting bait out.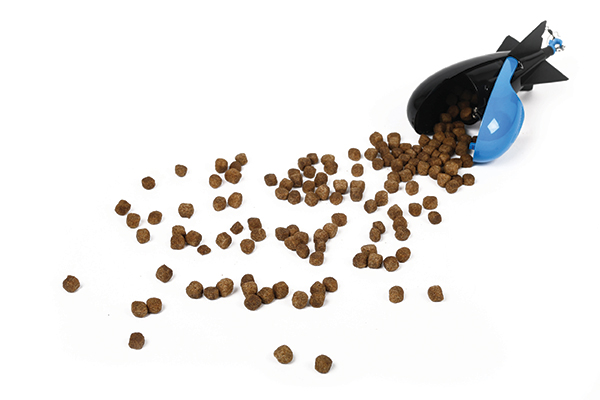 Using an innovative quick release clip at the tail located before casting, once the main line tightens to the spool clip the Dot Spod Air opens to allow bait to be scattered widely in front of it. The empty Dot Spod drops quietly on the surface short of the area you are feeding. This almost eliminates spod impact noise, perfect when baiting for wary fish, or fish feeding on the surface!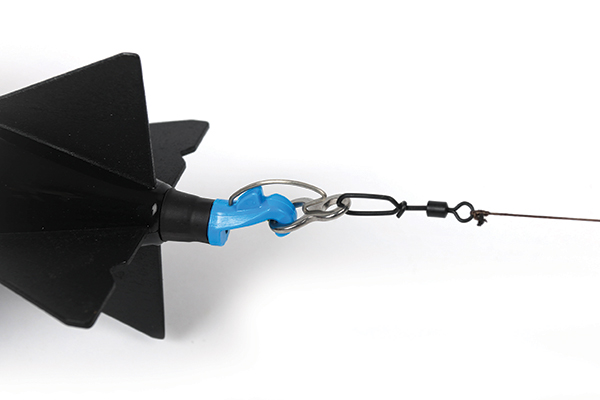 Versatile in nature, both the Impact and Air suit a range of baits, anything you want to get out to your spot! From sloppy zig mixes, to floaters, boilies, particles and more! What we loved about the original versions and what is still present now, is the easy one-handed loading, speeding up your baiting and without the need of putting your rod down! Unlike traditional spods, the Spot On Dot Spod range boasts an effortless retrieve. Once emptied the device simply skims back effortlessly along the surface, reducing time and effort spent retrieving.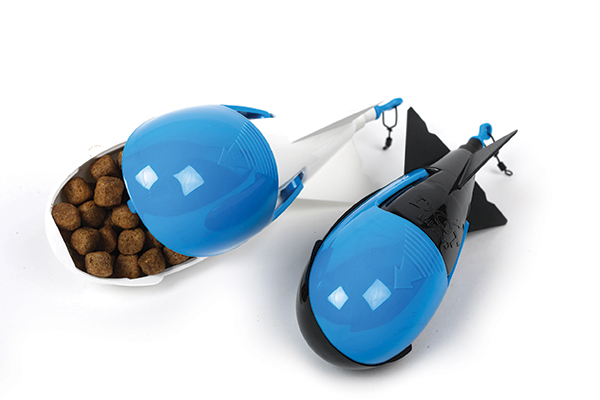 NEW Stealth Controller Float
RRP - £6.99 to £17.99
The new Stealth Controllers are ideal for anglers looking for the solution to changing their surface approach without having to re-rig every time. Complete with interchangeable screw caps for fast float changes, you can now select and change the float to suit fishing at various ranges, which is essential when fish back off the loose feed or the drift takes your mixers out of reach. These also come in orange and black for great visibility in any light conditions.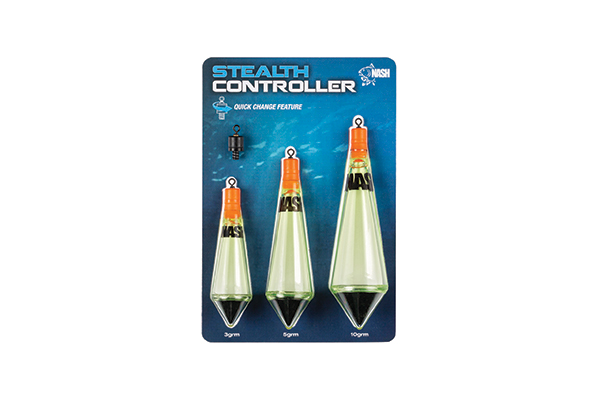 The Stealth Controllers are designed to create minimal splash and noise on hitting the water, making them perfect for getting right amongst those carp that are hoovering up your free offerings. Available in either single items or supplied as a kit with all three sizes, a 3g, 5g and the large 10g option.
NEW Floating Dog Biscuit
RRP - £2.99
There is nothing more frustrating than trying to present a dog biscuit to match your free offerings, either snapping bait bands or getting glue over your fingers – well how about these little beauties?
These durable and lifelike 13mm plastic floating hook baits can be hair rigged, directly hooked or mounted with Zig Screws to your chosen surface rig. A single Plastic Dog Biscuits will match perfectly with a size 10 and 12 Flota Claw hook, or you can also double up for larger thicker hooks when fishing in more demanding situations. With six in a pack, they will certainly last you a while, if you don't get stuck in the tree that is!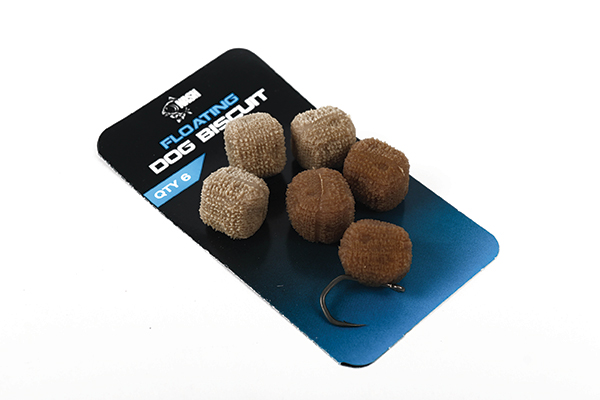 With two colours you can easily match your free offerings, and rest assured these will stay on permanently without losing that all important buoyancy. Nash Plastic Dog Biscuits have also been designed to absorb liquids too, so now you can fish your favourite liquid additives right on the surface and boost your bait with ease.
Bolt Machine
RRP - £6.99 to £8.99
Available in a wide array of sizes to suit longer distances, the classic extreme distance Bolt Machine design is back. Often regarded as many as the most effective long range self-hooking surface controllers of all time, the superior aerodynamics and design offer great stability with a soft rubber semi-fixed insert and white low glare finish for effective surface concealment.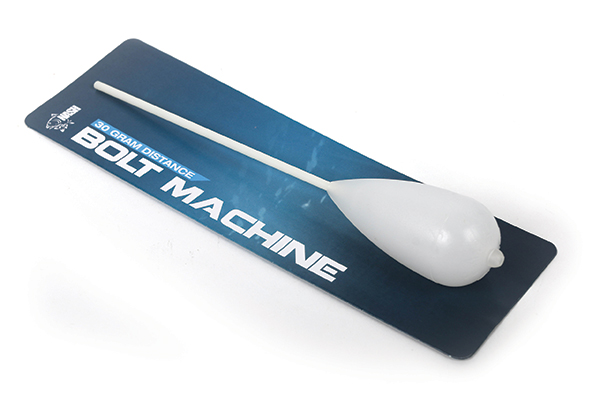 Available in 30g, 55g or the absolute distance weapon of 125g, the Bolt Machines not only cast far, but help set the hook for when fishing at range and striking and setting the hook is nearly impossible.
Slicker Floaters
RRP - £7.49
Carp love floaters, but what's more the Nash Slicker floaters boast even more attraction than traditional dig biscuits thanks to the infusion of Pure Crustacean. Slicker Floaters are a brilliant edge to have in your floater, standing out from the crowd, particularly important when fishing heavily pressured venues, where the carp often get targeted on the top. At 11mm in size, they are a good size to catapult in at close range or fill up a spod for further distances, perfect for use with the brand-new Nash Floating Dog Biscuits too! Supplied in good session sized bags of 1.4kg.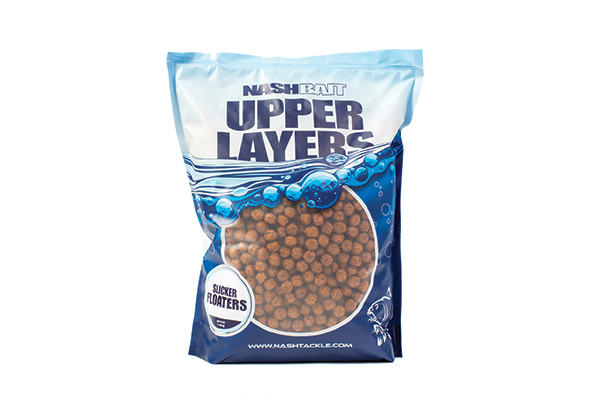 Riser Pellets
RRP - £7.99
Riser Pellets do exactly what it says on the packet, are an ingenious creation that really get the carp troughing on the surface! Designed to imitate a fly hatch, there is a variety of buoyancies within these pellets with some floating, while others sink and rise throughout the upper water column. Riser Pellets are a formidable way to get spooky or reluctant fish feeding and taking bait on the surface.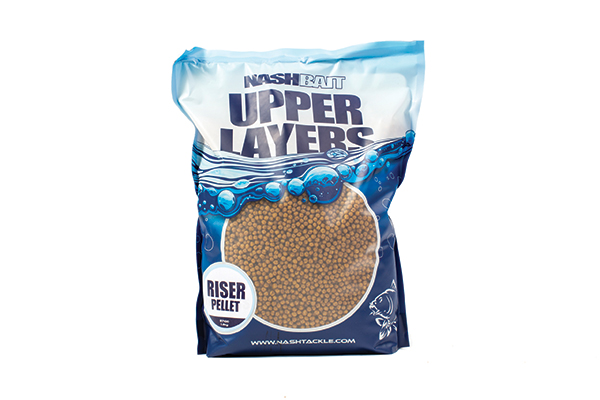 Oily in nature, Riser Pellets utilise a combination of oil based Pure Crustacean and the addition of an amino rich food dip helps to draw carp in whilst releasing plenty of attraction. Supplied in 1.6kg bags, Riser Pellets are perfect for spodding out with the Spot On Dot Spod Air, or equally fed loose with a catapult or even in a PVA mesh bag!
PINPOINT CLAW HOOK
RRP - £5.19
The Nash Pinpoint hooks utilise the latest technology in carbon steel alloys, Carbide 617, resulting in hooks up to 50 per cent stronger yet actually lighter than previous patterns – perfect for floater fishing! As you would expect from the pinpoint range, the Flota Claw has a super-sharp beaked point, and a claw-like design with a short shank and wide gape. The angled bend of the hook is designed to hold in position much more securely, avoiding hook-pulls.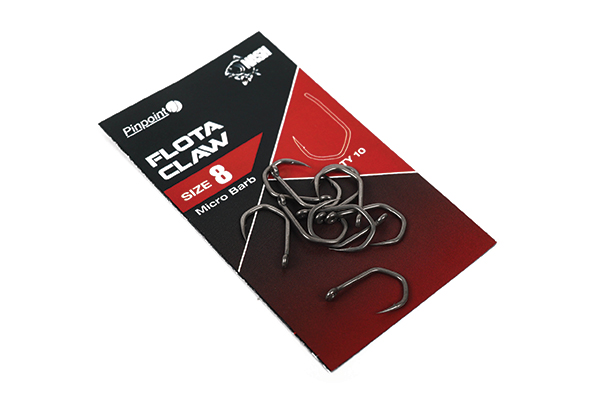 ZIG FLO
From £6.99
Whether it's used as a main line or hook link, the Zig Flo has a high level of natural buoyancy, perfect for fishing on the surface. Ultra-clear, low visibility and with excellent knot strength to diameter, you can be sure to rely on even the finer diameter lines when you need to stop a carp in its tracks, though a higher diameter 15lb version is also now available for big carp in demanding environments.
Supplied on 100m and 300m spools, in 8lb (0.23mm), 10lb (0.28mm), 12lb (0.30mm) and 15lb (0.35mm).
Nash Floater gear
www.nashtackle.co.uk