WYCHWOOD | Water's Edge Boots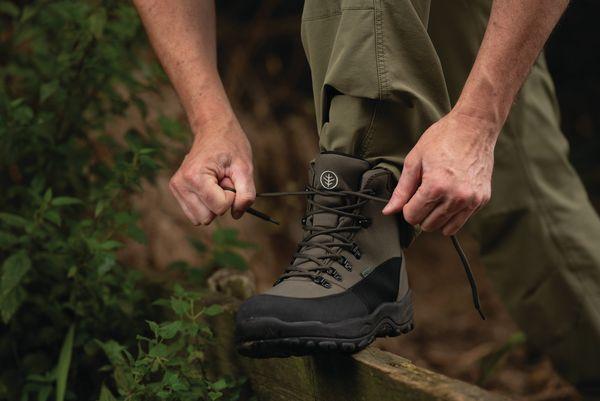 Back in 2015 Wychwood unveiled a pair of boots for its Water's Edge range, which quickly became a firm favourite for many an angler who fishes throughout the year. With muddy banks and cold nights it is vital that feet are kept warm and dry for an enjoyable experience on the bank, rather than roughing it and being uncomfortable.
Now Wychwood has decided to release its second generation boot, with some slight alterations set to make it even more successful than the first. It has taken the winning formula and crafted another boot similar to the last but with updated aesthetics. Removal of their yellow text was an inspired decision and now these subdued coloured boots are spot on trend for the modern angler. In fact, this understated look can be seen throughout the Wychwood range.
Water's Edge Boots are available in UK sizes ranging from 7 to 12, of course depending on the thickness of socks you may see yourself wearing you can adjust the size accordingly. Their name is rather apt as these boots provide great comfort and plenty of protection, through rugged outer materials and a water resistant membrane, while the use of a custom lacing also helps to effectively support the ankle.
While the wearing of boots can be associated with the colder months of the year the Water's Edge Boots can actually serve to be a universal piece of footwear all year round. Even in the summertime we can sometimes experience significantly wet periods and the high quality tread featured on the bottom of each boot will provide plenty of grip.
For the price tag of £49.99 you really cannot go wrong with a pair of boots that are as a durable as these!
RRP: £49.99
WEBSITE: www.wychwoodcarp.co.uk