AQUA | Reversibe DPM Jacket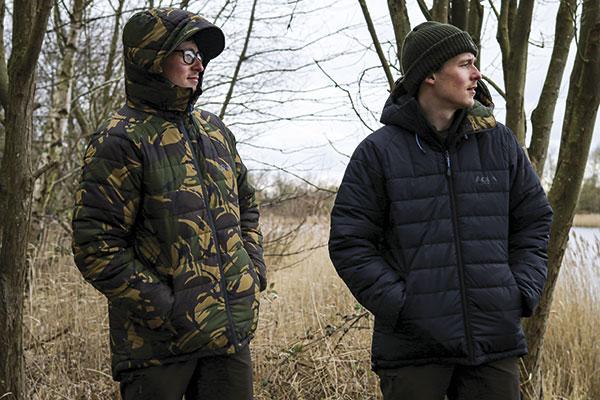 It is easy to get fooled by the early signs of spring and welcome sunshine but we still have some fairly chilly mornings and evenings ahead of us, which is why the brand new Reversible DPM Jacket from Aqua is an item we are sure will get its time in the spotlight!
As the name suggests this is a jacket with two finishes in one garment, with a very trendy and cult DPM coloration on one side there is also a much more discreet and stylish black finish on the other. A 3M Thinsulate insulation ribbed construction ensures the jacket will help to keep cold winds at bay while keeping all of that valuable insulation in the right places for maximum protection season after season.
What's more, the protection doesn't stop there – with 3000mm W/P and 3000 MVP breathable materials used ensures the user maintains a comfortable temperature even when walking the banks and pushing barrows. A water-resistant Teflon EcoElite Finish also means that when caught in brief showers you will remain both dry and warm, no more running for the cover of your shelter in the fear that your trusty down garment will get wet and its thermal properties suffer as the insulation absorbs the rain.
The material is also ripstop, which should keep your mind at ease when brushing through vegetation or clambering banks when in search of carp, ensuring your jacket is both durable and hardwearing.
A full-length water-resistant zip runs through the middle of the garment and a longer length extended back hem helps to keep draughts at bay even when sitting down.
The Reversible DPM Jacket is available in a range of sizes from Small to XXXL. Small is suited for anglers with a chest size ranging from 38 to 40 inches, waist size of 30 to 32inches; Large has been designed for anglers with a chest size of 44 to 46 inches and waist of 34 to 36 inches, while the larger size XXXL is for chest sizes ranging from 53 to 55 inches, and waist sizes of 42 to 44 inches. A full breakdown of sizes and a size guide can be found on Aqua's website.
RRP: £149.99
WEBSITE: www.aquaproducts.co.uk