STICKY BAITS | The Krill Range (Video)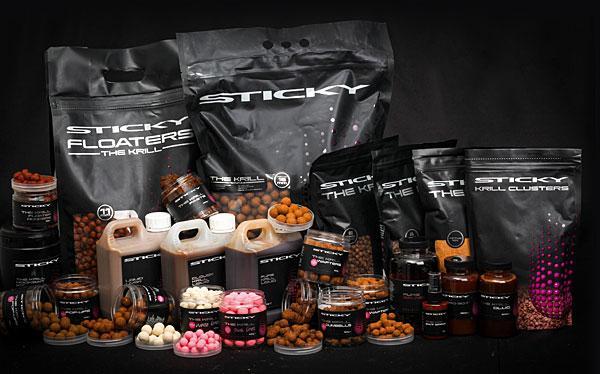 A run through the range of one of the most popular baits around.
There is no doubt that in recent years Sticky Baits has been industry leading with its range of baits, and albeit not a wide range, each is an extremely high quality food source.
Released in 2010 The Krill is the most popular for sure and for good reason too with its track record of tempting the biggest carp in many lakes both home and abroad. Being a fishmeal based bait, the use of krill significantly adds to the nutrition found within each bait and is an ingredient that is clearly recognised as one of the greatest additions within aquaculture.
As well as krill there are 25 different ingredients used to formulate the freezer and shelf-life baits including a number of birdfoods and milk proteins. The Krill is available in 12mm, 16mm and 20mm sizes, in 1kg or 5kg bags, and the only difference between the freezer and shelf-life is the inclusion of natural preservative in the latter. This means the shelf-life can be stored in the car or in the garage when freezer space may be tight, and this applies to the other items in The Krill range.
Several hook bait options are available too, which vary in size and colour but still utilise the unique attractor and flavour profile to match the food bait. There are three different options of pop-up to choose from, with two fluoro variants and a match the hatch pop-up, where all three can be purchased in 12mm or 16mm sizes in 100g tubs.
Fluoro baits have proven to be a winner at all times of year, especially in the colder months, and the two classic colours of pink and white are the perfect accompaniment over a bed of bait or as a single hook bait. The Krill Dumbell Wafters offer an alternative hook bait option for tricky fish, especially on venues where pop-ups are proving to be unsuccessful.
A hard hook bait in the form of the Tuff Ones are rolled in 16mm or 20mm sizes providing anglers the confidence they need when leaving baits out for extended periods of time while also proving to avoid the presence of nuisance fish and birdlife.
The Krill Dumbells are very much the same as the wafters but have been created to serve as a bottom bait, with an added layer of soluble coating further aiding attraction.
Sticky Baits has also added a Hookbait Kit in the range, offering anglers the chance to make their own hook baits, whether that be hardened hook baits or corkball pop-ups and in their preferred size and shape. The Krill Floater Hookers are a soft hook bait that leak the Krill attractors and also complement the Krill Floaters nicely, whereby these hook baits can be banded, hair rigged or hooked. The floaters are available in 3kg bags in 3mm, 6mm as well as 11mm sizes and when introduced into an area emit an irresistible oil slick, and on days where there is a slight chop on the water this makes a massive difference when floater fishing.
To further enhance the attraction around the hook bait are a number of products that have been designed to effectively pull fish into the area of the lake where you are fishing. Matching pellets create long-term attraction as they slowly break down on the lake's bottom, available in 2.3mm, 4mm and 6mm in 900g and 2.5kg bags.
The Krill Pellets are perfect for a multitude of uses including margin fishing, PVA bag fishing or for inclusion into spod mixes, to name only a few. A very different product to the norm is the Krill Clusters; these are similar to a damp pellet and are claimed to be 100 per cent pure krill, creating an unrivalled method of attraction and are sold in 500g pouches to maintain freshness.
The Krill Powder is one of two powdered baits in the range where this krill meal has been designed to be used in base mixes, groundbaits, PVA bags and spod mixes. Being slightly buoyant this powder provides attraction through multiple layers of water therefore pulling fish down to feed. The Krill Active mix contains a number of soluble ingredients, which releases attractors that are placed into the boilies, but without being boiled are far more attractive, a perfect choice to use in bags along with the number of liquids available.
There are four liquids in The Krill range with each serving several uses to further enhance attraction. Bait sprays are now becoming increasingly popular as they pack a serious punch without affecting the buoyancy of pop-up and wafter hook baits and The Krill Bait Spray is no different. Only a couple of sprays are all that is needed prior to casting out, as well as preparing at home before the session to give them a significant boost.
The Krill Glug does exactly what it says on the tin; there are no synthetic chemicals found inside this natural thick, sticky liquid, which absorbs into baits over a period of time. It is best to soak bottom baits in the glug and there are no time limits, the longer the better and the more attractive baits will be.
Possibly the most attractive liquid that can be used for almost any application is the Pure Krill Liquid. This thick wate- soluble fluid will not fail to attract carp into a swim – it's not possible! Add it to boilies, groundbaits, Method mixes, PVA bags or spod mixes at any time of year. This liquid delight is supplied in 1ltr jerry cans.
The last liquid is the Cloudy Krill Liquid, also great for several applications but particularly wonderful when spodding. This cloudy liquid creates a hazy cloud throughout the water column, which will eventually settle on the lake bed and works great inside a solid PVA bag too. If everything else fails, try wrapping your hook bait inside a ball of paste – The Krill Paste breaks down slowly over a period of time, where time and time again a fish is likely to pick the hook bait up before any other food item in the swim.
RRP: £VARIOUS
WEBSITE: WWW.STICKYBAITS.COM
To find out more about the Sticky Krill range, watch the video below.