RIDGEMONKEY | Thermomug DLX Brew Set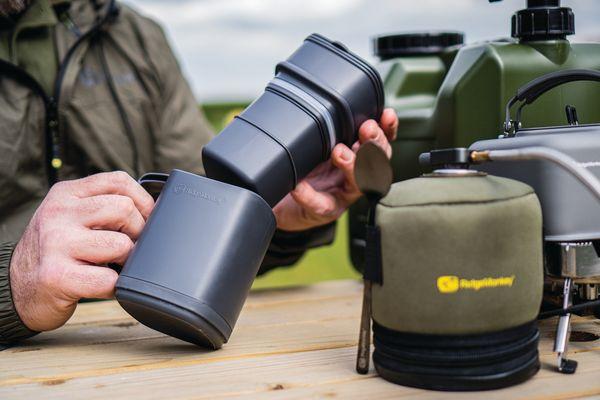 The Thermo Mug is fast become an instantly recognisable favourite for many an angler, keeping your beverages hotter or indeed cooler for longer while bankside. Well, not one to rest on their laurels the team at RidgeMonkey has improved an already great design by incorporating a deluxe brew set system, that fits into a cup… genius!
Perfect for the angler who likes to pack lightweight, the DLX brew set will save you space without compromising on your tea or coffee supplies. The set consist of no less than four vessels, the first being the thermo mug of course, still boasting a double-walled insulation and constructed from robust polypropylene. With a generous capacity of 400ml, it is a fitting vessel for copious amounts of tea or that all important caffeine hit first thing in the morning. The top container then offers a 300ml capacity, the middle container 140ml and lastly the bottom container 150ml.
What we love is not only will you be able to house dry items such as sugar, coffee, tea, but being watertight, the top container can be used to take a supply of milk too! Perfect for short stay sessions without having to cart around a bottle of milk, now that's an edge!
Whatever beverage you enjoy, whether it be hot chocolate, Horlicks, Bovril, you name it, you can now take it, without having to carry too many half opened jars boxes or zip lock bags that never get sealed back up and turn into a congealed mess throughout your session.
Available in Gunmetal Grey and Green, the lids benefit from being watertight, ensuring no spillages occur when doing your lap of the lake, jumping in the car or for when you kick your cup as you jump up to hit your rod. A simple but ingenious item we feel is going to become a firm favourite among many an angler.
RRP: £19.99
WEBSITE: www.ridgemonkey.co.uk