RIDGEMONKEY | New Cooking Gear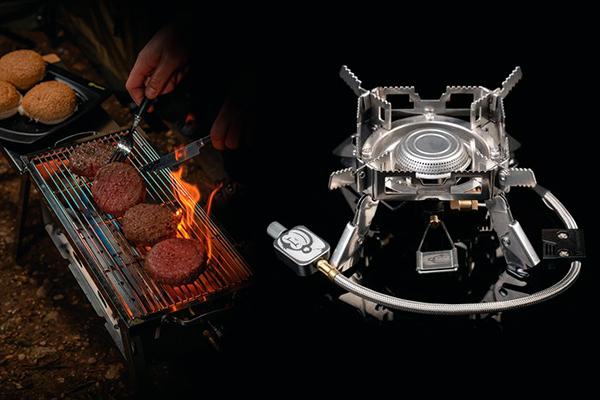 Grilla BBQ
RRP: £149.99
Should you be looking for the ultimate portable BBQ this year then maybe, just maybe you are seeing it right here. What an absolute tank of a cooking apparatus this piece of hardware is when fully set up, but what is most intriguing is the way it packs down to an incredibly small size for transport.
You name it, the Grilla BBQ can cook it and its generous grill area of 40 x 20cm means plenty of food can be cooked at any one time on this magnificent stainless steel barbeque. This means whether it's food for one or you're feeding yourself, friends and family the Grilla can make it happen. With an unfolded footprint size of 65 x 22cm, you would be forgiven for thinking that the Grilla BBQ from RidgeMonkey would be solely for long fishing sessions and socials, but you'd be wrong. Weighing in at 4.5kg (total weight) and with a transport size of 47 x 22 x just 3cm wide, it's actually a very portable piece of kit!
The Grilla BBQ can be used with traditional solid fuels for that smoky barbecue flavour, or conventional Propane gas (EN417 screw bottle) for a cleaner cooking experience. To set up the Grilla BBQ all that all is required is to unfold the legs and main body, connect a typical Propane gas supply and light using the built-in piezo ignition. Heat is easily controlled via the adjustable knob connecting the gas to the barbeque. A full length burner ensures food is cooked evenly and to perfectio,n whether that be juicy burgers, succulent steaks or grilled chicken, as well as plenty of vegetables too! Alternatively, if you want that true grill experience then make sure to use solid fuels such as charcoal, which can be simply loaded into the main body of the Grilla.
Let's not forget the additional features and extras you receive with the barbeque too. As well as the grill there is also an additional folding stainless steel side table. This will serve many functions including the preparation of food, resting cooked meat or even providing a place to serve food to your hungry guests. To help cook food to perfection are the provided deluxe utensils, of course like everything else on the Grilla these too are stainless steel, which makes the whole barbecue easy to clean once finished with. The whole kit can then be stored away in the carry case until the next outing.
Key Features:
• Adjustable heat knob
• Carry case
• Deluxe utensil set
• Folding side table
• Full length burner
• Piezo ignition
• Option to use solid fuels
• Stainless steel construction
Grilla BBQ Hotplate
RRP: £19.99
Should you wish to further enhance the experience of cooking on the Grilla BBQ then for just a little extra cash you could obtain the matching compatible Hotplate. Constructed from a hard-wearing iron, this non-stick surfaced hotplate requires no oil whatsoever to get the desired result ,therefore making cleaning down a joy.
The benefit of the Grilla BBQ Hotplate is that heat is evenly distributed along the entire surface, making for the perfect meal. With this product there is also the option to cook food types that would otherwise not be suitable to cook on the grill bars as they would simply fall through.
RidgeMonkey has cleverly implemented a griddle on one half too, therefore providing utmost versatility, and when finished with simply lift the Hotplate off the BBQ using the carry handles on each side.
Quad Pro/Quad Pro Mini
Single RRP: £54.99/£59.99
Full Kit RRP: £89.99/£99.99
The initial release of the Quad Stove range from RidgeMonkey was hugely successful, and now it has built on that success with the new PRO stoves! The new Quad Pro stoves now feature a new gas condenser pipe; fuel is now burnt far more efficiently, especially in the colder months. Additionally, the piezo ignition is now much more accessible, attached to the gas hose.
You can use the Quad Pro stove on virtually any ground type thanks to its height-adjustable folding legs. Another critical features on these stoves is the folding pan base supports, something which have been recognised as revolutionary for cooking on the bank. No longer will you need to suffer the devastation as a carefully cooked and well prepared meal heads for the ground as an unstable pan makes its bid for freedom.
Alongside the larger Quad Connect stove Pro, RidgeMonkey has also released a much more compact, mini design. Being incredibly compact and weighing just 400g there are no drawbacks whatsoever to using this stove compared to any other in the range; the Quad Pro Mini is simply 5.5cm smaller and 150g lighter. This makes the stove perfect for the short session angler or simply those looking to keep their kit a little more compact. Being so small, it will tuck away easily inside your rucksack or small carryall with ease.
As with the original Quad Connect stoves, you still have the option of using two stoves simultaneously via the Quad Connect Stove Pro Mini Full Kit. The system enables one gas can to power two stoves, where each stove can be independently controlled. This is possible by utilising a quick-release connector connecting the primary head to the secondary with no fuss. Of course the full kit will cost a little more but should you foresee yourself needing a second stove while fishing it would be a worthwhile investment.
Whatever stove you choose each will come supplied with a carry bag, gas bottle stand and toaster handle support.
Key Features:
• Gas condenser pipe
• Carry bag
• Height-adjustable folding legs
• Independently controlled stoves with full kit
• Quick release connector with full kit
• Remote piezo ignition
• Super-stable composition
• Stainless steel
• Unique folding pan base supports
WEBSITE: www.ridgemonkey.co.uk