Quick Questions With... Jeremy Wade (Video)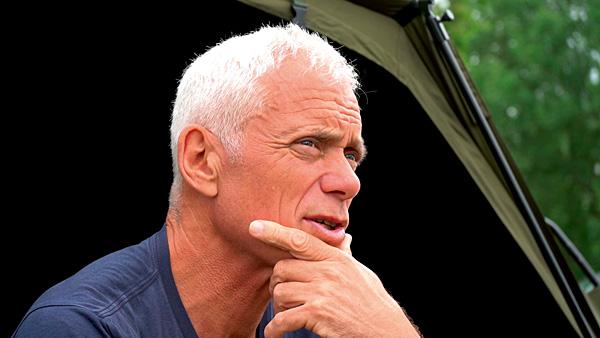 This time we turn the mike on the man behind River Monsters, Jeremy Wade.
Three words to describe yourself?
Thoughtful, organised and chaotic – you might ask how those two go together but they do!
Who have been your biggest influences in carp fishing?
I started fishing a long time ago, so Richard Walker was always a massive influence. When I used to fish on my local river, there was a local cobbler who was deaf and he used to catch fish out of the river that were beyond the imagination of people in the area. Then when I really got into carp fishing it would be anglers like Jack Hilton and Fred Taylor.
Scariest moment on the bank?
Filing an episode of River Monsters in Suriname five or six years ago. There had been a thunderstorm that morning but the weather had cleared up and we had gone out on a fishing expedition that day. We were on this rock in the middle of the river and there was this almighty crash, and naturally I immediately dived to the ground for cover. It turned out our sound recorder had been hit by lightning! He said that he just saw a bright light and the next thing he knew he was on his back – thankfully he survived.
How long have you been fishing?
Since I was about seven, so well over 50 years.
Other sporting interests?
When I was kid I played rugby because I was forced to, but I quite enjoyed basketball. I also do a bit of running and scuba-diving.
Worst fishing-related injury?
A headbutt from an 80lb arapaima. I was with some Amazonian fishermen who were closing a net around it. The fish leaped out and hit me right in the sternum and I could still feel the pain after six weeks! It was a close call as it could have been a very different story if it had hit me elsewhere.
Your favourite moment in your angling career?
One would have to be getting my hands on a large goliath grouper. To catch that big one was the end of a 25-year quest for me! The first time I went to that part of the world was in 1985!
Three things you'd never go fishing without?
For me a hook file is very important, being able to sharpen up a hook. Scissors are also very important. I used to use my teeth and never listened to my parents, and now both front teeth are half plastic! Good polarising glasses to be able to see the fish.
Any fishing regrets?
Plenty! Normally when you lose a fish it's almost like an act of God, but the real regret comes when you know it's down to human error.
When I'm fishing I always like to have a game plan should I hook a big fish. One of the early times I was fishing in India with cameras I was under a bit of pressure to get lines in the water. I hooked a big goonch catfish and I hadn't properly planned how I was going to land it. The fish went around a big rock cliff to my left and cut the 90lb mono clean off. In hindsight I should have repositioned myself after hooking the fish so that couldn't happen. You just have to learn from those mistakes.
What are your favourite bits about fishing?
Fishing gives an infinite number of opportunities for hope and adventure – we are curious and it's an opportunity for exploration.
There's also something really special about night fishing – being out there, awake at a time in the 24-hour cycle when almost everyone else is asleep. A lot of people have no experience of being out in the night and it really is like being in another world.
Your least favourite bits?
Non-anglers telling me how relaxing fishing is! My fishing is far from relaxing, often more draining or even painful. Then again life would not be so meaningful without death – success doesn't mean so much without the work, disappointment and suffering!
Who do you most admire?
Despite being on TV I don't watch a lot of television; however, I did admire Anthony Bourdain. He was a TV chef and a very good writer. There was something about his way with words and I took that into my own work.
Tell us a secret…
I have a secret bait ingredient that I still think to this day carp anglers haven't really taken notice of…
Tea or coffee?
Preferably herbal (hippy) tea.
Favourite biscuit?
Flapjacks, though I do also love real chocolate.
Favourite takeaway?
I love Indian food, but I'm often disappointed by most Indian food in the UK. However, near where I live there is a guy who does very good Thali dishes. The best food is often simple food, well done!
Funniest moment on the bank?
I was fishing in Australia trying to catch a bull shark from the Brisbane river. We had just left and the cameraman put the camera back in the van and slammed the sliding door over my hand! It actually broke my finger and as I pulled my hand out of the door it ripped my skin. I was suddenly aware there was blood everywhere, and the first thing I thought was that we needed to film it as we were filming about bull sharks!
He said we needed to go to hospital and we ended up having a very surreal argument for the next five minutes about whether or not to film it! Once I was bandaged up we phoned up the office in England to report the accident and as always they asked two simple questions – is everyone okay and did you film it! The cameraman has never lived it down to this day!
One fish you would have loved to catch?
There are still a few new species that I would love to catch; however, I never tell anybody what those are as I may well make a programme about it. The thing with filming is it's simply a case of catching one fish that is 'big enough' for the film, but this often means we stop fishing just as the going gets good, and there are plenty of times when I've known I could catch a really big one!
Maybe there will be a time when I go back to these places without a film crew and there's a bigger one there with my name on it!
The get the whole picture on Jeremy Wade, watch the video below.