October Issue Out Now!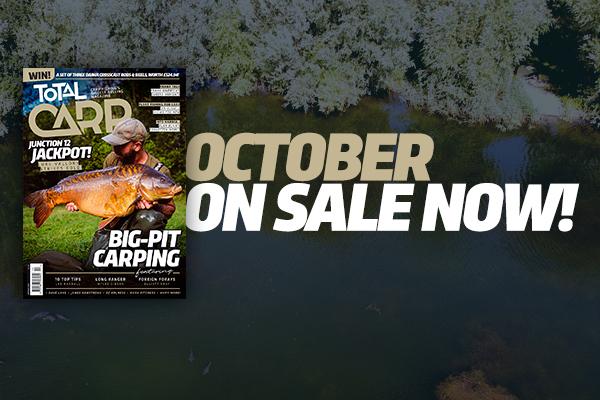 If ever there was proof that two hours in the right place is better than two days in the wrong one, Luke Vallory's session on Junction 12 was it! While the scorching sun and barbecues were a nice way to enjoy the last of the summer, it meant difficult conditions on the fishing front. Luckily a great bit of opportunist angling paid off with a truly monumental carp!
We also visit Cheshire's historic Redesmere, where Frank Warwick gives the lowdown on some of his biggest Eureka Moments. In fact, it was here that Frank developed the now commonplace tactic of single hook bait fishing, where he needed to get baits right out at range on the big silty mere, and it's also where the modern chod rig originated from.
The theme of big pits and range fishing continues with a number of features, including Lee Randall's top 10 tips, Myles Gibson long range fishing on Dinton and Elliott Gray's trip to the Continent among others. It's not all fishing to the horizon though, and we cover everything down to Ian Russell float fishing in the margins, plus loads in between!
WHAT'S HOT
STEP INTO NARNIA!
We twist Alan Blair 's arm to spill the beans on his secret mission to a lake lost in time! Teamed up with old-school fishing legend John Bailey, the pair embark on their filming road trip to the Narnia of carp lakes, home to potential uncaught 50lb carp! With just four days at their disposal, there are ups, downs and an incredible capture to sign things off in style… turn to page 74 and step through the wardrobe.
BIG PIT TOP TIPS
One of this month's Big Pit collection, Lee Randall reveals his top 10 tips for success on these large inhospitable gravel pits over on page 33. Lee's experience on big pits has been proven this year on an ultra-hard big, low stock pit where he has his eyes on a rarely caught 60-pounder! With fish like this incredible, scaly mid-forty under his belt, we know it's simply a matter of time!
QUEST FOR A DAY TICKET FORTY
Luke Vallory continues his quest with his return to Junction 12 carp lake, an open access booking venue off Junction 12 in Reading. After a tough two night session, some opportunist fishing sees Luke pull it out of the bag once again with biggest and best of his series to date! Check out the full story on page 12.