November issue – on sale now!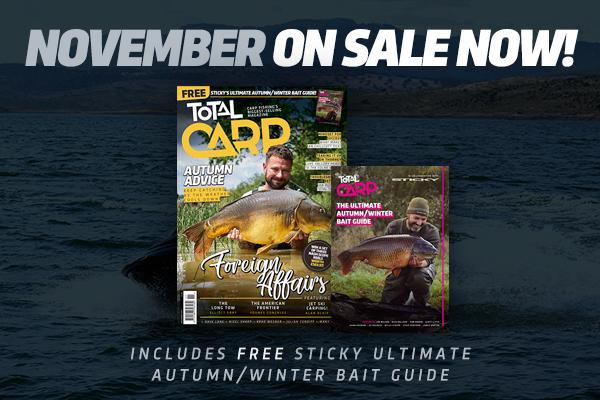 Alongside all the usual great content based here on the UK scene, this month's Total Carp has a Foreign Shores theme as people begin to journey further afield once more. Elliott Gray reveals what happens in Part Two of his trip to remember, our own Jasen Jackiw heads to France and Alan Blair makes his first BIG road trip since the pandemic began, and even dabbles in a little jet ski carping!
Already on the Continent, Younes González then takes things one step further with his tales from a trip to the States! Carp fishing isn't particularly big in the USA just yet, but they have plenty of them and the surroundings are certainly something to experience. With so little known about the carp scene over there, it's one of the last true frontiers in carp pioneering!
Back on home turf, Luke Vallory smashes it up on Thorney Weir, Ben Talbot reveals how he consistently catches big carp from tricky circuit waters and we get autumn advice from a range of anglers including Dave Lane, Brad Wegner and Charlie Ferris to name just a few. There's also a blast from the past as Troubleshooter starts up again – if you want to get out on the bank with Ian Russell, make sure to write in!
Plus, you'll also find Sticky's Ultimate Autumn/Winter Bait Guide bagged with the mag, so there's even more for you – and the carp – to get your teeth into!
Whether you're looking for tips, stories, inspiration or just drooling over the latest gear… read on and enjoy!
WHAT'S HOT…
JET SKI CARPING
As if Alan Blair's life wasn't already high-speed enough! This month Alan ditches the van and hops on a Jet ski, loaded with Scope gear, before speeding off to his Road Trip destination on Lake Orellana. Check out one of Alan's BIGGEST challenges yet!
CARPING CONSISTENCY
While not yet a household name, Ben Talbot has been steadily racking up the captures from super pressured syndicates and day-tickets alike! We get the low-down on Ben's thought process and tactics that has led to incredible carp like this one.