New releases from Wychwood! (Video)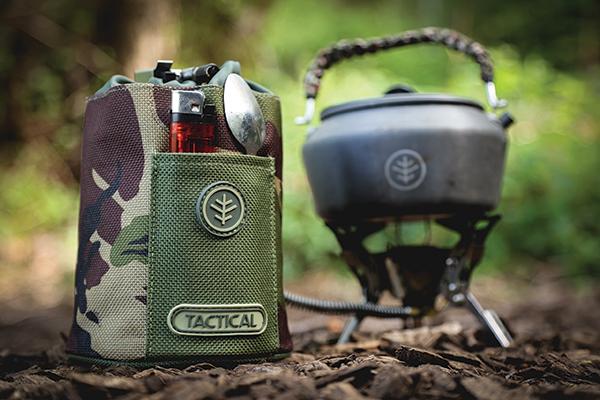 Wychwood's new releases for 2022 mainly feature a variety of luggage as part of its Tactical HD range, which is a development from the current Tactical range. The luggage itself is designed for the mobile angler and there are a multitude of different items that will suit your needs. As a collection, they all have the same great styling and utilise the same hard-wearing 1200D material, a combination of green and a very appealing camo pattern. There are also some new nets that are coming to the market, and a clever little rig tool!
Tactical HD Compact Quiver
RRP £39.99
Starting off with the Compact Quiver, this slimline quiver is designed for the mobile angler that likes to keep their kit to a minimum. Considering its size, this can take up to four rods, which is ideal if you don't want to take multiple rod bags with you. The quiver also has a few extra handy features such as a roll top main compartment, which is ideal for slings or nets, an external pocket that could be used for banksticks and a zipped pocket designed for leads. Lots of great features, all in a compact design.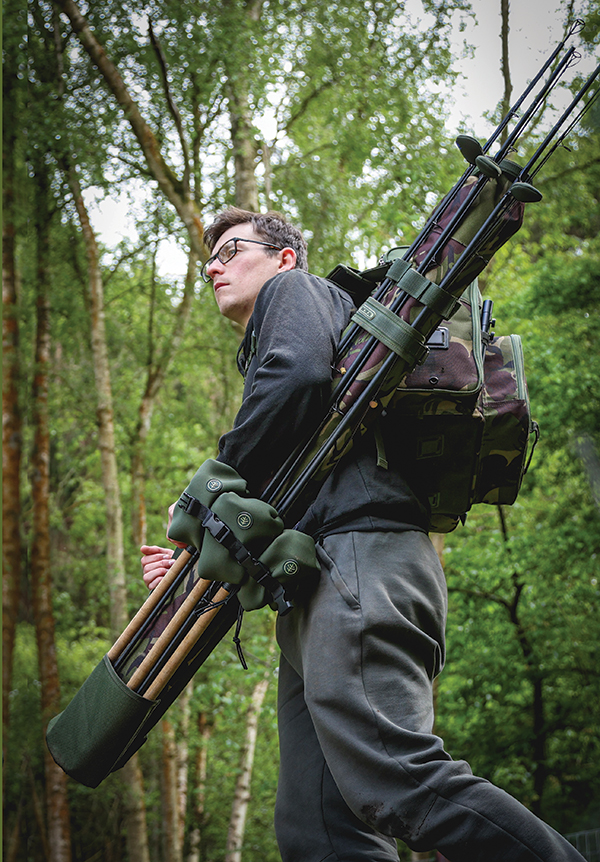 Tactical HD Compact 3 Rod Holdall 12ft
RRP £79.99
This is the largest item in the range but is designed to take three 12ft made-up rods. The holdall has an up-down design for your rods to help evenly distribute weight and to also give your reels a little extra protection, rather than them being tightly squeezed together. The rods are further protected by the padded internal dividers and the reinforced padded base. Similar to the quiver, there are also some extra external pockets that will hold banksticks or a net and also a small pocket made for storing leads.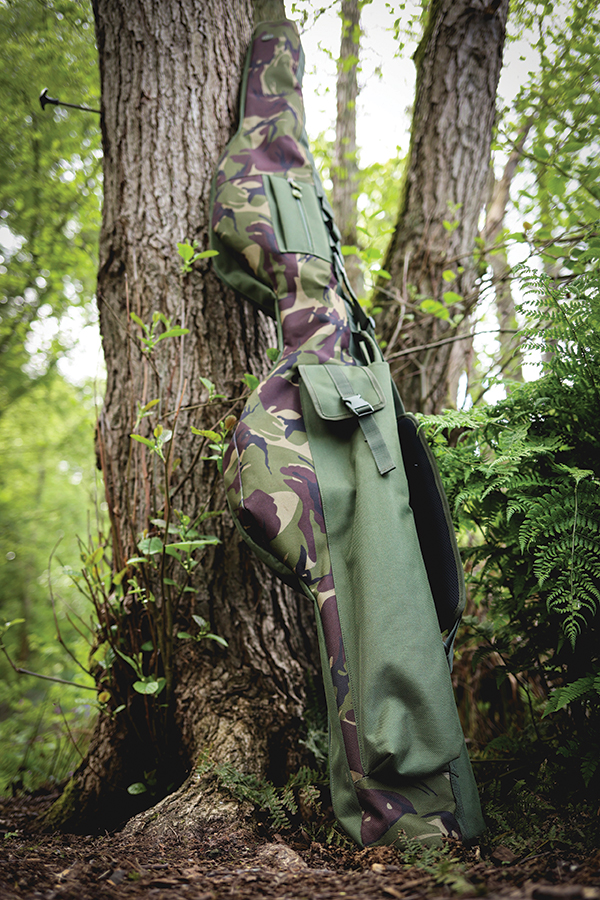 Tactical HD Compact Rucksack
RRP £64.99
The rucksack is the star of the show for us. Again, with the mobile angler in mind, it is packed full of features, such as external bankstick holders, multiple webbing loop attachment points and plenty of pockets that are a perfect combination for some of the other luggage items in the range. The bag has comfortable, adjustable shoulder straps that make travelling a breeze. There is a large zip-over lid that covers the main compartment, which makes access to your tackle nice and easy. There is one large front packet and two large pockets either side. Another nice feature is a heavy duty, wipe clean base material that'll keep all the components inside nice and dry if placed on wet ground. As previously mentioned, you can fit some of the other items in the range inside this rucksack, which, overall, keeps all your tackle organised and looking co-ordinated.
Tactical HD Essentials bags
RRP £24.99 to £29.99
These bags have a multi-purpose use and are great for when you are on the move. They come in two sizes, standard or compact. Both are ideal for storing things like phones (or tablet if using the standard size), wallet and keys. The three-in-one strap means you can wear the bag in an over the shoulder style, around the waist, or even attached to your chair or bedchair, which is a great little feature. Both bags have a main compartment and an external zipped compartment.
Tactical HD Tackle Organiser
RRP £29.99
This is a soft tackle box solution and an ideal companion for the compact rucksack, which we'll move on to in a short while. The organiser is perfect for keeping all your terminal tackle neat and organised in one place. It features a larger main compartment that has padded Velcro dividers, allowing you to divide the space to your own specification. In between that and the lid is a divider that has 18 nylon pockets, which could be used to store packets of hooks. Then you have an extra nine mesh pockets on the lid of the organiser, plenty of space to hold all the bits of terminal tackle you may need while on the bank.
Tactical HD Lead Pouch
RRP £14.99
This is no normal, plain lead pouch! It still has a compact design but with two extra features that may help you keep organised just a little bit more. There are two internal storage pouches, one clear and one mesh. Both would be ideal for storing things like leaders or tubing. So, when setting up your lead arrangement, you have what you need in the same space.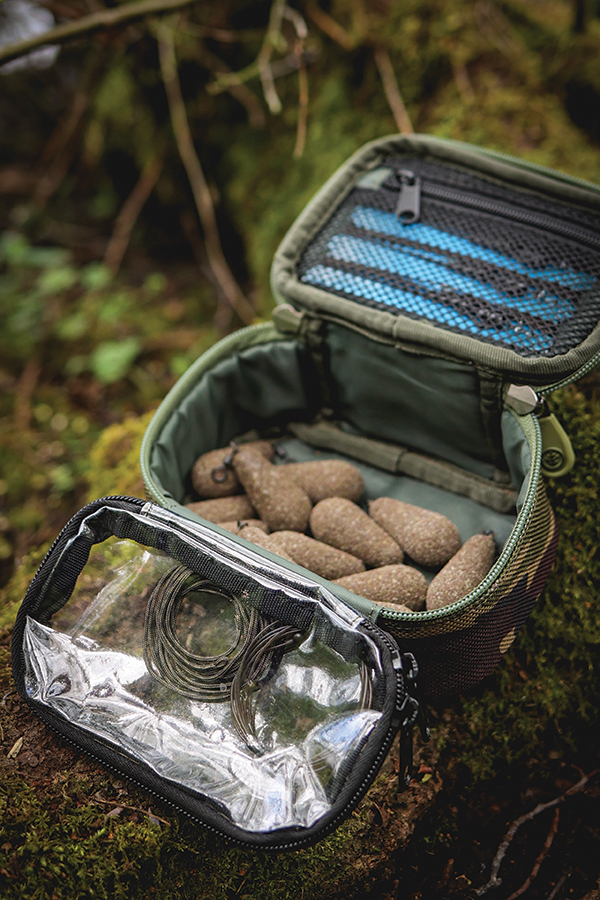 Tactical HD Bait Caddy
RRP £24.99
The bait caddy is a cleverly designed item that allows you to use it in different ways. You can simply use it as a traditional over the shoulder or around the waist pouch for when prepping some spots as you're on the hunt for the carp, or even a place to store some floaters for when surface fishing. Accompanying this are two elastic loops that could hold a catapult when not in use. The difference to this bait caddy is that it also incorporates a mesh zip out base that can be used as an air-dry compartment. A cleverly designed piece of luggage that can be used in multiple ways.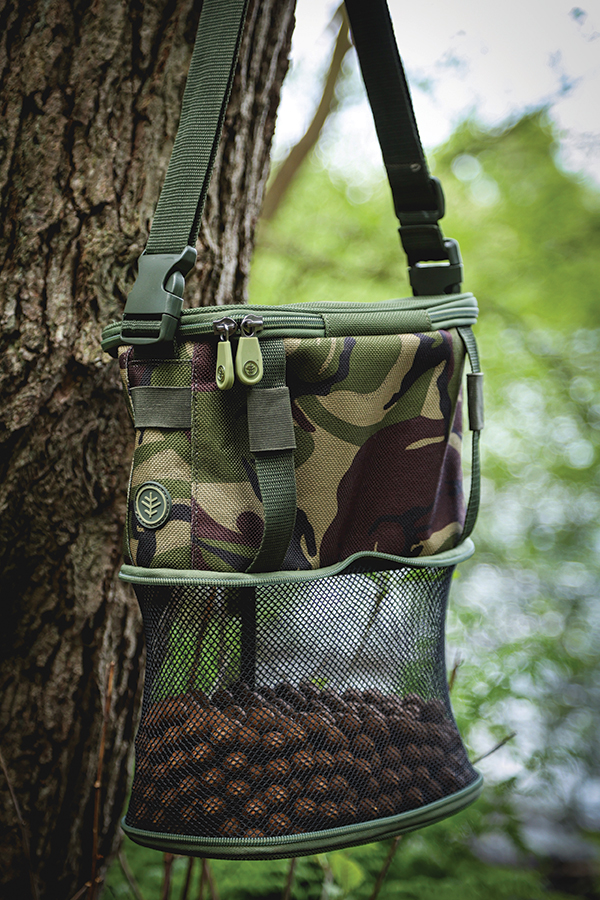 Tactical HD Tackle Pouch
RRP £29.99
Another soft tackle box, similar to the tackle organiser but on a smaller scale. This would be ideal if you needed to take limited tackle and are going to be on the move continuously. The pouch has two main compartments with a moveable divider, two side pockets and a clear pocket on the lid. You could quite easily fit your main bit of terminal tackle you need in here just to get you a quick bite or even enough for a day session.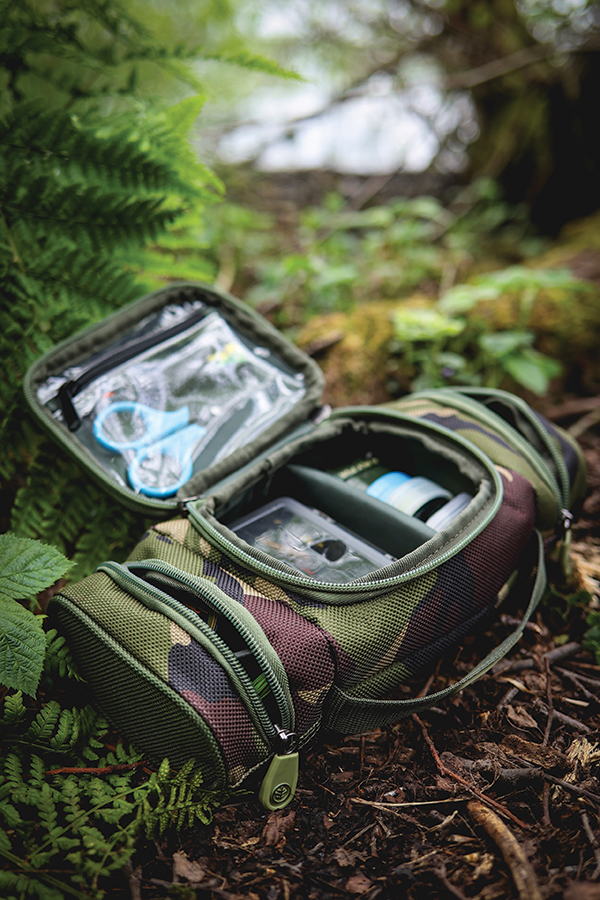 Tactical HD Gas Canister Sleeve
RRP £9.99
The gas canister sleeve is a simple cover that is designed to help during the colder months. It features an external pocket that is handy for keeping things like a lighter or a spoon, which in effect means a quicker brew while on the bank.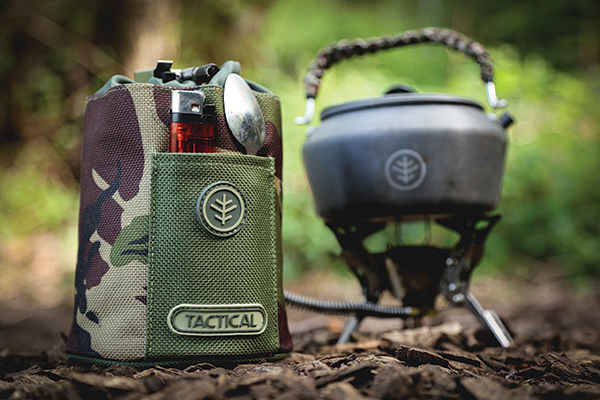 Tactical HD Alarm Covers
RRP £4.99
Keep your alarms protected with the nicely designed drawstring covers. Made from the same materials as the rest of the range and also featuring an elastic band that will keep your bobbins from swinging around or getting snagged while in transit. These come in sizes small or large depending on what alarms you have, but both sizes are the same price.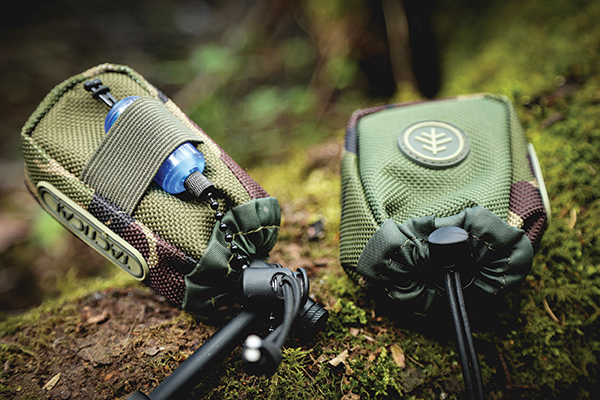 Tactical HD Spare Spool Case
RRP £12.99
The spare spool case says it on the tin really. A handy bit of luggage designed to store spare spools. It happens too often where a spare spool is just thrown in your luggage and gets damaged, but with this you can be assured they will remain damage free. It comes with two padded dividers and has padded protection all around the internals of the case. A handy bit of kit if you're the type of angler who carries multiple spools with them.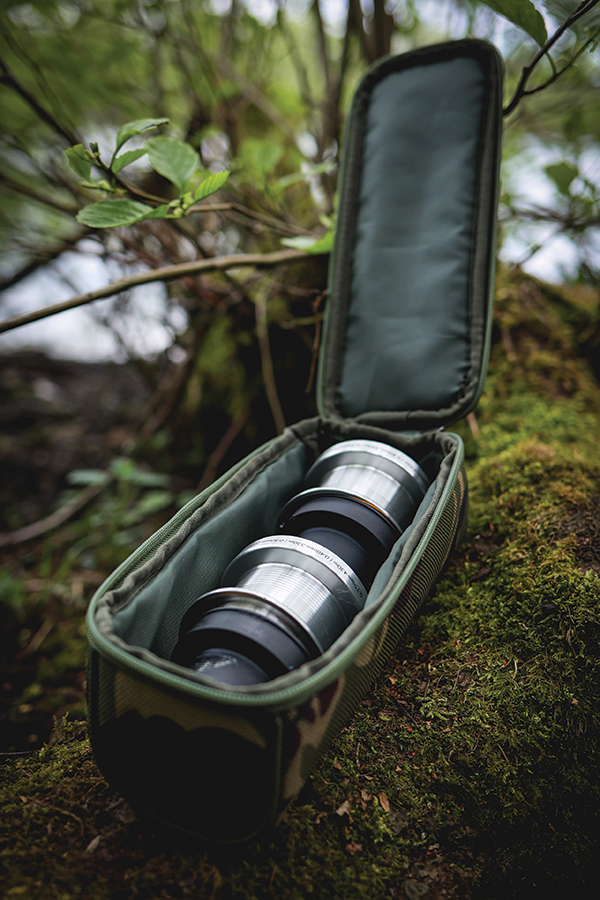 Riot 42in Landing Net
RRP £64.99 to £69.99
The first item not part of the HD luggage range is the Riot landing nets. These either come as a one-piece handle at £64.99 or a two-piece handle at £69.99. Both of which have strong light arms, a nice high grip shrink wrapped handle, soft mesh and also come supplied with a net float. These nets complement the Riot range of rods and reels really well and come in at a really good price point.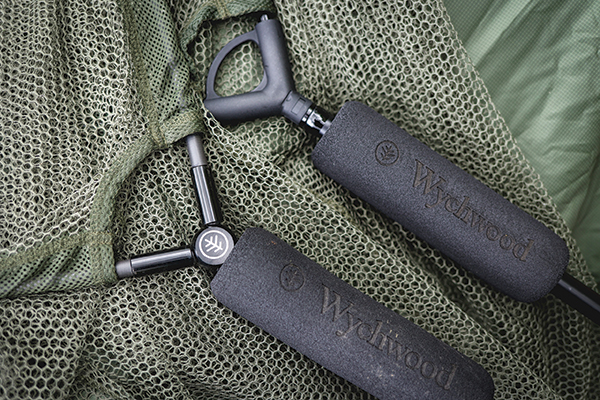 Extremis 42in Landing Net
RRP £94.99 to £99.99
The Extremis landing nets are at a slightly higher price point of £94.99 for the one-piece handle and £99.99 for the two-piece handle. Both nets have light but strong carbon arms, a high grip shrink wrapped handle, supplied with a net float and a draw cord carry bag, as well as having a spiked butt cap that can be used as a ground spike to raise the victory flag.
Another neat feature is the magnetic point on the handle. You can attach the magnet located in the net to the handle to keep the net out the way or just to have a tidy look. These nets pair really well with the Extremis range of rods.
Multi Tool
RRP £11.99
The final item to be released is the multi tool, the Swiss Army knife of fishing. This bit of kit combines all the baiting tools you need into one convenient unit. It comes with a heavy latch needle, boilie needle, fine latch needle, bait drill, puller tool and a stripper tool. That's a lot of tools for one compact unit. If you do so happen to break one (let's be honest, we've all done it), you can buy replacements that can be easily changed by removing a screw and replacing the broken piece. A handy little tool that will make bait application a lot quicker.