KODEX | Kushy Chair & Serenity Chair (Video)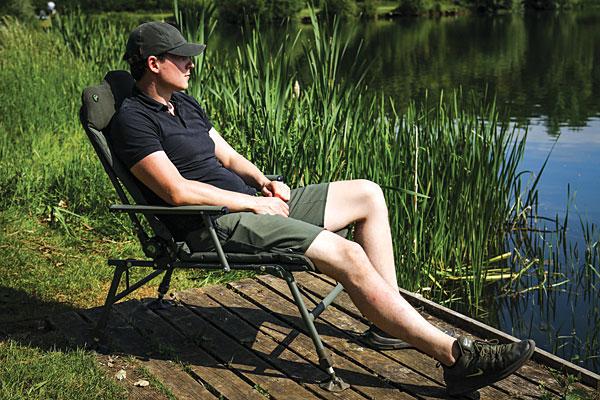 First up is the Kushy Chair coming in at £74.99. Designed to be an easily portable piece of bankside furniture weighing just 4.9kg, the Kushy comes loaded with features designed to make it not only functional but aiding in keeping your essentials to hand whilst in use. A cleverly rear located pocket is spacious enough to house bivvy trays, rig wallets, receivers or other items you wish to have close by without the need of cluttering the swim.
Four fully adjustable legs boast large multi swivel mud foot, allowing the user to find a solid purchase regardless of the bank you find yourself on, and can be adjusted from 30 to 40cm in height. The large fixed back of the chair measured in at 55cm long and comes complete with padded peach-skin upper shoulder support for added comfort.
Although described as a compact lightweight model, do not be fooled into thinking this is a flimsy product, with a very respectful weight rating of 18 stone, the Kushy Chair is constructed from premium materials and is certainly built for a tough life on the bank!
The second chair which has been added to the range, is the all-encompassing luxury model, aptly named Serenity. You will be pleasantly surprised to know that the Research and Development team at Kodex has managed to still keep the weight relatively low at just 6.5kg and consider-ing the luxury the Serenity boasts this wouldn't have been easy! Also fitted with the handy rear pocket, further features include sturdy wide arm sup-ports to really aid the angler in support and provide ultimate relaxation throughout longer sessions. The reclining back support measures in at 62cm and comes complete with an enlarged peach-skin neck and head support, perfect for sinking back into when watching the water, or even for a quick nap. A similar fleecy area is also found on the base end of the chair, to re-duce chaffing on your legs when sitting for long periods.
The four legs are fully adjustable and offer a superb level of adjustment from 38cm to 56cm, proving a comfortable angle and level chair regardless of the terrain. The chair itself measures in at 53cm wide, 60cm long and will easily accommodate anglers up to 22 stone.
Both models of chair will also work seamlessly with other Kodex prod-ucts including the useful Specimen Bait and Rig trays available separately to clip onto the frame.
RRP: £74.99 & £119.99
WEBSITE: www.kodextackle.com
To find out more about the Kushy Chair & Serenity Chair, watch the video below.