SONIK | AXS Duralloy Levelbed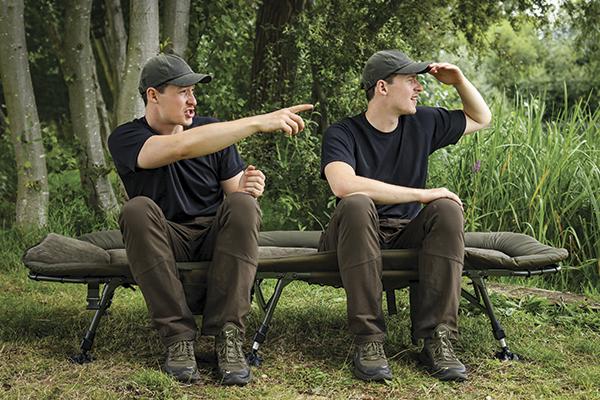 In order to obtain a good night's sleep on the bank, it is key to be warm, comfortable and of course level, and with this in mind the new bedchair from Sonik ticks all the boxes to ensure you won't be left feeling short-changed, even when spending multiple nights outdoors.
Brand new for 2020 the AXS Duralloy Levelbed is arguably one of the lightest and strongest on the market to date, thanks to the latest Duralloy tubing used throughout its robust frame. Introducing Sonik's revolutionary Stance frame design, the two outer pairs of legs have been moved into an optimum position providing extra stability and support across the entire length of the bedchair, perfect for when guests come over to shelter from the rain and two anglers need to sit on the bedchair – say goodbye to bent tubes and a sloping bedchair! Spring-loaded leg adjusters and generously large mudfeet allow you to easily level your bedchair time and time again, regardless of the uneven bank below.
As the name suggests, the Levelbed offers a completely flat profile and by utilising the wraparound lumbar support it is easy to not only get comfortable but sleep well regardless of your chosen position, while taking good care of your back. A Corduraflex and Peachskin combination make up the luxurious 30cm foam mattress that not only provides comfort but also keeps weight down without compromise.
Other details that really stand out on the AXS Duralloy Levelbed are the two convenient side storage pouches ideal for mobile phones, car keys, bite alarm receivers and other items you wish to keep close to hand. A nifty twin bracket folding system allows you to compactly pack the bedchair up while your sleeping bag is attached and two side compression straps make for compact storage.
Approximate dimensions come in at 205cm long, 80cm wide, and 35 to 48cm high, so fitting kit underneath the bedchair is as easy as ever. When packed down the dimensions are 80 x 87 x 27cm. Weighing in at 7.5kg the AXS Duralloy Levelbed will comfortable take anglers up to 155kg without any compromise in lumbar support at all.
All in all this is a fantastically light, compact and above all comfortable levelbed solution and we are certain we will be seeing many of these on the bank in the near future!
RRP: £249.99
WEBSITE: www.soniksports.com