NASH | 4 Fold Sleep Systems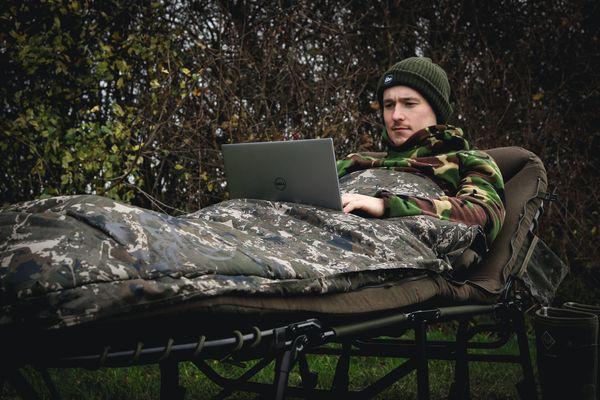 If the budget allows, investing in a sleep system is certainly the way to go. No longer will you need to faff around with a separate bedchair and sleeping bag, as with a sleeping system it comes as one complete package. The problem however, is what sleep system do you buy!
MF60 INDULGENCE ALL SEASON
Most sleep systems on the market look very similar in their basic form, where it's usually a choice of three or four legs and then the quality of mattress and quilt. Nash indeed has a range to match this more common design, but also a selection that most definitely differs from the rest! If you're looking for something a little different, then the MF60 Indulgence All Season 4 Fold Sleep System and the Scope Ops 4 Fold Sleep System MKII may just fit the bill.
The revolutionary 4 Fold design allows these sleep systems to fold into a much shorter, albeit wider package, with particular attention having been paid to the folding design to ensure they fold as compact as possible. This ensures these beds can fit into smaller car boots or slide more neatly under counter tops etc. However, should you think that maybe the comfort has been compromised, then think again as the unique design folds out into a perfectly flat and level bed. There is also the option to raise the head section of the bed with a ratchet system, allowing the user to sit upright while inside the sleep system, which is another unique feature that commonly gets overlooked in the present day. This comes in particularly useful when watching the water… or your screen!
The Indulgence range is a well-established line for Nash Tackle and rightly so as the release of its first Indulgence bedchair was an all-time smash hit, and the following releases thereafter have continued to improve upon their previous variants. It comes as no surprise that the release of the MF60 Indulgence All Season 4 Fold Sleep System is nothing short of remarkable.
]While a heavy piece of kit, weighing in at 22.5kg, for the comfort that is to be had that additional weight can be easily forgotten. Finding a more luxurious and comfortable night's sleep on the bank will be a serious challenge. The highest grade MF60 memory foam fleece covered support is ground-breaking, meaning fishing long sessions would no longer need to be a chore even for those who suffer with bad backs after a long stint.
The luxurious hollow fibre duvet has been blessed with a smooth lining, preventing any snagging from movement while sleeping. Also, as the duvet is fixed to the sleep system there is no unexpected movement from a poorly fastened sleeping bag, which is possible when using a conventional bedchair. Heavy duty crash zips make for a quick exit when a bite occurs during the hours of darkness, and once sealed inside the Indulgence sleep system the installed body baffles help to warm and retain heat effectively.
The Indulgence system really does fit the name and should you be whiling away the hours while waiting for a bite with a tablet or phone there is even a power pack pocket with USB connectivity to help with charging the equipment from the comfort of your bed! Every purchase of the MF60 Indulgence All Season 4 Fold Sleep System comes complete with a free standing stiff sided carryall with a padded adjustable shoulder strap.
SCOPE OPS MKII
The Scope range has gained massive traction since its conception and for very good reason! An initiative to provide bare-bones tackle that is compact, lightweight and perfect for shorter sessions has been something many anglers were looking for until the Scope line was created. The Scope Ops 4 Sleep System certainly reflects Nash Tackle's thoughts impeccably and is quite the contrast to the MF60 Indulgence Sleep System. Weighing in at 12.4kg this sleep system is a little over 10kg lighter in comparison and can be easily carried on the shoulder to make for an easy move to another swim, or for ease of transport when setting up and packing away. There has been a strong focus on making sure this sleep system packs down compactly, and for a quick overnighter or maybe even two nights it really is perfect.
Despite the saving in weight there is still plenty of comfort to be had too! The high density foam mattress lining is present with the trademark peachskin cover, as well as a fantastic micro fleece thermal foot liner and installed heat baffles for maximum heat retention. Much like the Indulgence the inside of the duvet has also been lined smoothly to prevent any unwanted discomfort from being unable to move freely once inside the sleep system. Elastic loops have been installed on the sleep system too, where an additional pillow can be added for improved comfort. With swivel mudfeet and spring-loaded legs there is no environment where the Scope Ops 4 Sleep System cannot house an angler comfortably for the night.
RRP: MF60 Indulgence All Season: £527.99 / Scope Ops MkIII: £373.99
WEBSITE: www.nashtackle.co.uk