Fox Flatliter Mk2 Bed And Bag System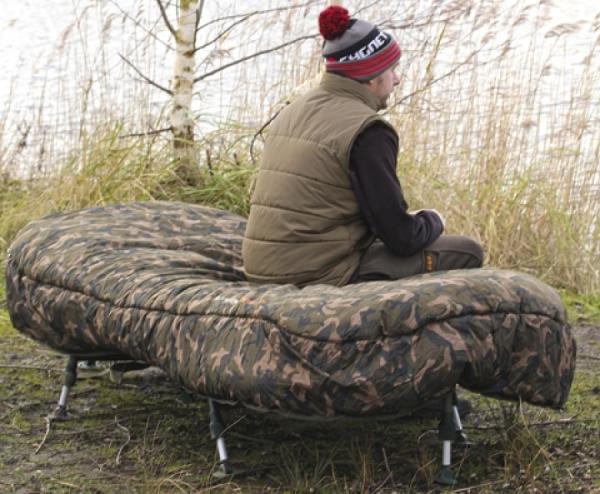 Dan Murrell's verdict - Unrivalled comfort, super-sturdy and lightweight. Simply brilliant.
I have always been a fan of big beds. I like space and I like being able to move, and over the years I have extensively used the Nash Wideboy, and more recently the larger variety of the Avid Benchmark.
Keeping up with trends I wanted a large bedchair but this time I wanted a complete system and one that would fold flat and not be a complete pig to move.
The new and improved Flatliter is available in two sizes, the compact and standard. The compact measures 200 centimetres long by 80 centimetres wide. The standard is 214 centimetres long by 87 centimetres wide, with a maximum height of 50 centimetres and minimum height of 40 centimetres.
Weighing in at 13.3kg the standard was the choice for me. Complete with bag it folds dead flat and with the inclusion of two buckled fastening straps and dual hinges you can apply plenty of pressure and really compress the bed, which is perfect when loading it into your car or on your barrow.
The bag itself has a fleece upper, which is perfect for retaining heat and keeping a soft and pleasant feel against your face, while the bottom polyester allows you plenty of movement throughout the night without getting stuck.
A large, oversized zip baffle helps to retain heat and keep out any unwanted drafts. This bag is only rated to three seasons, which is more than adequate from spring through to autumn, but I would suggest a shroud for the colder months. Having just purchased the Fox Aquos Camo Cover I now feel equipped tackling even the coldest of weather, but I'll save that for another review.
With regard the mattress, high-density foam has been used and it's sublime. It's a firm night's sleep thanks to the lack of elastic and the addition of the lumbar support to combat any mattress sag.
I would happily go out on a limb and say this is the best complete bedchair system I have ever owned or had the pleasure of using. I understand that the bedchair and extra cover equates to a fair chunk of money for a person in my position who will happily spend three nights a week on this bedchair throughout each season, but I strongly believe it's a wise investment and to prove my faith I will do another review three months down the line to ensure the longevity and durability of this product. (DM)
£319.99