Fox Bedchair Range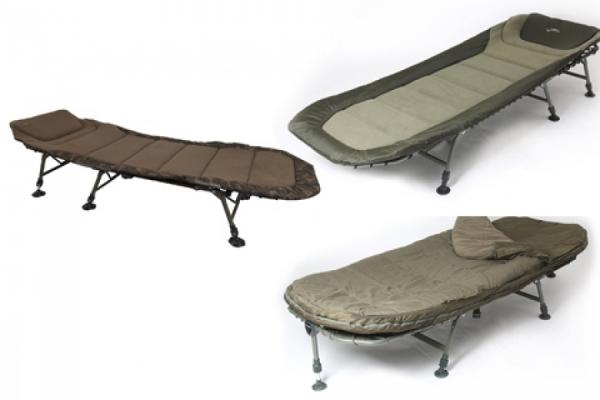 Bedchairs have become increasingly more comfortable over the years, which every angler is grateful for, but equally they have become higher-priced luxury items that, unfortunately, not all anglers can take advantage of.
Well that's all about to change because the guys behind Fox have been busy bridging the gap between comfort and price, making comfortable bedchairs accessible to everyone across three new product launches.
The Warrior 6 Leg bedchair is the entry-level product designed with one goal firmly in mind – value for money within its price bracket at £109.99. Cleverly featuring a cam-less design, the Warrior not only folds flat but, thanks to the handy strap and buckle, maintains a compact size when transporting it.
It also allows you to use the whole width of the bedchair, without any unwanted bulk either end of the head section.
Complete with a flat frame and firm yet padded mattress, the Warrior offers a comfortable night's sleep. As you would expect, each of the six legs are extendable and feature swivelling mudfeet, allowing you to get level on uneven ground. At a mere 9kg this is a bedchair that can easily be moved from swim to swim without any real problem.
With three versions in the new range of R-Series Camo bedchairs, it is set to be a huge success.
We are looking at the R2 that is of standard size and sits mid-range at £149.99, while the R1 is compact and the R3 is king size.
Weighing in at 13kg, the R2 boasts a fold-flat and cam-free design, offering complete usable space. What's more, with the addition of double hinges it allows for a sleeping bag to be snugly folded up inside, making it quicker and easier to use straight from the barrow.
A fleece-lined padded mattress and extra padded head section offer great luxury, while full lumbar support prevents the mattress from sagging over time, which, of course, prevents you from experiencing poor posture and a bad night's sleep, something which is purely invaluable.
With a trendy Fox Camo pattern surrounding the trim, the R-Series also boasts unique side straps helping to ensure the bed is packed away as neatly and compactly as possible, as well as adjustable legs with large swivelling mudfeet.
Now the crème de la crème – the Flatliter MK2 bed and bag system. Once again it is available in a standard size weighing 13.3kg and a more compact version weighing just 12.6 kg, and that's including the sleeping bag.
The standard size is exactly the same size as the MK1, and with the popular request of a smaller but equally comfy bedchair for anglers using brollies or smaller shelters, the compact was born. Prices begin at £289.99 for the compact and £309.99 for the standard.
The original Flatliter bedchair saw a huge following and was considered by many as the highest level of bedchair comfort for quite some time.
However, after plenty of extensive development and research the team at Fox believes, and with good reason, that it has once again upped the ante and is now pleased to release the upgraded MK2 version. In their words: "The best just got better."
In terms of comfort, the MK2 has got even more snug and cosy, if you can believe it. The supplied three-season sleeping bag has changed quite a lot, with the addition of a new, improved Hollofil, which not only aids warmth but also helps the bag to behave like your duvet at home, effortlessly sculpting around your body as if you were wrapped in a cloud.
The fleece upper-bag lining aids in providing warmth and insulation, as well as a nice touch element against your face and body, while a polyester bottom half restrains you from sticking to the bag in warmer conditions, allowing you to move more freely in your sleep.
Also helping with the usable room and being 'free' in the bag, it is now attached to the side of the mattress, whereas before it was underneath, which left the user feeling a little constrained.
With heavy-duty dual crash zips and an even larger internal baffle, the warmth really does stay locked in the bag without hindering the speed at which you can vacate when that all-important bite time strikes.
As the name suggests, the bed is of course still completely flat and features a lumbar-support system to aid the improved mattress, giving a firmer and more comfortable night's sleep thanks to the high-density foam that has been utilised.
Dual hinges allow the complete system to fold away with minimum effort and thanks to the newly designed tension strap it's even more compact than before.
Each end still boasts single adjustable legs for great stability while reducing the weight, and each one also benefits from the Twist-Lok leg adjustment.
Within the range there really is a bedchair for everyone and the boys at Fox have been working hard to ensure that, no matter what your budget or size, you are guaranteed a good night's sleep on the bank – a luxury owed to every carp angler. (DM)
£109.99 to £309.99