Trakker NXG Luggage!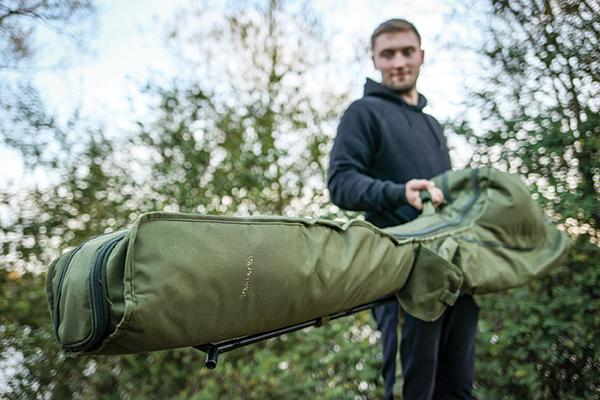 Trakker's NXG luggage range is one that has truly stood the test of time, having been around for over a decade and is still going strong. Well-designed items, with simple but pleasing aesthetics… why change something that isn't broken! Instead, year on year Trakker added to the range to make it a truly vast range containing pretty much anything an angler could need! Here we highlight some of the key items in the range that we think are well worth another look.
NXG Deluxe Rucksack
RRP £119.99
For a vast array of storage options and effective organisation the Deluxe Rucksack really does take some beating. Due to its large size, measuring 600mm in height and 490mm wide, the luggage piece works brilliantly in the hands of a mobile or long-stay angler. With a relatively shallow depth of 200mm, the rucksack lays flat on the user's back, which is made to be an enjoyable experience with adjustable padded shoulder straps. The shallow depth of the rucksack also means you can slide it underneath a bedchair for the maximisation of space in any shelter.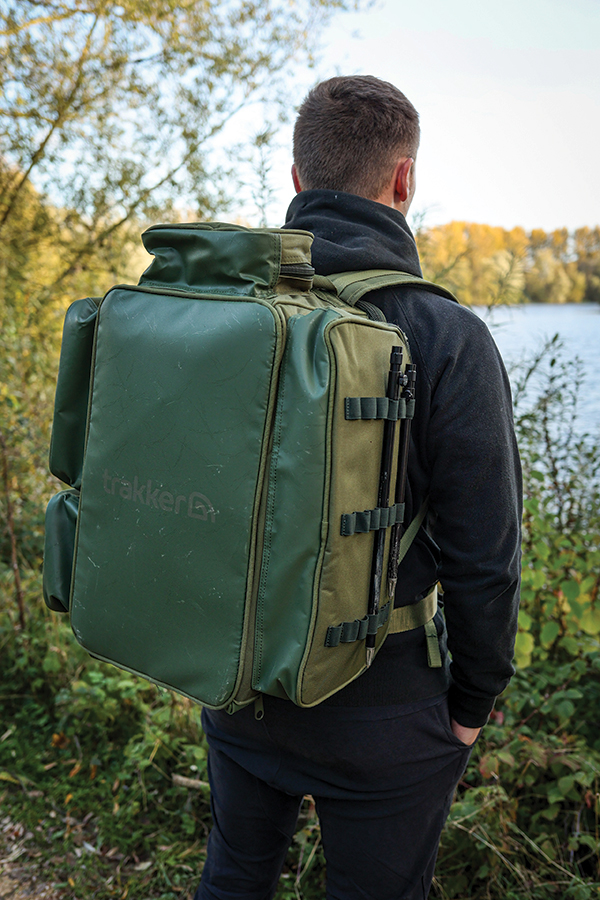 For moving around the swim and to and from your vehicle, the stiffened EVA grab handles are an absolute winner. Designed to be used in either an upright or lay-flat position, the reinforced durable material is waterproof and wipe clean. With the purchase of every rucksack, the angler will also receive a ridged EVA table that features two zipped mesh pockets for keeping end tackle components and suchlike. This can be stored inside the rucksack depending on your preferred configuration.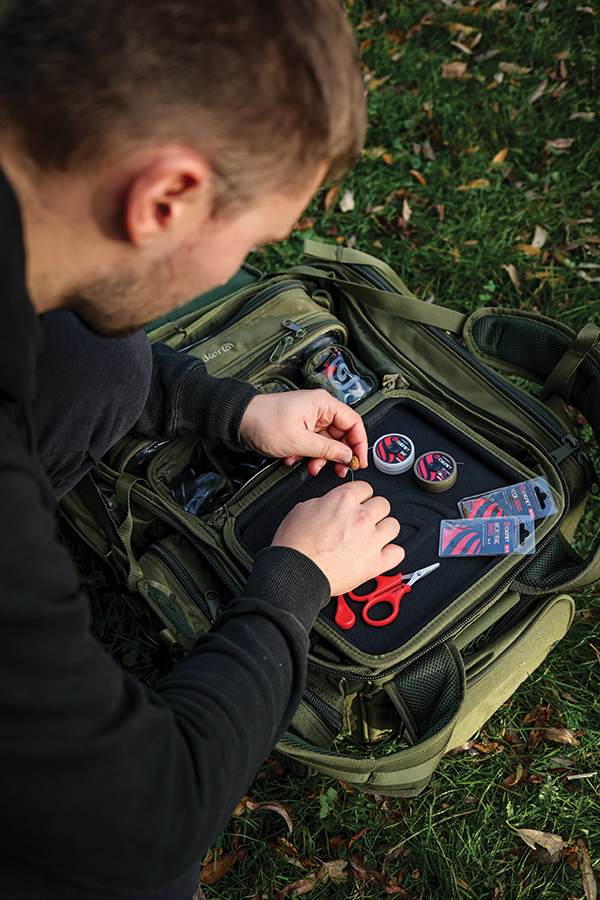 There are three external zipped pockets featured on the Deluxe Rucksack, including a long external pocket that makes good use of a padded divider for the safe keeping and transportation of bankware. On the outside of said pocket there are elasticated loops to house both short and long banksticks. Two external zipped pockets, two mesh pockets and one zip pocket can also be found on the inside of the rucksack.
NXG 3-Rod Padded Sleeve 12ft
RRP £89.99
It would be utter madness to spend a small fortune on a tarty rod and reel setup only to leave them open to the elements when in storage or transit. To prolong the longevity of said items, a specially designed system is the way to go, with the NXG Rod Padded Sleeves being a solid option. Padded internal dividers mean that no rod or reels will be clattering against each other before they reach the lake. Instead rod rings will remain intact and main line will be untouched, ready for you to cast out with confidence. Also, 50mm butt rings and big pit reels are catered for the in the 12ft version, where Velcro straps help to retain rods securely.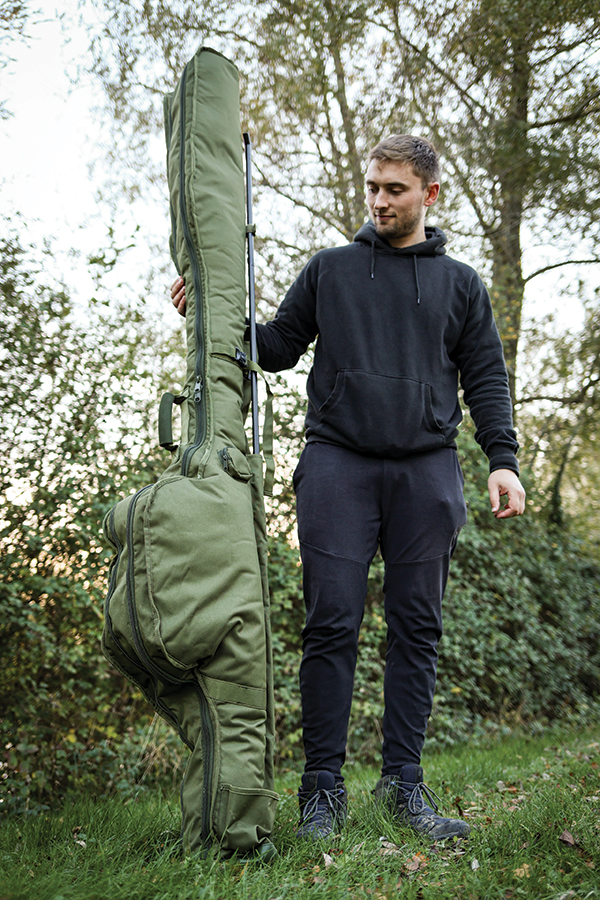 As with many of the NXG luggage items, this padded rod sleeve also features a wipe clean base. A handy little pocket has also been created for the base where leads can be safely stashed between sessions. There is an external outer pocket that can used to keep your landing net or retention sling and the spine of the sleeve is where the landing net pole can be kept. If a further two rods are required for your planned session, there is external space to be found for an additional two single rod sleeves.
NXG Compact Carryall
RRP £57.99
A more basic form of luggage, Trakker's very own carryall may lack the versatility of the rucksack but benefits from the large items that can be stored inside. The Compact Carryall is however, of the same high quality and also features a water resistant wipe clean durable base.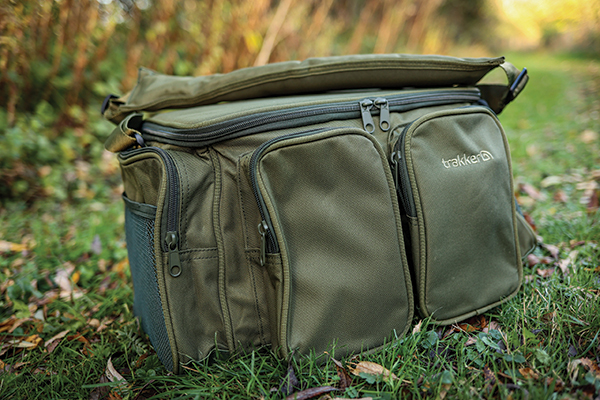 Five external pockets dotted around the perimeter of the luggage piece allow for the storage of various sized items for ease of location during a session. A padded shoulder strap negates the pressure of a heavy load as the main compartment is adequately spacious to store your most bulky items. The firm lid found on the top of the carryall can also double up as a bivvy table and is a good place to store your most used items during a typical session.
NXG Chilla Bags Standard
RRP £47.99/Large £62.99
Keeping food, drink and bait fresh is key when fishing long or even short sessions in the heat. Although a traditional cool bag will keep things chilled for a short period, the NXG Chilla Bags will keep contents cool for a prolonged time. This luggage piece is available in two different sizes, in either standard or large. It is possible to hold a total of 8kg of boilies inside the standard version whereas the large can hold almost double, with a maximum of 15kg, or food and drink equivalent.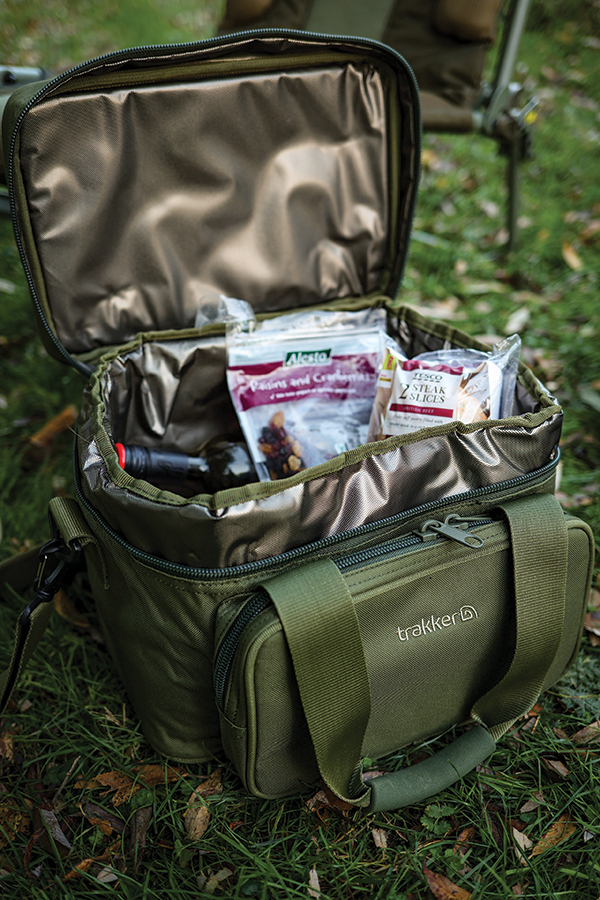 Freshness is maintained thanks to the high density insulated walls and foil liner for the very best thermal properties. EVA carry handles help greatly with the movement of the bag, a padded shoulder strap makes for a comfortable carry and a zipped front pocked proves most useful for storing of a catapult, PVA or cutlery.
NXG Cookware Bag
RRP £29.99
To accompany the Chilla Bag is a handy piece of kit that is able to store all manner of items for cooking on the bank, as the name suggests. Inside it is possible to store your kettle, pans, plates, stove, gas and mugs to cover all eventualities whilst by the water's edge.
A padded lining inside the bag helps to protect items from any possible damage during transit and three internal pockets separate the items from those stored in the main compartment for a more organised approach. Complete with carry handles and a dual zipped lid, there is no fear of going hungry on the bank any time soon.