NXG luggage from Tracker!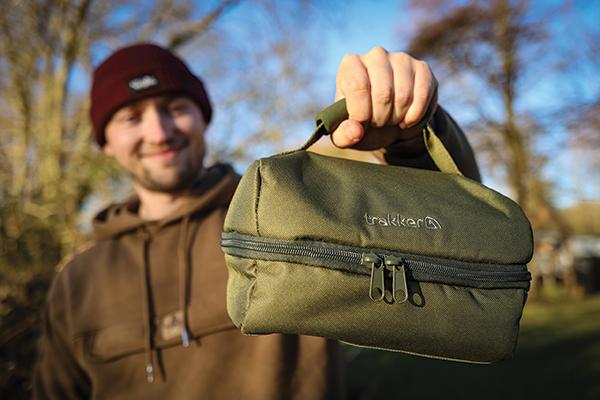 Trakker's popular NXG luggage range is an extensive blend of dedicated kit, many items of which have been designed for a specific purpose, and all have been constructed with precise detail. The large items such as the rucksacks, carryalls and cool bags are staple items that have been improved upon classic designs over the years. As a result there is now a wide range of luggage accessories that Trakker has carefully designed to complement and fit perfectly inside its respective bulkier counterparts.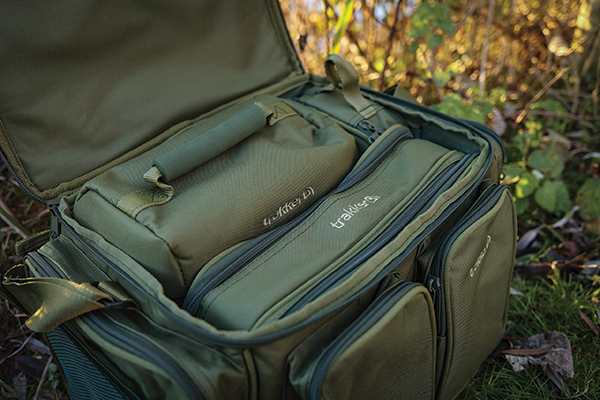 Organisation and efficiency are maximised with items such as the NXG Essentials Bag and Storage Pouch, whereas other products such as the NXG Insulated Gas Cover prove to be invaluable during the colder months of the year.
There are some standout pieces that really prove their worth for the modern angler, such as the NXG Camera Tech Bag, which houses and protects our valuable and essential technology accessories. The customary 600D polyester outer as featured on the vast majority of NXG luggage items makes an appearance once more. A reinforced base also helps to negate any unwanted knocks and bangs when placing the loaded bag on uneven ground. Upon opening the main compartment, you will be greeted with a luxurious fleece-lined inner, with four fleece-lined removable dividers that can be arranged to preference. Peace of mind can be had when storing your expensive DSLR inside, not forgetting the various lenses you may want to carry with you and your Speedlite flashes too! On the inside of the lid there are zipped mesh pockets, which are great for keeping cables, batteries, memory cards and other small tech items in one place. A large fleece-lined tablet pocket completes the internals of the luggage accessory. However, on the outside, stiffened carry handles provide a secure grip at all times and the three tripod fixing straps on the side of the bag save the need to carry a camera mount separately. An absolutely belting item!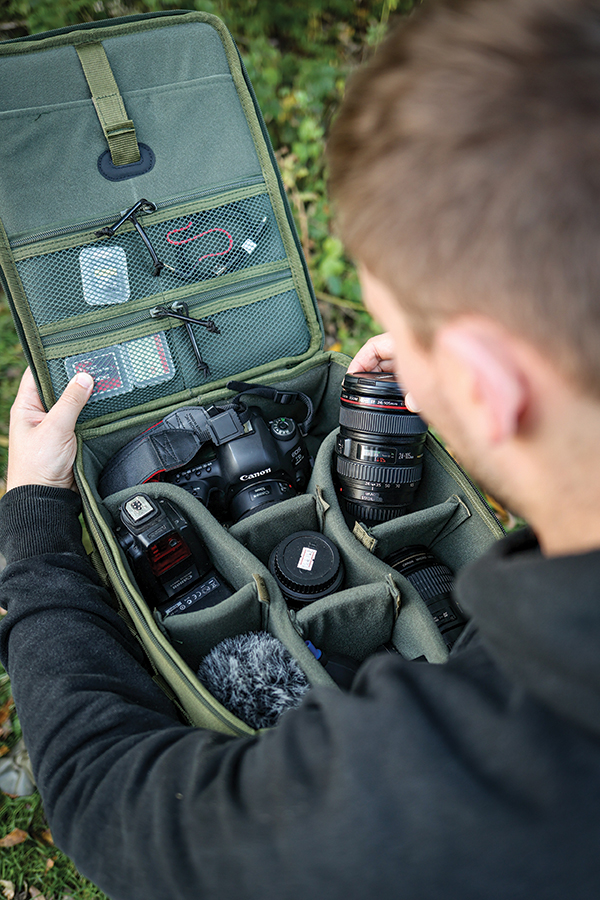 When it comes to terminal tackle, there is plenty to choose from. Take some of the smaller items such as the NXG Modular Lead Pouches. Available in small, medium and large sizes, these simple yet effective vessels feature a clear PVC lead for quick identification of your desired lead. This is especially useful if you carry various shapes, colours and sizes. All of the Lead Pouches are designed to fit like the proverbial glove inside the NXG Modular Leach Pouch.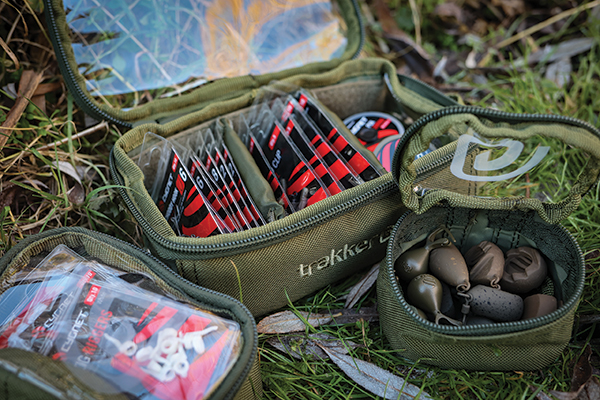 Increased in size but very similar in design are the Bitz Pouches, which are also available in small, medium and large varieties. A webbing carry handle makes for ease of transportation and an internal Velcro divider provides effective separation of items if required. As with the lead pouches, a PVC clear lid helps aid visibility of contents.
The NXG Lead and Leader Pouch is almost an amalgamation of the two aforementioned without the use of the clear lid. A spacious padded inner provides plenty of space to carry a wide selection of leads. What is most interesting is that not only is there is a zipped mesh pocket for the housing of packets of leader materials and components but there is an integrated zipped clear storage pocket that flips out from the main compartment. This is the perfect place to keep your ready tied leaders!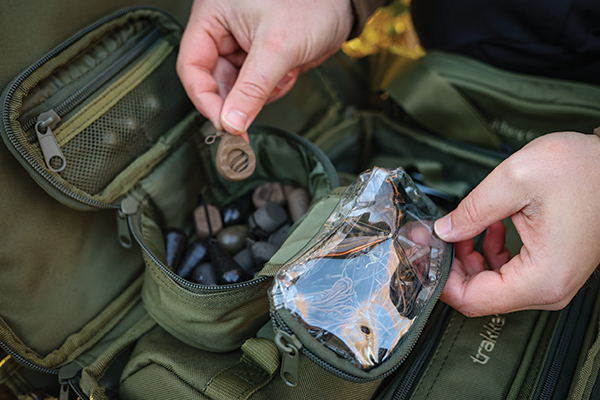 Despite its name, the NXG PVA Pouch is an impressive luggage accessory that is capable of holding a plethora of end tackle items with 10 internal pockets to fill, a number of elasticated mesh pockets and internal zipped pouch. This little pouch is most interesting as ready tied PVA bags can be stored inside due to a special foiled back, which helps reduce moisture ingress. On the opposite side of the divider is an equally large compartment that can accommodate multiple tubes of PVA. Dual zips make for easy access into each side of the PVA Pouch.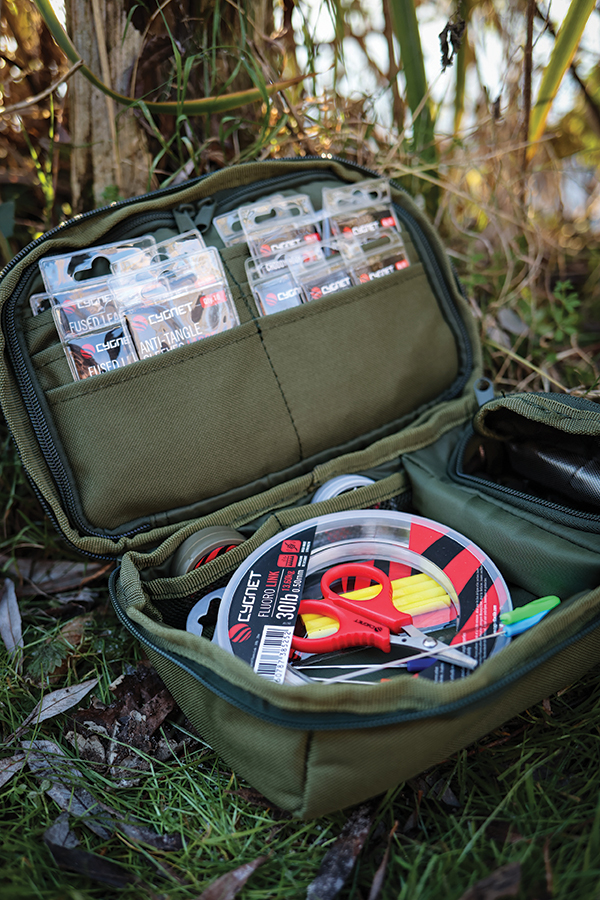 The most customisable luggage accessory in the range has to be the NXG Compact Tackle Bag. One large divider and three small dividers are found inside the main compartment for the very best organisation and separation of leads, tools, spools and controller floats. Packets of hooks, swivels, beads and rings can be placed inside each of the 24 end-tackle pockets, as well as the three elasticated internal pockets. There are also two lid pockets for even more storage inside of what is externally a relatively small item, as its name suggests! There are so many more items too, meaning you can lovingly match all of your kit under one reputable brand.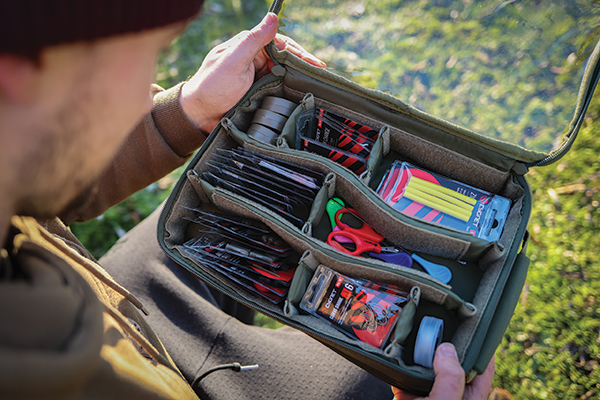 Trakker Luggage Accessories
NXG Modular Lead Pouches £9.99 to £11.99
NXG Small Bitz Pouch £13.99
NXG Lead and Leader Pouch £15.99
NXG Medium Bitz Pouch £17.99
NXG Large Bitz Pouch £20.99
NXG PVA Pouch £27.99
NXG Compact Tackle Bag £31.99
NXG Camera Tech Bag £62.99