SPOTTED FIN | PVA Bag And Method Mix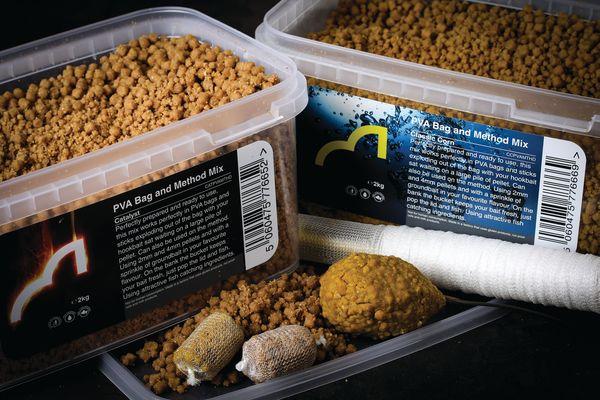 Part of the hugely successful Method Ready Range, utilising pellets and groundbait pre-soaked in attractive liquids so that they cannot take on additional water once immersed. This ensures the pellets remain intact on the lake bed for one to two days rather than dissolving into a mush immediately. The PVA Bag and Method mix consists of 75 per cent 2 and 4mm pellets and 25 per cent pre-riddled groundbait. By retaining their consistency, the pellets become a more substantial food item for the carp to eat and also they will continue to release a constant trail of attraction over a longer period of time.
The pellets have a distinct spongy texture which, when squeezed tightly, will easily bind together making an excellent instant Method mix. This can be moulded around a conventional Method feeder, simply squeezed around your lead or even your hook bait! Alternatively, when compressed into a PVA mesh bag, the contents explode out under tension forming a small dinner plate spread of whole pellet rather than a collapsed mush around the hook bait.
Currently available in Catalyst and Classic Corn, the mix comes supplied in a 2kg tub with a six-month shelf-life. Once opened, Spotted Fin recommends using the mix within six weeks to ensure maximum performance and freshness, and suggests pouring your pellets for the session into a spare bucket to avoid contamination.
RRP: £9.99
WEBSITE: www.spottedfin.com