SPOTTED FIN | Green Betaine Range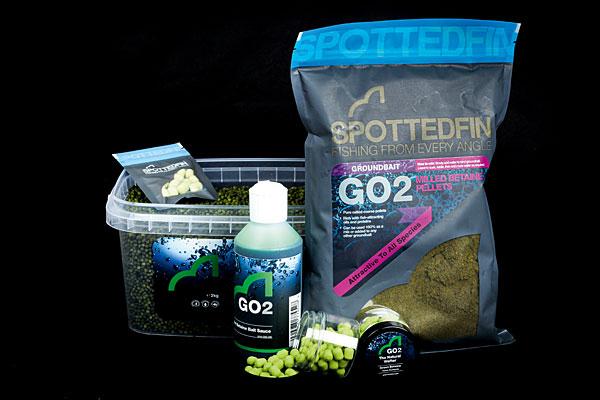 Green Betaine Method Ready Pellets
RRP: £9.99
Betaine has long been recognised as a very successful and immediate carp attractor and this handy 2kg bucket is ready to use as a high attract loose feed as soon as you open the lid. The pellets have a soft and rubbery consistency making them perfect to mould around a Method feeder. However, don't stop there as they work just as well in mesh PVA sticks, solid PVA bags or added directly into spod mixes, fed by baiting pole or as loose feed on marginal spots.
Unlike typical micro pellets, which soon turn to dust, these also retain their shape on the bottom, so could be just the edge you're looking for. Supplied with the pellets is a handy pack of wafters in two sizes, offering fantastic matching hook baits ready for your next session.
GO2 Green Betaine Natural Wafter
RRP: £3.25
Available in 8mm and 10mm sizes, these dedicated hook baits offer a semi-buoyant option for wary feeding carp in a particularly unusually yet signature green coloration, a fantastic option for when the fish are proving to be shy and with a colour that many carp will have not seen before.
These small baits offer a minimal tempter that works perfectly when fished in PVA bags, Method feeders or over a bed of small pellets and particles. With a distinct yet subtle fishy aroma, we are sure these baits will score well on commercial venues, club waters, syndicates and day tickets alike.
GO2 Milled Betaine Pellets 100%
RRP: £5.99
Another great addition to the ever popular GO2 range, this super attractive finely milled pellet groundbait is ready to use in minutes just by adding water, but can also be boosted further when mixed with oils and liquids or the dedicated GO2 Green Betaine Bait Sauce.
Boasting an extremely rich protein and oil content, this mix can also be used to stodge up spod mixes, or used neat in PVA bags and/or stick mixes or to coat pellets or hydrated boilies.
GO2 Green Betaine Bait Sauce
RRP: £6.99
When you are looking to boost your baits, especially in the warmer months this fishy green liquid will be just the addition needed to get those carp in a feeding frenzy. Ideal for adding to boilies, pellets, groundbaits and more this oily liquid will also give you an edge on floaters, while slicking off the surface making the feeding carp more visible and dispersing a range of attractors and aromas that the carp just simply cannot resist!
WEBSITE: www.spottedfin.com