SONUBAITS | Haze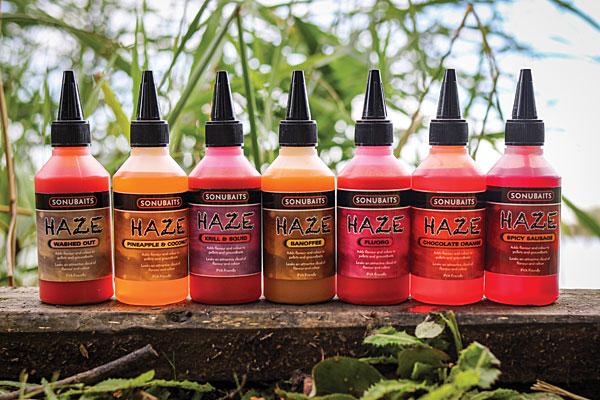 Liquid attraction has absolutely revolutionised fishing baits over the years thanks to innovative developments and the creation of some truly extraordinary products. The new Haze range of liquids from Sonubaits is one such example and these are an outstanding option to use when looking to not only flavour baits but also to change the colour of them for extra visual appeal.
Particular carp can often show a preference for colours and flavours of bait on any given day so it completely makes sense to carry a selection of the Haze liquids at any one time. But what makes Haze different to the previously released Lava liquids from Sonubaits, we hear you ask? Haze has a far lower viscosity compared to Lava, which means it will soak into baits much more readily and will release a stream of attraction over a longer period of time. Of course both have their advantages and it is the angler who must decide what is best for them.
As Haze is far thinner in consistency it is well suited to soaking hook baits or pellets. However it is also makes a great addition to PVA bags mixes (yes it is PVA friendly!); add a dash into spod mixes or groundbaits, or inject it directly into a solid bag.
It really is a highly versatile product that can be used all year round for consistent results and you only have to place it into margins to see why. Once immersed in water any of the eight Haze liquids will create an almighty colourful and flavourful cloud of long lasting attraction. It does not wash off baits, instead it clings on and will also seep into the surrounding substrate, laying enticingly on the bottom until disturbed by feeding fish.
The eight flavours in the range consist of Banoffee, Bloodworm, Chocolate Orange, Fluoro, Krill & Squid, Pineapple & Coconut, Spicy Sausage and Washed Out. Each flavour of Haze comes supplied in 100ml bottles, which may not sound loads, but a little goes a very long way. When planning to soak bait prior to a session, it is best advised to do so little and often until no more liquid can be absorbed and you will be left with an irresistible mouthful… or several!
RRP: £4.99
WEBSITE: www.sonubaits.com