SONIK | Subsonik Monofilament Main Line (Video)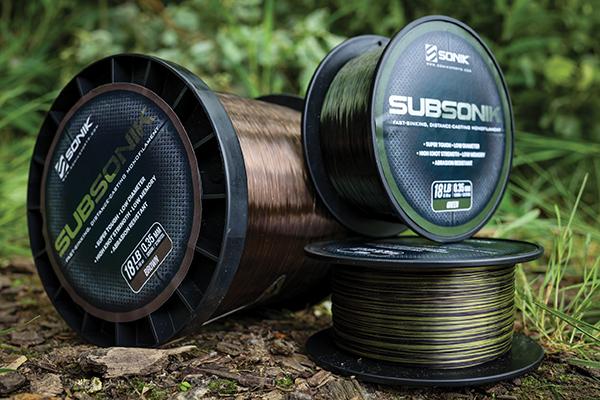 Utilising an advanced extruding process, the main line benefits from having a limited stretch factor without any compromise on strength. The end result is a strong main line suitable to fishing in weed, snags and demanding situations, while the lack of stretch greatly amplifies indication, offering great bite sensitivity even at range.
Subsonik also benefits from boasting a low memory and paired with an ultra-smooth finish you can expect exceptional line lay when spooled up on both big pit and freespool reels alike, while also suiting anglers who like to push their boundaries and cast long distances.
With a high knot strength and impressive abrasion resistant properties there are five breaking strains/diameters to choose from: 12lb 0.28mm, 15lb 0.31mm, 18lb 0.35mm, 22lb 0.38mm and the hardiest 25lb 0.41mm, so whether you are fishing for low double carp on your local day-ticket venue or tackling up for some Continental giants from huge inland seas, there is a spool to suit your requirements while ensuring your confidence remains high.
There are two spool sizes available, in 1,200m and a larger 3,000m versions, allowing you to spool up multiple reels without backing effortlessly. With the bulk spools you have plenty of line to change regularly when fishing in conditions that result in wear and tear.
Available in three colorations – Brown, Green and a blended Camo – the Subsonik will suit any venue, substrate or water clarity you may find yourself up against, and a fast sinking nature will ensure your presence goes unnoticed when targeting even the wariest of carp.
RRP: £14.99 to £34.99
WEBSITE: www.soniksports.com
To find out more about Subsonik main line, watch the video below.