GARDNER | Braided Mainline Range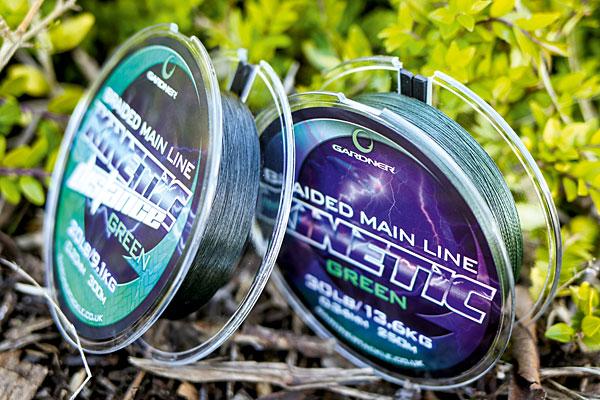 Kinetic Braid
RRP: £21.99/£52.50
A fantastic multi-purpose fishing braid, which has been used by carp angers, specimen anglers and even sea anglers too! This 100 per cent Dyneema braided main line offers near-zero stretch properties, meaning it is highly effective at registering even the slightest bite indication while boasting tough and abrasive resistant properties, superior knot strength and high linear strength.
The braid has a tight weave, a smooth, round profile and is finished in a lo-viz dark green coloration. Available in 15lb 250m spools, 20lb 250m and 600m spools, 30lb 250m and 600m spools and 40lb 250m spools.
Kinetic Distance Braid
RRP: £19.99
If out-and-out range is your requirement then look no further. When coupled with a suitable leader such as the Kinetic Sinking Shock Leader, this Kinetic Distance braid is the choice for anglers who wish to fish at range, comfortably and accurately, capable of hitting distances of 180 yards and more!
Ultra-low stretch when combined with tight lines provides the most sensitive bite indication, even at extreme range, and the lo-viz dark green colour is essential to help reduce midwater visibility. The smooth soft finish helps to minimise friction ensuring a more effective cast, while the round profile and tight weave helps to reduce dreaded wind knots, but you must remember to always keep braided main lines wet!
Available in 20lb breaking strain on 300m spools, this braid has a staggeringly low diameter of just 0.20mm.
Kinetic Spod Braid
RRP: £21.99
A dedicated spod braid for accurate and continuous bait application utilising a 100 per cent Dyneema braid. Rated at 35lb and with a 0.30mm diameter the Spod Braid ensures a high knot strength, which is key for applying leaders, quick change links and of course spods and Spombs. With 250 metres supplied on a spool the 8-Carrier construction gives the braid a round profile that helps to convert your casts into distance by minimising resistance and friction on your rod guides.
A near-zero stretch also ensures that accuracy is paramount, allowing you to concentrate on deploying your bait on the same spot time and time again.
Kinetic Marker Braid
RRP: £21.99
New and improved, the now thinner 0.28mm diameter braid is purposely designed for feature finding and depth reading. With a true breaking strain of 25lb, you can rest assured knots will remain firm, even when going for the 'big chuck'. This braid could also be used perfectly for short to medium spod and/or Spomb work too. Also, with a near-zero stretch attribute, this Marker/Leading braid allows the angler to feel every tap, pull or glide through their rod tip, meaning you can identify exactly what area you are intending to fish. Supplied on a 250m spool.
Hydro Sink
RRP: £23.99/£64.99
As the name suggests this is a dedicated sinking braided main line, which by combining Dyneema and Kevlar Fibre produces an insanely strong, abrasion-resistant main line that not only sinks and hugs the contours of the lake bed but will take plenty of abuse to boot!
The lo-viz dark coloration means that once submerged the braid blends into the lake bed, providing the angler with an unobtrusive main line.
Available on both 250m and 600m spools, in both 15lb and 22lb breaking strains this is one main line that will tackle even the most arduous of angling conditions, so when targeting big pressured fish you can rest assured Hydro Sink will not let you down!
Kinetic Sinking Shock Leader
RRP: £9.99
A dedicated Sinking Shock Leader that allows the angler to have the confidence of not cracking off when fishing at extreme range, but the edge of having a pinned down leader directly before the rig and bait – now that's an edge!
Supplied on 50m spools, the shock leader benefits from a high knot strength and exceptional abrasion resistance, which is perfect for fishing up to snags or over bars and is finished in a camouflage flecked muddy brown coloration.
WEBSITE: www.gardnertackle.co.uk