ROD HUTCHINSON | Fruit Frenzy Range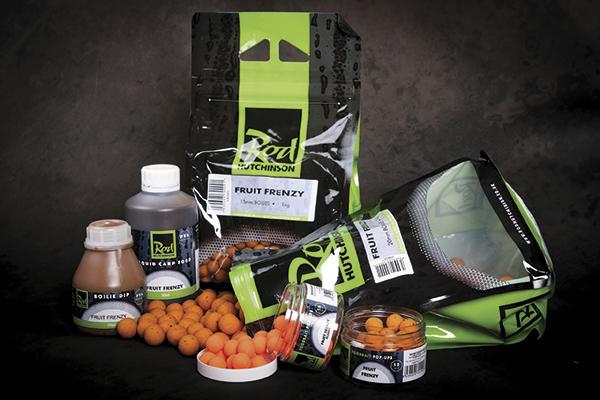 Rod Hutchinson certainly needs no introduction to the carp fishing world; however, if you are new to carp fishing, let's simply say he was responsible for releasing some of the best flavour combinations ever made. So much so that many years later his company is giving us a bait based on one of his legendary flavours in the form of the Fruit Frenzy Range.
This isn't a straight copy of previous releases, instead we are getting a bait flavoured with his original Fruit Frenzy in conjunction with another favourite, Spring Blossom. Upon opening a bag of the new Fruit Frenzy you are pleasantly greeted with smells of a perfectly ripened bowl of fruit ready for consumption. To further add to the attraction there has been an inclusion of Milky B and Protaste Plus to make for a truly rounded and irresistible package.
There is a vast selection of products to choose from in the range with hook bait options including matching food bait pop-ups and fluoros. Both are available in 15mm and 20mm sizes with the fluoros being a visual powerhouse to instigate curiosity from any passing carp. The food bait pop-ups are fantastic at blending in once the carp have wised up to the use of bright hook baits during the colder months. They do both however provide plenty of buoyancy for many of today's modern rigs.
Two matching liquids are also on offer in the form of the Fruit Frenzy Hookbait Dip and Liquid Carp Food. The Hookbait Dip is great for soaking hook baits prior to a session as well as dipping before every cast to provide extra pulling power. This effective liquid is PVA friendly and is supplied in a 250ml bottle. The Liquid Carp Food is supplied in 500ml bottles and is yet another winner as this can be applied to loose feed boilies, mixers, particles and pellets to generate an almighty cloud of attraction once it hits the water. Both liquids contain amino acids that fish readily seek.
Lastly but by no means least is the star of the show, the food bait. The Fruit Frenzy boilies are able to purchase in either in 1kg or 5kg bags in sizes of 15mm and 20mm. These highly digestible baits, suited for year round use, are adequately soft and are extremely moreish to encourage carp to keep returning for more. If undecided on a bait for the forthcoming season you will be in safe hands choosing one from the Rod Hutchinson stable!
RRP: £6.59 - £44.99
WEBSITE: www.rodhutchinson.co.uk