NUTRABAITS | Trigga Range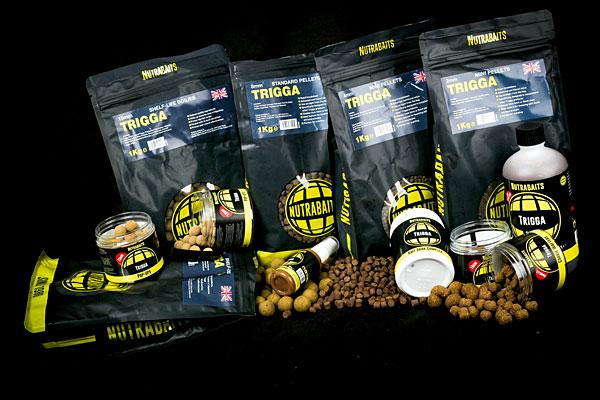 Specifically designed to be a complete food source for the carp, the perfect combination of key ingredients means that carp love Trigga as much today as the day the mix was first devised. Add to this its distinct knack of tripping up the larger fish and it's quite simply one of the all-time great carp baits.
While the make-up of Trigga boilies has remained the same for years, there is a wealth of complementary products available to the Trigga user, with a range of matching pellets, carpet feed, liquids, hook baits and even bait-making ingredients.
Boilies
RRP: From £5.99
The baits are available as the original freezer bait in 12, 16 and 20mm as well as shelf-life ready-mades in sizes 15mm and 20mm. Shelf-life boilies tend not to be thought of as the ideal food source, but Nutrabaits bucked the trend and now suggests that it rivals the freezer bait for both instant pulling power and long-term application, if used responsibly. The fact that numerous fishery owners choose the shelf-life baits as their boilie of choice is testament to this.
Hook Baits
RRP: From £6.50
In terms of hook baits, take your pick from pop-ups in 12 and 15mm, Corkie Wafters in 12 to 18mm, as well as barrels and a matching paste – Nutrabaits has Trigga hook bait options suitable for every situation.
Pellets
RRP: From £3.45
Just like the boilies, the pellets are designed to be a balanced food source, with the full Trigga attractor package to support active feeding with long-term use. These are available in 4.5mm and 8.5mm to ensure a variety of breakdown rates and consistent activity in the swim.
The Carpet Feed also contains substantial levels of the Trigga powder, alongside a range of other nutritional and attractive powders, making it the ideal base for stick, spod and Method mixes.
Liquids
RRP: From £5.49
Various liquids are also available, with the Bait Soak Complex, High-Attract Bait Spray and Liquid Booster each providing a liberal dose of liquid Trigga, among a range of other attractants to help boost attraction.
The Bait Soak Complex and High-Attract spray are ideal for treating hook baits, while the Liquid Booster is a thicker fluid well suited for loading up in your particle or bag mixes, and for glazing boilies.
Base Mix
RRP: From £13.99
Finally, for those out there who enjoy rolling their own bait, or want to mix something up that's a little bit special, Nutrabaits supplies the Trigga Base Mix to roll your very own boilies. Not only does this give you the added satisfaction of catching on a bait you've rolled yourself, but it can also work out a fair bit cheaper!
WEBSITE: www.nutrabaits.net