NUTRABAITS | Topper Oil Range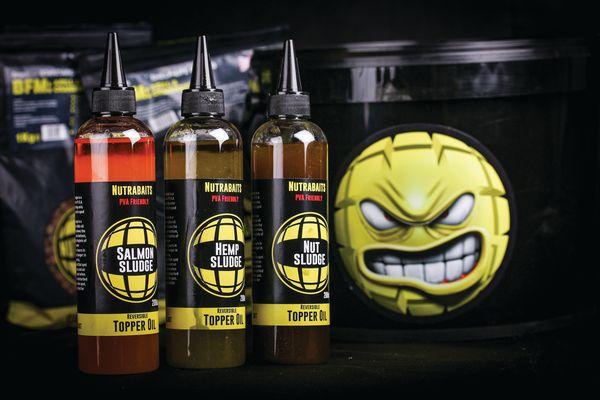 The introduction of oils into carp fishing many decades ago was a revelation as the olfactory senses of a carp are so very adept that they can pick up on new smells very quickly after being introduced. Many oils on the market will float to the surface of the water soon after being applied and their effect can be relatively short-lived, therefore regular application may be required to keep the attraction pumping out from the baited zone in your swim.
Nutrabaits however, has managed to create something really special, a first in fact in the form of its new Topper Oil Range. With a gel-like substance, this is a slow releasing oil, providing a whole host of new applications. In warmer water temperatures this oil will release for a period of up to four hours whereas in cold water temperatures it may take an additional two hours plus. Much like the conventional oils out there the Topper Oil will still continue to create a flat spot above the baited area, and an ever bigger one when carp decide to investigate!
There will be three flavours to choose from with Hemp Sludge, Nut Sludge and Salmon Sludge, all highly effective in their own right ,helping to catch those wary fish that have seen every trick in the book. How Topper Oil is applied to bait is totally up to the individual, there really are no limits and you will soon find out just what the best method is on your chosen venue. So why not add this sludge to boilies, hook baits, PVA bags, even your lead and freebies for that edge that many of us have been looking for!
RRP: £6.99
WEBSITE: www.nutrabaits.net