ESSENTIALS | Floater Fishing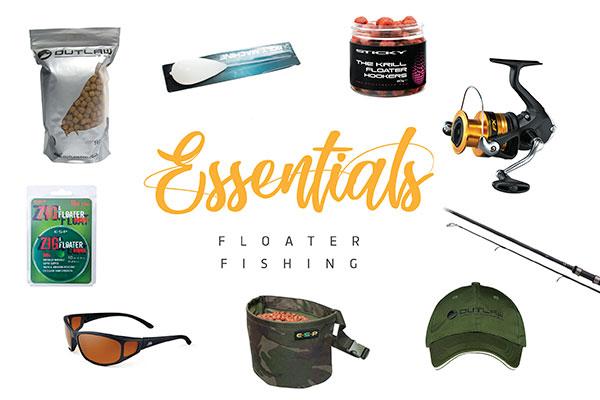 Sun's out... floaters out! Succeed on the surface with these floater fishing essentials, lovingly selected by the team at Outlaw Pro!
Controller Float: NASH BOLT MACHINE
RRP: £6.99-7.99
As effective as freelining can be, sometimes you need that little extra distance to reach where they are happy to feed on the surface and the Nash Bolt Machine is the perfect tool for the job. It's considered one of the most effective long range self-hooking surface controllers of all time, with unrivalled aerodynamics and stability with a soft rubber semi-fixed insert and white low glare finish for effective surface concealment.
Hookable Floaters: STICKY BAITS KRILL FLOATER HOOKERS
RRP: £2.99
Carp can be really crafty when feeding on the surface, so make sure they throw caution to the wind and want to eat that hook bait! These Krill Floater Hookers are special floater hook baits that have been designed to perfectly mimic Sticky's The Krill Floaters. They're hookable and can be hair rigged or banded, and infused with increased levels of Krill attractors.
Floating Pellets: OUTLAW PRO 11MM FLOATING EXPANDER PELLET
RRP: £2.99-14.95
Perfect as loose feed when surface fishing for carp and make an excellent alternative to dog biscuits. To really pimp them up and get those carp eating like Pac-Man, add a glazing of Outlaw Pro's hemp oil, which has the added benefit of flattening the water's surface. They can take on flavourings or dyes too if you want something a little different.
Floater Rod: SHIMANO TRIBAL TX 1A ROD 10ft 3lb
RRP: £59.99
The ideal carp rod for carp anglers with a small budget, for instance newcomers or those looking for additional rods. The TX1 might be the 'entry level' carp rod of Shimano, but it casts very well, has a fantastic fish playing action and high quality components have been used throughout. The 10ft 3lb model makes an ideal stalking and floater rod.
Compact Reel: SHIMANO FX 4000 REEL
RRP: £17.99
A super-compact reel whose smaller size and lighter weight make it ideal for hand-held carp fishing, such as floater fishing and freelining.
It's an ideal choice for the angler who is just starting out or has a small budget, but still wants a reliable reel with all the quality that Shimano is known for, meaning it's up to the job when it comes to landing hard fighting carp!
Floating Mono: ESP ZIG & FLOATER MONO 100M
RRP: £5.25
For floater fishing you need a line that will remain on the surface, maintaining direct contact to the controller without sagging down and dragging it out of place. This clear, semi-buoyant mono knots well and is ideal for floater fishing and can also be used as a hook link for zig rigs too. Tough and durable with the right amount of stretch for combining with smaller hooks.
Bait/Stalking Bucket: ESP BELT BUCKET, CAMO
RRP: £10.95
Fitted around your waist, this belt bucket has a large 3kg capacity and is permanently within reach, enabling you to continually feed while remaining in position to strike the hook home when a carp slurps down your hook bait!
Polarised Sunglasses: FORTIS WRAPS
RRP: £19.99-44.99
Polarised sunglasses are a must-have when sight fishing as the lenses allow you to 'see deeper'! The stylish frame fits perfectly around the face, eliminating unwanted light thanks to the side window lenses. Soft rubber inserts on the arms ensure the frames don't slip off your head, while maximising comfort so you can wear them all day long. A unique vent system at the top of the frame increases airflow and prevents fog build-up.
Available in Amber, Brown and Switch technology which allows the lenses to darken substantially in response to UV light.
Peaked Cap: OUTLAW PRO BASEBALL CAP
RRP: £8.95
Looks as good on the bank as it does on the high street. Its classic design and muted colour scheme complement all the Outlaw Pro clothing range and the curved peak is ideal for keeping the sun out of your eyes on those bright summer sessions and fish spotting.