ESSENTIALS | Christmas Gifts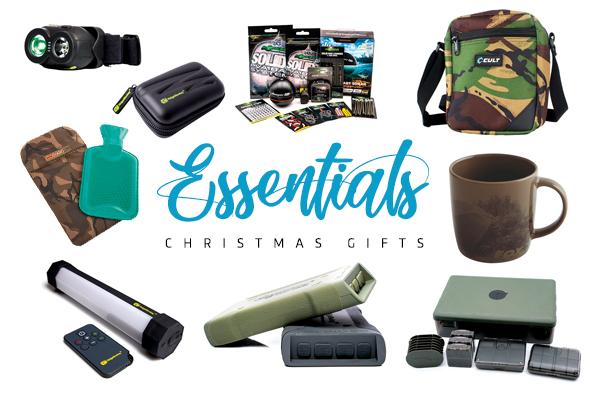 With Christmas coming here are 11 essential carpy gift ideas, recommended by Total Fishing Tackle – just circle what you want and leave it where Santa can find it!
Hot Water Bottle: Fox CamoLite Hot Water Bottle
Perfect for warming you up quickly on those cold winter days, just fill the supplied bottle with hot water for a long-lasting source of heat!
In a fleece and cotton combo and unique Fox Camo pattern, the cover is neoprene lined to retain heat for longer.
Beanie: Trakker Plum Beanie
This improved 100 per cent acrylic Plum Beanie features a Jacquard knit, leather-embossed vertical badge on the chunky turn-up, and an ultra-cosy furry lining, ensuring style and superb heat retention. One size fits all, even the biggest of carp heads!
Mug: Fox Ceramic Scenic Mug
Featuring a carpy scenic sketch graphic this ceramic mug is perfect for hot (and cold) drinks on the bank, at home, in the office…
Headtorch: RidgeMonkey VRH150 Rechargeable Headtorch
With more darkness than daylight at this time of year you need a headtorch. This one has a hard wearing rubberised outer and is water resistant, able to be charged by using a USB, with 18 position, 90-degree tilt function for full adaptability.
With a twin colour output and variable brightness levels, it can be used either way up, while the green light output is brighter to the naked eye than the conventional red beam used in most other headtorches but significantly less harsh than the standard white beam, helping to retain night vision capabilities.
The charge time is four hours and battery life up to 90 hours. Includes a free XL Bait Spoon.
Gift Vouchers: Total Fishing Tackle Voucher
Don't know what to buy? Give a voucher! Issued via email using an electronic voucher code, which can then be redeemed in the Checkout to buy any product on the TFT website.
The code is sent to your recipient's email address and is valid for 12 months from the date of purchase.
Powerpack: RidgeMonkey Vault C-Smart Powerpack
No more cables! Simply set down your Qi enabled device on the Vault C-Smart Wireless pad, press the power button and watch the magic happen with up to 10W of wireless power delivered to it. Compatible with most smartphones, tablets, laptops, cameras and many other portable electronic devices.
With a durable outer construction and protective carry case included, it is available in Gunmetal Grey and Gunmetal Green.
Socks: Korda Kore Merino Wool Socks
Everybody loves getting socks for Christmas! These are made from a high quality Merino wool blend and are naturally breathable to help prevent your feet from sweating.
Highly durable and very comfortable, should the socks become damp they will still maintain their insulating properties – the perfect choice under any type of fishing footwear.
Bivvy light: RidgeMonkey Bivvy Lite Elite IR
With three colours – white, red and green – at the touch of the wireless remote control, you can have your own Christmas lights!
Features a smooth brightness control and built-in rechargeable lithium-ion battery and micro USB charging ports, with an adjustable bankstick adapter and GorillaBox Tech Case 220 included. This has a weather-resistant hard shell, soft lined inner, chunky zip and cable storage pouch.
Fishing Man Bag: Cult DPM Security Pouch
Designed to keep all your important stuff like car keys, mobile phones, wallets and passports in one place, safe in the knowledge it is all there ready for when you need it.
It also comes with a handy shoulder strap so should you leave the lake for any reason, just grab your security pouch from the bivvy and away you go, keeping all the important bits in one place!
Tackle Box: Korda Tackle Box Bundle
You can never have too many fishing bits and pieces, but where to keep them all? The Korda Tackle Box collection includes a Tackle Box, Leader Safe (large), Nine-Compartment Mini Box, 16 Compartment Mini Box and three Accessory Boxes. That should do it.
Fish Finder: Deeper ProPlus Fishfinder Solid Bag Bundle
This bundle includes a wireless, castable Deeper Smart Sonar PRO+, which uses Wi-Fi connection to transfer more accurate data to your smartphone or tablet, to create bathymetric maps while fishing.
Also in the bundle are Dark Matter braid, solid bag leaders, Krank size 4 hooks, Wide Gape size 6 hooks, three square pear inline leads, Solidz PVA Bags (small and medium), PVA tail rubbers, red/white large Kickers, medium Extenda Stops and Yellow/Pink Floss Caps – everything you need for bag fishing once you've found your spot.