ESSENTIALS | Zig Fishing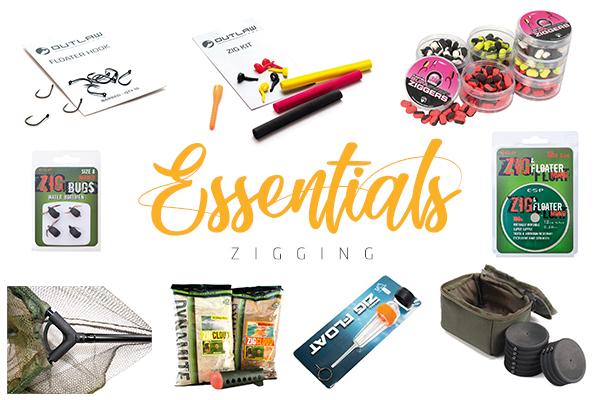 OUTLAW PRO
RRP £3.90
Although originally designed for floater fishing, these small hooks are perfect for zig work where they will remain inconspicuous in the water column. The wide gape means that the hook is able to grab hold then they stay in thanks to that slightly beaked point. Available in a size 10, despite being small, these hooks are plenty strong enough to land some of the biggest carp that swim! The hooks are available as either barbed or barbless variety.
OUTLAW PRO
RRP £4.95
Everything you need to make zig fishing simple! There's no need to tie fiddly hairs with your light mono… simply tie the line directly to the hook with a strong knot such as a Palomar knot, then position the zig aligner over the hook eye. You can then use the tool provided to fit a piece of ultra-buoyant foam through the loop. The kit comes with three colours of each item (red, yellow, black) so make sure to chop and change until you find what works!
MAINLINE
RRP £14.35
Artificial baits banned on your venue? These little buoyant barrels make an ideal alternative hook bait when zig fishing. The pack comes with three neat 50ml screw-together tubs containing 50:50 hook baits in red/black, yellow/black and white/black combinations.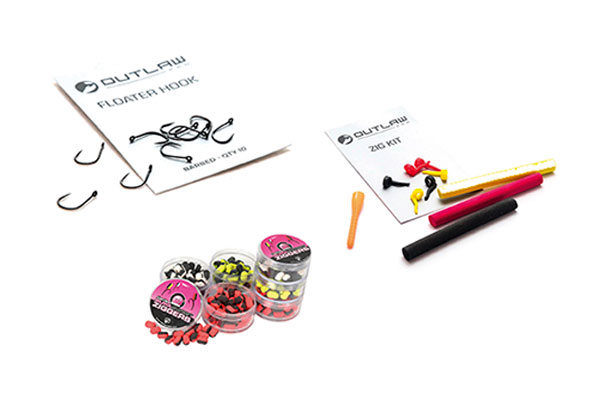 NASH
RRP £24.99
Storing long hook links without a dedicated storage solution can be a recipe for disaster! This handy pouch from Nash contains two ridged foam cylinders and a number of pins. Simply hook your zig in place, wind on the long hook link and pin into position. Nightmare avoided! There's even a handy zipped lid pocket to store your additional zig kit!
NASH
RRP £8.99 to £9.99
Whether it's the awkwardness of super-long hook links, or simply being able to actively adjust the depths on a regular basis without having to recast, these really come into their own. A depth adjustable zig setup can become invaluable on deeper lakes. Simply attach a short zig hooklength of about a metre, then begin exploring the depths until you get that bite you're after!
CARP SPIRIT
RRP £99.99
The Blax multi net has a 9ft handle, which makes landing fish with long hook links a piece of cake. The handle breaks down into three 3ft sections for a compact package, and can be used at either 3, 6 or 9ft depending on the situation you face. The net features a useful magnetic retention system too, which helps with manoeuvring the net without it getting caught on the lake bed.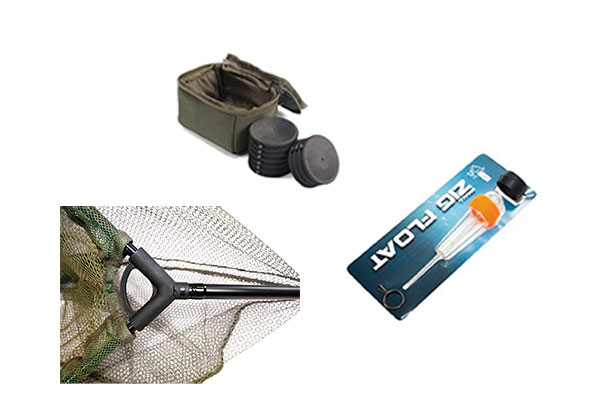 ESP
RRP £5.25
This clear, semi-buoyant mono is ideal as a hook link for zig rigs thanks to its fine diameter. It is tough and durable and has just the right amount of stretch to make it perfect for combining with smaller hooks. The best strength is achieved with a carefully tied five turn Grinner or Palomar knot.
DYNAMITE
RRP £8.99
A standard zig appeals to a carp's curiosity, but we all know that the carp are easiest to catch when they let their guard down! What better way to create that feeding frenzy up in the water than spodding a cloudy mix that simply overloads their senses and drives them wild! Made with quality tiger nut meal and high in water soluble proteins with crushed pellets and hemp, the zig cloud groundbait is available in 2kg re-sealable bags
ESP
RRP £8.25
Fishing a lake where they've seen it all before? Can't get a bite on conventional zig rigs? Maybe it's time to break out the Zig Bugs, which accurately mimic the carp's natural food found in the water column! These imitation water boatmen look incredible realistic and are sure to fool the cleverest carp around! The bugs are lovingly crafted on to size 8 ESP Curve-Shanx