DYNAMITE BAITS | Complex-T Range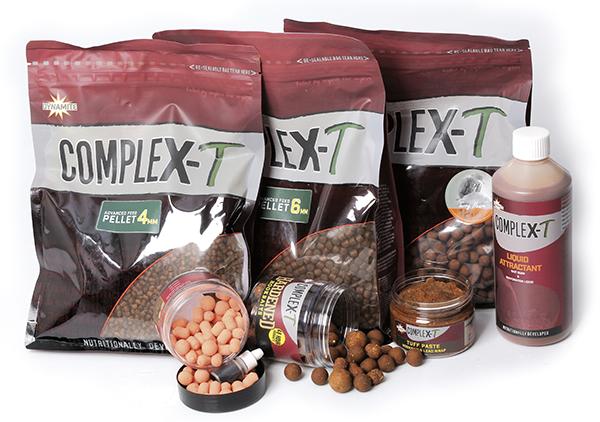 It's been a while since Terry last developed a bait with Dynamite, so the supersize bait brand decided to work on a new 'no holds barred' project with the angling legend.
The initial brief to Terry was "don't hold back" – it wanted to develop a bait that he would happily use anywhere, have 100 per cent confidence in and finally, it was to be beneficial to the overall health of the carp, thus hopefully making a massive difference to anglers' catch rates.
With this clear brief in mind, Terry and the rest of the Dynamite development team set about making what was later to become Complex-T. Terry pushed for use of the crème de la crème of fishmeals, Norwegian LT94, a high grade and truly exceptional source of protein. The bait also includes a number of other premium ingredients such as Haith's birdfood and Robin Red, pre-digested liver extract, spirulina and high nucleotide yeast.
With the inclusion of an exclusive feeding trigger and a collective of other high-quality ingredients used within the complex, this bait has depth and richness like no other. The texture of the bait is soft and open, which enables all the soluble attraction to be leaked out quickly as the bait begins to break down and release attraction when submerged; however, the baits are still tough enough to be used effectively within a throwing stick.
Within the range there are a number of various hook baits including pop-ups in both fluoro and food-bait variations; hard hookers can be purchased in spherical or dumbell profiles and you can even purchase ready made cork ball pop-ups that will stay eternally buoyant. Liquids come in the form of a rehydration soak in a 500ml bottle, which is ideal for drizzling over your free offerings, and a 100ml hook bait dip also features within the range. Feed baits are available in 12mm, 18mm and 20mm; there are also 26mm baits, but these are only supplied in 350g bags.
RRP: £VARIOUS
WEBSITE: www.dynamitebaits.com