CRAFTY CATCHER | King Prawn Range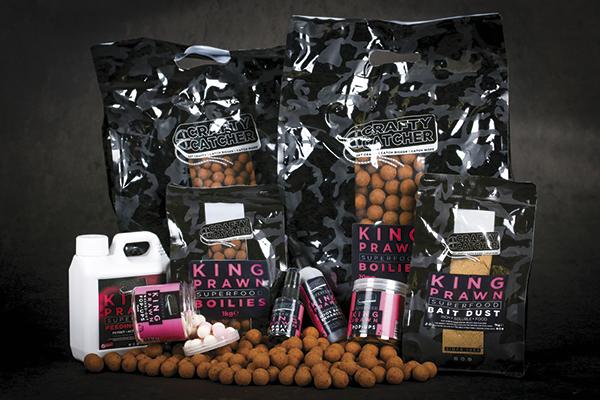 In the 1980s the discovery of venues such as Cassien, Chantecoq and Salagou were to open everybody's eyes with catches of numerous giant carp that anglers in Britain had never seen before. Those who were fishing said venues were using bait combinations that have truly stood the test of time, many of which are still very popular today. Fish-flavoured baits have most certainly proven their worth when fishing for carp and the prawn flavour is a real classic and one that Crafty Catcher takes pride in using in its baits to this day.
The King Prawn boilies are a nod to the retro baits of yesteryear and despite many baits including new found ingredients with their modern creations these boilies are by no means less effective. Available in either 15mm or 20mm in 1kg or 5kg bags with discounts buying in bulk, these superfood boilies are a low temperature, soluble fishmeal that utilise krill extract and proteins in combination with a powerful fermented shrimp paste.
Full of nutrition and rolled with a perfect balance of ground bird foods and milk proteins the King Prawn Boilies are a prime example of how no true high quality bait ever blows, and this is the very reason why this particular boilie recipe remains unchanged. This big fish catcher is supported by a whole host of products that make up the King Prawn Range.
Various hook bait options allow the angler to use their judgement on what will be the best bait to use on any given day. The pop-ups, for example, are incredibly buoyant and will support any presentation that needs to be held above substrates for extended periods of time in plain sight for passing carp to devour. You have the choice of the matching King Prawn Pop Ups or Washed Out Pop-Ups, which are bright in colour but have been toned down to make it appear as they have been submerged for a substantial amount of time. Washed Out Wafters also show their effectiveness when fishing on cleaner bottoms for ultra-wary fish. Being critically balanced and rolled with cork dust there is impressive consistency found with every tub.