CC MOORE | Live System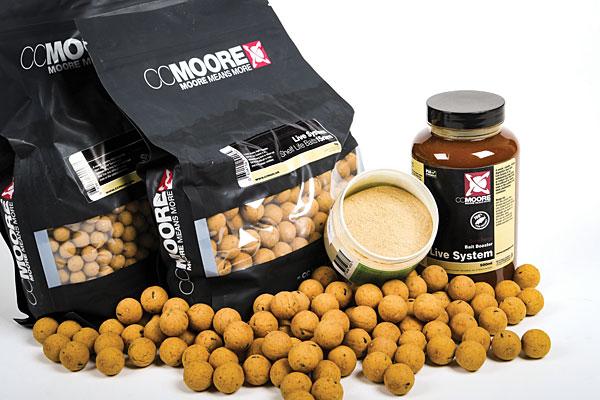 CC Moore certainly needs no introduction as its fine range of bait has been responsible for helping to catch some of the most desirable carp not only in Britain but across the globe! There are currently three choices of boilie available from CC Moore at present but be sure that each and every one is absolutely devastating in their own right.
Live System however, is one of the company's longest serving baits, which can be taken anywhere and will be readily devoured. With the trend of using fishmeals, a creamy and sweet bait constructed with bird food, milk proteins and yeasts could be the deciding factor of holding a big carp in front of the cameras or blanking. The fact of the matter is being different from the rest will always be an edge in carp fishing so on fishmeal dominated waters why not give the Live System a go?
The Live System bait range is extensive with a whole host of matching items to complement the boilies including hook baits, bag mixes, boilie making packs, session packs and pellets. There is a choice of freezer and shelf life boilies too and are available in a wide variety of sizes including 10mm, 15mm, 18mm and 24mm as well as 10x15mm dumbells. These can be purchased in quantities of 1kg, 3kg, 5kg, 10kg and 20kg with significant discounts applied when buying bait in bulk.
CC Moore has also created Live System Bundle Deals that contain everything you will need to go out and start catching fish. There are a number of deals to choose from, including mixed boilie bundles where you can mix and match boilie sizes in 10kg and 20kg bundles as well as a huge 50kg Live System Bundle.
There are also bundles that include a variety of products and choices for the buyer who has a preference for specific bait types. Take the 20kg Live System Bundle B for example: for just £136.50 you have the option to select two 10kg bags of bait in different sizes (or the same size if you so desire) in either freezer bait or shelf life. As well as this a choice of hook bait is required including the Live System Air Ball Pop Ups, Glugged Hookbaits, Hard Hookbaits, Wafters and White Pop Ups. The fourth and final selection is a 500ml bottle liquid food which compliments the Live System boilie. Choose from Amino Blend 365, Roasted Nut Compound, Feedstim XP, Liquid Liver Compound and Live System Bait Booster.
With the Live System Bundle A choose two different sizes of boilie and two different hook bait options for just £74.50. When 10kg of 15mm freezer bait costs £69.99 it really is a no-brainer to have a careful look through the vast array of Live System Bundle Deals from CC Moore!
RRP: £VARIOUS
WEBSITE: www.ccmoore.com