CC MOORE | Carp Freaks Pop-Ups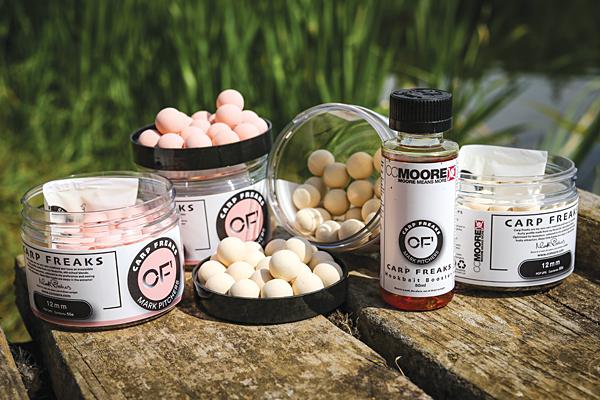 Mark Pitchers has always been an angler who can nick a quick bite when approaching a new venue, adopt any tactic to bank a carp when the going gets tough. He has certainly proven his worth, be it on the many day tick-ets he's fished or the campaigns he has endured over the years. After an extensive two year final testing period Mark has finally given his private, proven and secret recipe the green light for production. This recipe has caught him literally hundreds if not thousands of carp over the vast fishing career.
This intriguing creamy-fruity flavour profile is designed to be a highly attractive and instantly recognizable year round hook bait. The Carp Freaks Pop-Up range boasts peak visual, taste, and aroma profiles which get to work as soon as the bait hits the water.
Like the rest of the proven CC Moore hi-attract hook baits, these have been steamed in order to keep and preserve as much nutritional and attrac-tion profile as possible ensuring the angler gets the most powerful hook bait straight from the tub.
Each tub of baits also comes complete with a sachet of hook bait booster liquid, that will ultimately add even more pulling power should you desire.
Mark Explained: "Carp Freaks are based on a unique flavour combina-tion that has had a great personal track record for me since the mid- 90's. Their superb 'old school' fruit and cream ester-based profile has been tweaked and improved numerous times to create a truly outstanding hook bait which delivers those vital old-school characteristics, but with an added, game-changing 'new-school' twist."
RRP: £7.49
WEBSITE: www.ccmoore.com