Bankside Cuisine | Salt & Pepper Chilli Pork Belly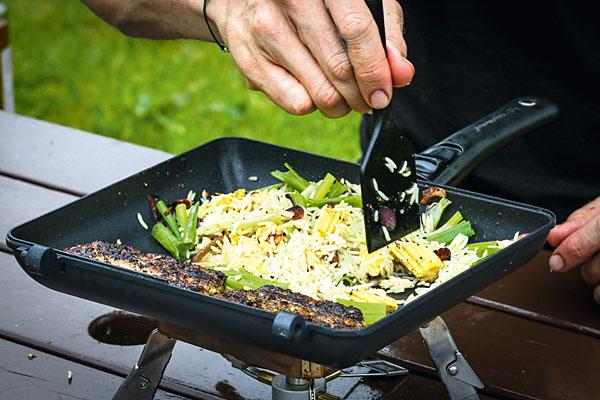 Takes bankside cuisine up a notch - expect unexpected guests.
Serves: Two
Rating: 4/10
You'll need: RidgeMonkey Combi Pan
Ingredients:
• 2 pieces of pork belly
• 1tsp sea salt
• 1tsp cracked black pepper
• 1tsp chilli flakes
• 50g sliced red onion
• 100g baby sweetcorn sliced
• 2 spring onions sliced
• ½ sachet pre cooked rice (I used lime and coriander)
Home prep:
• Mix together the salt, pepper and chilli flakes & coat the belly pork pieces evenly.
• Slice the red onion, baby sweetcorn and spring onions
Method:
1. The ingredients you'll need...
2. In the large open side of the Combi Pan, heat some oil over a medium heat.
3. Add the pork to the pan and cook until it starts to colour and turn over.
4. Keep turning over the pork regularly so it cooks evenly from both sides.
5. When the pork is nearly cooked through, add the onions and sweetcorn to the pan and start to cook.
6. Heat through until the onions are coloured and soft.
7. Add the chopped spring onions.