Bankside Cuisine | Crispy Bacon Pizza Rolls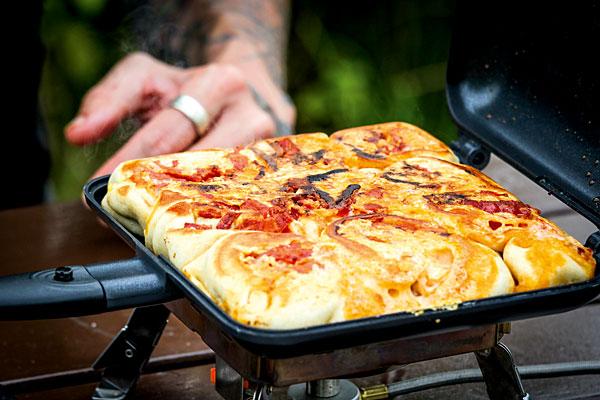 You can use any filling for these rolls along with the cheese - one of my favourites is Marmite.
Serves: At least two
Difficulty Rating: 1/10
You'll need: RidgeMonkey XL Toastie Pan
Ingredients:
• 1 x ready-made fresh pizza base
• Sun-dried tomato red pesto
• Grated mozzarella and cheddar
• 1 x packet crispy bacon strips
Home Prep: None
Method:
1. Everything you'll need.
2. Spread out the pizza base, ensuring it separates from the backing easily.
3. Spread the tomato pesto over base leaving about one inch on two sides.
4. Top the pesto with the grated cheese.
5. Next add the crispy bacon strips.
6. Roll the pizza base in to a long cylinder.
7. Cut the cylinder into nine equal portions.
8. Put these into the XL Toastie Pan so the cut sides are on the metal cooking surfaces.
9. Close the pan together and cook over a low heat, keep turning the pan so the rolls cook evenly.
10. Once the bread has risen and the cheese inside melted, it forms a crispy outer and they are ready to serve.