BAIT-TECH | Triple-N Range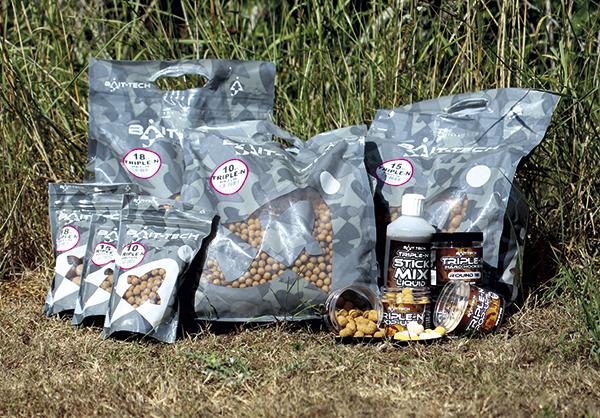 Bait Tech has quietly been making a name for itself in the carp market in recent years and its baits have been scoring plenty of carp for anglers who have switched on to their extensive range of boilies. In particular, Triple-N has been a roaring success for anyone that uses it. Triple-N is a three nut bait – hence the name – featuring tiger nut, peanut and hazelnut meals that are highly attractive to any carp that swims.
To maintain the correct nutritional balance, Bait-Tech has used refined milk proteins, along with high quality bird foods, coupled with a reduced fat peanut blend that creates a highly digestible and nutritional boilie that carp simply cannot get enough of! To round off the bait and provide a complex blend of attraction the Suffolk-based bait gurus have included a liquid food attractor that adds a sweet and creamy back note, and increased the pulling power even further with the addition of a highly attractive feed stimulator that really does trigger carp to feed.
Within this comprehensive range of you will find boilies of 10mm, 15mm and 18mm and an accompanying bait glug that is ideal for boosting your free offerings in the resealable bags to rehydrate them with attraction before your next session. There is also an extensive range of hook baits within the range: pop-ups can be purchased in a natural coloration, a limited edition pink special and also in mixed tubs consisting of pink, white and yellow variations. There are dumbell bottom baits available too, as well as natural coloured wafters that are ideal for critically balanced presentations.
Ian Hirst is a huge advocate of this bait range and it has accounted for a number of large carp across the UK and Europe since its conception; it's the perfect bait to use to get around the nut ban on waters that don't allow nuts to be used and it's highly effective all year round, thanks to the highly digestible milk proteins and nut meals used to create the bait.
RRP: £VARIOUS
WEBSITE: www.bait-tech.com