APTUS TACKLE | Terminal Tackle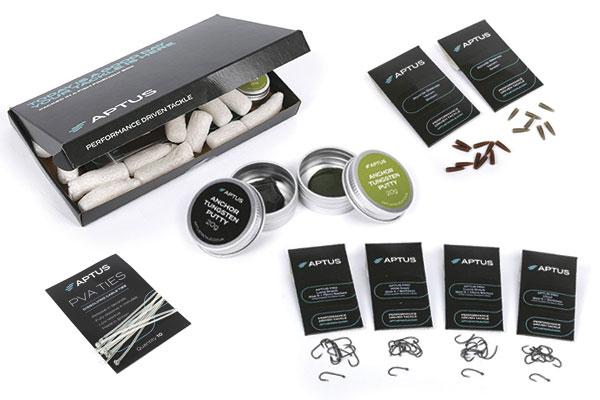 Aptus Tackle offers a new brand of performance driven terminal tackle, as well as tackling environmental issues… excuse the pun. Its goal is clear, hoping to create real change and have a serious commitment to reducing pollution and waste. It even pledges to donate one per cent of total sales revenue to funding freshwater preservation projects in the UK; after all, the future of angling and fish is directly linked to the health of our waters.
The brand prides itself on its environmentally responsible packaging, using zero single-use plastic*. The tackle comes in little card wallets and the whole lot is delivered in a handy little card mailer box. The brand even offers free tackle as an incentive for recycling, whereby used tackle can be returned to Aptus for recycling to receive a voucher for your next order! We check out a small selection of what's on offer…
APTUS PRO HOOKS
RRP: £4.49
The Aptus Pro Hooks are designed for high performance angling, using advanced materials and manufacturing processes. Produced from Vanadium Steel, the hooks are super-strong and resilient, meaning that the hook not only retains its shape under pressure, but this also allows for longer tapered, needle sharp points. Being harder than regular steel, the super-sharp hook points retain their sharpness too! The hooks then get an ultra-slick PTFE coating, resulting in faster and deeper penetration. This has been found to be 18 to 24 per cent faster than standard hooks without this coating.
The hooks are produced to a high standard with a refined eye closure, which reduces potential line damage and are available in four patterns; curve shank, wide gape, chod and long shank. Each pattern is available in combinations of size 4, 6 and 8 in barbed or barbless varieties.
RONNIE SLEEVES
RRP: £2.99
These simple tapered sleeves are ideal to replace the shrink tubing on a conventional spinner/Ronnie rig, to make the entire setup completely interchangeable and therefore prevent the need to discard used sections of shrink tubing once a hook needs to be changed. Available in two colours – green and brown – and supplied in packs of 10.
ANCHOR TUNGSTEN PUTTY
RRP: £5.99
Available in either Silt Black or Weed Green, this tungsten putty is super heavy and dense. It's easily moulded and has a sticky consistency ensuring it grips whatever component it's attached to, including fine hook links. Comes supplied as 20g of the putty in a small metal reusable tin.
PVA CABLE TIES
RRP: £3.49
PVA cable ties make solid bag fishing a breeze! Rather than struggling with tape, simply attach a cable tie and cinch down tight to hold the bag securely. The cable ties then release in seconds following immersion in water and fully dissolve within a matter of minutes. These leave very little residue and are also pH neutral so won't taint your baited area. Other great uses include securing a lead clip on the cast or creating a delayed rig release from a baiting pole.
*Being PVA, this product must be supplied in a completely watertight resealable plastic wallet, which Aptus recommends storing the product in. Once empty, the packaging can be filled with your waste tackle and returned to be recycled FOC! In the meantime, Aptus is working on a completely plastic free alternative.
WEBSITE: www.aptustackle.com