April Issue Out Now!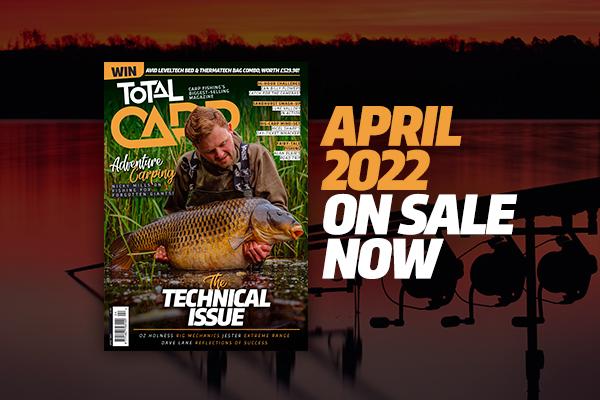 Nicky Mills sure knows how to catch big carp, but the behemoth of a common that adorns this month's cover is just huge beyond belief and from a real head-banger of a water too! Having spent the last few years chasing myths on forgotten pits, it's been insightful to sit down with him and get the low-down on how he targets these daunting waters.
There's loads of other great technical know-how in this issue too, whether it's Oz Holness' rig thoughts, Jester on extreme-range fishing, Jimmy Armstrong talking pop-up presentations or editor Matt Townend on lead arrangements. Dave Lane also starts his latest series, reflecting on his past successes and the technical approach behind those particular captures.
When it comes to in-session fishing, you've got more great content with Billy Flowers taking on the 36-Hour Challenge at Berners Hall, Ian Russell troubleshooting on Willow Park, and both Nigel Sharp and Luke Vallory smashing it up on Sandhurst! One of them even goes on to catch a day-ticket forty, but we'll leave that one for you to find out as you read on!
Editor's top picks:
TO THE EXTREME
Ringwood casting legend, Jester 'the spod rod tester', lays out the fundamentals of fishing at extreme ranges. Known to fish and bait at over 200 yards, Jester has spent years fine tuning his approach on expansive big-pits like Rockford, where every extra yard can make the difference between success and failure.
OLD FRIENDS REUNITE
In this month's Big-Carp Mind-Set, Nigel Sharp brings his winter campaign to a close with the capture of his namesake. Weighing over 40lb, Nige's had put on some weight since their first meeting and it capped off an impressive tally of 40-pounders caught in every month of the year!
CHASING MYTHS
Big-carp hunter Nicky Mills reveals the ins and outs of fishing huge waters for the unknown and tells the story of how he caught a common of biblical proportions! Whether it's boat fishing, giant carp or the thrill of not knowing what will end up in your net, Nicky's fishing definitely brings a sense of adventure!
SANDHURST SMASH-UP
In his quest for a day-ticket forty, Luke Vallory makes a quick change of plan and heads to Sandhurst Lake in time for a bout of stormy weather. The hunch pays off and a few moves later see Luke thick in the action with a string of big fish. Will that magical forty come his way?
INSIDE THE MIND
We delve inside the mind of Oz Holness to discuss the dizzying topic of rigs. With a fantastically efficient formula for catching big, Oz requires just a small selection of well thought out rigs and he reveals in this issue. If you find yourself getting all tied up in knots, then Oz's approach may just be for you!
ROAD TRIP
Alan Blair starts off his Road Trip at his favourite day-ticket water, before getting his bags packed and on a flight to Lyon to see the Nash Tackle France team. As can be expected with Alan, that bag was packed with Scope kit and by the following morning he'd landed an awesome brace of carp with an equally incredible backdrop!