TF GEAR | Flat Out Super King 5 Season Sleeping Bag (Video)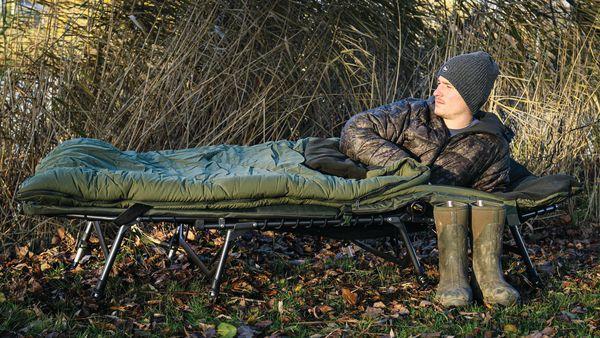 When winter takes hold we definitely know about it as the biting cold winds, low day and night temperatures as well as a slowing in fish activity tests even the most hardened out there. This is exactly why TF Gear worked closely with Dave Lane, as the carp fishing veteran would be able to provide his two pennies' worth in order to produce and release what is a high performance 5 Season sleeping bag.
The Flat Out Super King 5 Season Sleeping Bag provides plenty of room inside for the larger angler or even for those who prefer to have a little more movement inside a bag. Measuring 1.1 metres wide and almost 2.2 metres in length there are plenty of options available to the angler. One of the most notable improvements to its predecessor is the heavy focus on improved comfort; this is of vital importance for maximum performance while fishing. Being unable to relax and poor sleep are very counter-productive, so the team made sure that comfort was a high priority with this bag. They achieved this by making use of a number of features, with the first and foremost being the warm soft fleece lining; on the coldest of nights this choice of material really is appreciated.
Now for those who make every effort to keep their eyes peeled on the water no matter what the conditions, and fish without a door front on their bivvy or under a brolly this bag will absolutely tick all of the boxes. Draught has been eliminated by utilising a windproof outer and this is especially vital when the wind swings from the north or east. Not only is the fleece inner a rapid warmer but there are a number of features that make sure that the heat inside the bag is retained. The crash zips have received internal baffles helping increasing warmth, double sealed seams help prevent the accumulated warmth from disappearing and high quality synthetic materials provide the maximum insulation.
The Flat Out Super King 5 Season Sleeping Bag makes the perfect pairing with TF Gear's huge Chill Out Giant Bedshair and attaching it is child's play. Bed attachment straps make for an easy install and the head and foot harness prevents unwanted slippage during use. Should you wish to remove the bag from the bedchair at any point, whether it is for a move or when packing away, then the supplied heavy duty carryall becomes most useful.
RRP: £119.99
WEBSITE: www.totalfishinggear.co.uk
To find out more about the Flat Out Super King 5 Season Sleeping Bag, watch the video below.