IN SESSION | Winter Park Lake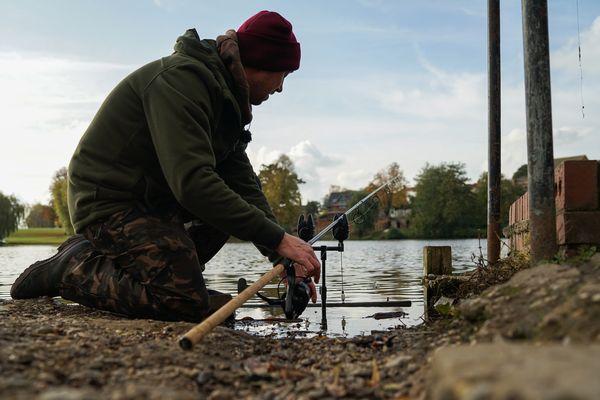 We made the long journey over to Norfolk to join Rich on a local park lake, located in the heart of Diss. As we arrived and pulled up next to Rich's motor, he had just slipped the net under a fish, so in essence it was already mission complete!
Always follow the local rules and regulations.
RICH WILBY: "I haven't actually been down here long; I arrived at first light and it was clear they were in this area, fizzing up and rolling just off this boardwalk here to my right. I only had chance to get one rod in position and it was away with 15 minutes – perfect timing!"
With that mirror resting in the net, Rich got straight to work with getting both of his rods in place before tending to the resting fish.
RW: "On these short sessions, it is all about efficiency and preparation; feeding spells can be short-lived and you have to make the most of them. I already have rigs tied up ready to go, with small mesh PVA bags that I simply hook on before casting out. All of these simple things I can do at home the night before and if it saves me time, giving me longer with the rods in the water, then I see it as a necessity on short trips."
With two rods in place, we got the mirror safely on to the bank for photos.
A simple but effective bottom bait presentation.
The park lake was clear and choddy in places.
RW: "The layout of these park lakes can be quite industrial, with concrete banks and gravel in abundance, which is why I always carry a well-padded, walled mat. This means there is absolutely no chance of a fish coming off the mat and potentially causing damage to it. You always have to think fish first and treat them well on the bank, especially in urban situations."
After slipping the fish back, we wanted to quiz Rich on his approach for the morning ahead and find out his plan of attack…
A mix of hemp, maize and Live System boilies.
RW: "Knowing that you guys were coming down today, I made the effort to get down here last night just on dark to bait up a spot of the end of the boardwalk. I think, especially in winter, if you can trickle in a small amount of bait prior to your trip, it will vastly improve your chances. I didn't go mad with the bait, just a few spoons, but at least that gave me a starting point for today's trip.
"When I arrived, it was evident they had been eating the bait, in fact, I am sure they had probably cleared the lot with the amount of fizzing present this morning. As a result, I wasted no time getting a rod on it and shortly after, I landed that stunning mirror.
"My plan for the day ahead is to fish two rods, one directly on top of the baited spot and one on a bright, single pop-up, just off the area in the hope of picking off a bigger fish."
With the first fish of the day safely slipped back, we sat down for a brew to warm up and touch on Rich's choice of rigs for the trip…
A stunning park lake mirror, the first of the morning's action!
RW: "I keep things very simple when fishing these types of lakes; the fish can be pressured, but I know they are catchable if they are eating and you are angling for them in the right area. As a result, my setup is very simple but effective, utilising a simple knotless knot, with a curved style hook, to ensure it flips every time without the need for any tubing. My other rig, fishing just off the baited spot, is a multi rig; this simple pop-up arrangement allows me to quickly change my hook without tying up a fresh rig, perfect for these short-day sessions."
Right on cue, Rich's right-hander ripped into action and at first, we all thought he may be attached to a bream. It wasn't until it came under the tip that it started to put up a fight, resulting in a small, typical park lake common of about 8lb. Rich quickly got it back and went about attaching another mesh bag…
RW: "I think it may be time to introduce a little more loose feed. I have a feeling that most of it would have been eaten by now and I don't want to risk the fish moving off the baited area. I knocked up a mix this morning, with some hemp, boilies and small Live System baits, so I will nip down the boardwalk and introduce some. In the winter months, I do prefer those smaller bait items, such as 10mms, as they go softer quicker and are much more easily digestible, much like the small pieces of corn in the mix."
The area had now been primed once again and as we sat back enjoying the warming sunshine of the morning, the fish had clearly begun to make their presence visible in the area once again. Having witnessed Rich getting both of his rods out, it was evident he favoured a bright bait for this type of angling, so we were keen to find out why this was.
Step-By-Step... Rich's Park Lake Mix
1. Hemp was the first ingredient in Rich's park lake mix.
2. Followed up with some 10mm Live System baits.
3. The final addition was some maize.
RW: "I have been a big fan of orange baits as of late, it certainly seems to be an overlooked colour nowadays but many of my early captures as a kid were on orange. I am using the colour in two forms today, firstly, as a single hook bait; this is a boosted NS orange, and also as a tipper, one of the small 8mm NS Minis to tip my dumbell hook bait. With the lake being reasonably clear, I do think that fleck of colour can trigger a feeding response and get those bites a little quicker than a matching bait from the bag. Tipping your hook bait with a small pop-up also gives the bait a degree of buoyancy, which means it flies back into the fish's mouth with very little sucking effort."
Having now covered Rich's rigs, we wanted to know the draw of the park lake, a little far-removed from his usual haunts on the river and stillwaters.
Step-By-Step... Balanced Bait
1. A small orange 8mm bait formed Rich's simple balanced bait.
2. This was then coupled with a LS dumbell straight from the bag.
3. The finished rig that got the bites for Rich.
RW: "In the winter, getting bites is the most important aspect for me. The last thing I want is to sit behind motionless bobbins and blank every trip, it doesn't keep you engaged or motivated to get out there. The park lakes are perfect for winter bites; generally, they are shallower and fish well during even the coldest of winter days, plus they hold a good head of mixed size carp to go at."
Just as we finished speaking, the PVA bag rod was away, trying to take Rich down the side of the snaggy boardwalk.
RW: "This is one of the reasons why simple yet strong, reliable tackle is important on the park lake; you just do not know what lies below the water sometimes – there could be snags, old shopping trolleys and structures…"
Heavy, strong main line is important when tackling park lakes with structures and snags.
After clamping down a little, Rich managed to steer the hard-fighting carp towards the waiting net, in which it looked to be one of the darker commons the lake held. Just as the net went under the fish the second rod was away, this time on the single hook bait, so there were clearly a few fish present in the area.
RW: "I wasn't expecting that! This feels like a better fish too, staying deep and not shaking its
head as much. I thought if anything would produce a better one, it would be that single just off the baited patch."
As it came closer, the shoulders of a nice mirror broke the surface before gliding over Rich's net cord.
With a fish already in the net, Rich's second rod was away…
RW: "Looks like a better one for sure!"
With two fish now resting in the net, we helped out with getting the bigger mirror in the sling before hoisting the dark common up on to the mat.
RW: "This is why I love the park lakes, dark characters like these. You just do not know what shape and size of fish you are going to catch from here, which certainly keeps it interesting."
After slipping the common back, we lifted the mirror up on to the scales, registering at 17lb plus, certainly a good result on a short morning session for Rich. After snapping off a couple of photographs and getting the lovely mirror back into her home, we wanted to finish the trip by asking Rich about his park lake set-up that he had been using throughout the day.
The first part of Rich's final brace, this lovely slate coloured common.
Rich's long hair worked a treat, with all fish holding firm.
RW: "Coming from an all-rounder background I know the importance of balanced tackle, which I apply into my carp fishing to ensure I get the most from it.
Today I am using some 2¾lb rods, they are quite soft but perfect for this type of fishing. Coupled with that are some small 'pit' style reels, the optimum size for casting but without the heavy weightiness of a big pit. I generally scale down a little with my hooks on these lakes, which is why I believe it is important to have lighter, cushioning rods to enjoy the fight these park lake carp offer."
As we said our goodbyes to Rich to make the long journey home, he began to pack what minimal tackle he had into the back of his truck. A few hours' fishing and a bit of action can certainly go a long way in the winter!
Rich's last fish of the day was this cracking mirror!