The Rig Mechanic The Spinner Rig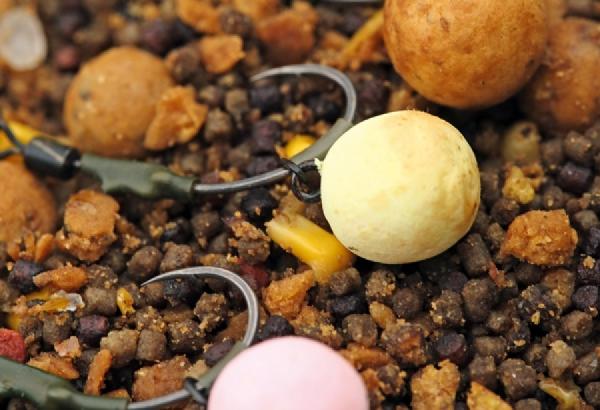 Carp hauler Steve Cliff reveals a devastating rig that he has been using for over a year and has accounted for an incredible number of carp…
Ever since I can remember I kept changing pop-up rigs; I have never been able to settle on something that I have a great deal of confidence in. Most of my fishing has been done with small 12mm pop-ups balanced, but there is certainly a time and place for using pop-ups. I have spent years trying to find something that is low to the lake bed, doesn't involve relying on putty or fiddling around with stiff materials and which works exactly how I want it to.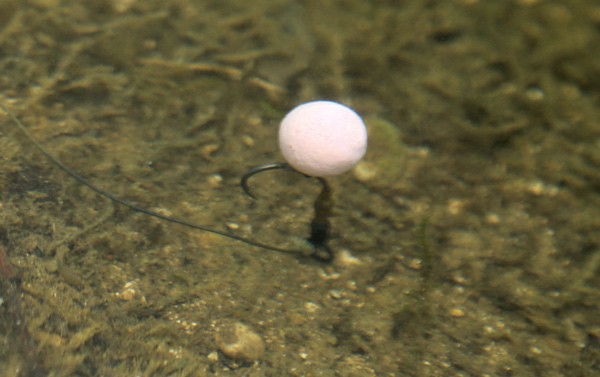 The spinner sits perfectly on the bottom
It all started when I had a look at some of the new products from Korda. I noticed the introduction of the QC swivel, which was something that I have used for years inside my lead clip, helping me change my hook links quickly when fishing with bags.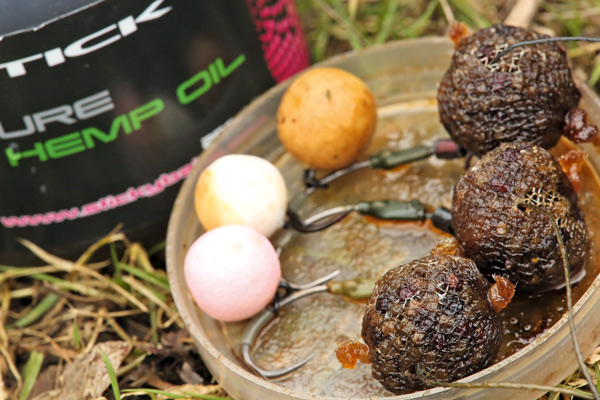 Hemo-soaked bags are added to Steve's rigs...
With an idea in my head for a new rig, I started looking at different hook patterns to actually attach to this swivel. I have seen people opening eyes on hooks and other things like that to actually get it on the swivel, but this seemed a safer and easier alternative. I suppose I wanted something that would behave like a 360 rig but not offer the brutality it comes with when using certain patterns of hook.
I know everyone has his or her opinion of the rig, but for me it isn't fair to use it. It can potentially cause terrible mouth damage and this is something I never want to be guilty of.
This rig that I was playing with, though, would not cause the mouth damage that its famous alternative would. I started off with a size 8 Krank hook with a size 11 QC swivel. A 12mm bait would sit on top of this, and it did so perfectly, very flush and with the pop-up subtly sitting over the hook.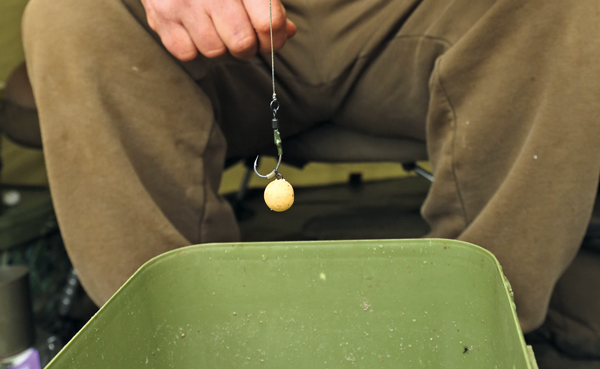 ... but each is tested before casting out.
I had always fished with half a 12mm pop-up on my slip D rig, so still wanted to keep everything small. I first took what I christened 'the spinner rig' to Elstow in April 2015 and had an incredible result on it. Whether it was just timing or not, I had 11 fish that weekend, including a number of thirties.
The spring went really well and I took it to various places. Linear's Hardwick saw another amazing session in which I bagged over 50 carp, many, but not all, on the spinner. The truth is, I prefer to fish with baits on the deck in summer and I waited until winter to give it a really good go.

Spring 2015 success on the spinner's earliest incarnation.
I wanted to fish somewhere that I could catch a few, with a chance of a big one. Brasenose seemed the obvious destination and the plan was to solely fish this rig to perfect it for spring 2016. No matter what the conditions, I was never going to resort to a single maggot or a bit of plastic!
I mucked around with Kurv Shank in both 4 and 6. With it being a straight point, it seems to want to grab any bit of flesh it can. It was a little bit worrying that it could hook all over the place and again a little savage. It often hooked into any old soft bit of flesh and did result in some poor hook-holds. I wanted to find something that would select the tougher, bottom lip, ideally.
This is when the size 4 Krank came into play and I've been using it ever since. The hook-holds are always in the lower half of the mouth and because it has an inturned point, it seems to almost select where it hooks.
With me going up to a size 4 hook, I needed to up the size of the bait too. I wasn't only playing around with that rig on Brasenose; I was also fortunate to join in with the Manilla craze.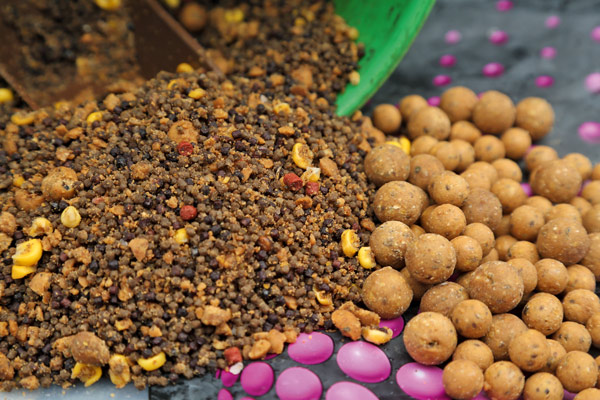 Steve often starts with particle mizes but nearly always ends up fishing over boilies, Manilla in this case.
I was using a 16mm Manilla pop-up and this seemed to be more productive than something bright or fruity. It seems that the fad on these lakes is lots of maggots, zigs and bright pop-ups, but I was having big hits of up to 40 fish on boilies. My best session was 44 bites and I didn't lose a single one, which gave me so much confidence.
That particular session I decided to fish the Smith's bank of Brasenose because I was sick of sitting in the cold wind in the weeks previous. It hadn't done a bite on that bank for over four days but I just fancied it. The first few hours were dead but that afternoon I managed 20 fish.
The next day I had 24 more and it was just getting better and better. As soon as they found my bait, they kept coming.
Over the course of this winter, I have had over 150 fish on the rig and everything works perfectly together.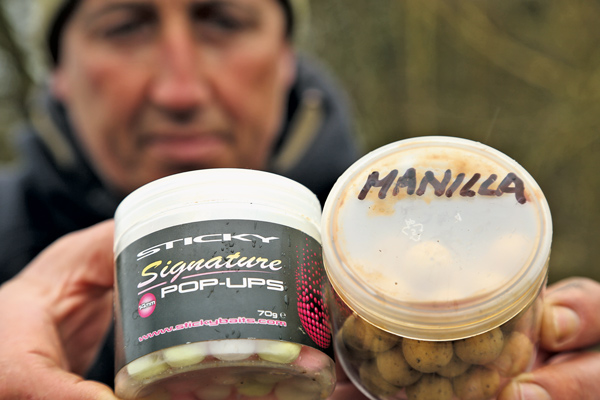 Over 150 carp so far on just these pop-ups.
When it tested in the edge or in a bucket of water, you can see the aggressive angle it sits at. When you move your finger towards it, the hook wants to grab anything that comes near! That is what has always made the 360 rig so successful and the spinner replicates this but, in my opinion, in a far safer way.
The construction of the rig is pretty straightforward. I start off by taking a size 4 Krank and a piece of shrink tubing, just enough to cover the eye of the hook and the attachment piece of the swivel. I then get a size 8 QC ring swivel and hook this on the eye of the hook, making sure to do so away from the point.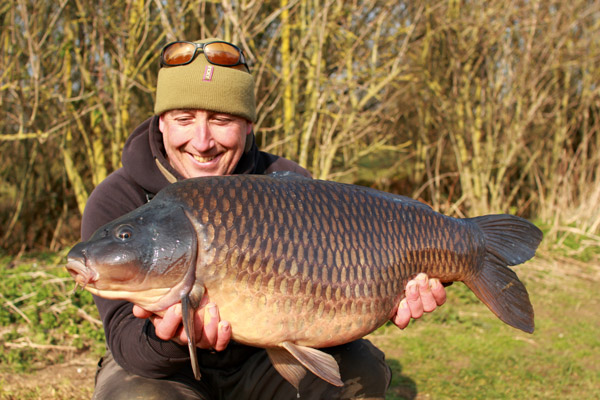 St John's success on the spinner rig!
Bring the shrink tubing down to neaten it all off, which you can see in the sequence of photographs. I then add a bait screw, the type with a loop below the screw to add extra movement, before taking a small section of fairly large silicone and hooking that on to the hook, setting it a few millimetres above the barb. I prefer silicone to a hook bead because it allows a bit more movement with the bait. I then steam the shrink tubing to complete the hook section.
Ever since Korda released the Dark Matter braid it has made my life so much easier and it is this that I use for the hook-link section. There is no need for putty because it sinks brilliantly on its own accord. With me favouring lead clips, it means that no matter what kind of lake bed the lead lands in, the hook link won't be sitting at a funny angle.
I like it because it settles nicely on any bottom. On a clean lake bed, I use around six to seven inches as my boom. If there is a bit of muck or weed on the bottom, I will lengthen that slightly. That is it, the rig really is as simple as that and you'll see this from the sequence.
It is dead easy to change the hook as well. Just cut the shrink tubing off, unhook that hook and put a new one on. I use the Dark Matter in 30lb and it is indestructible, meaning I can use the same hook link all year if I want. Nothing gets wasted and the only thing you will need to change is the hook and shrink tubing.
With the large hook, bait screw and size 8 QC swivel, it takes down a 16mm Sticky pop-up nicely, without the need for a load of putty. It's important that you check your pop-ups with the rig, just to be sure; or just use Manilla ones, as I do. It really is an amazing bait, as many anglers will find out once it's launched.
The swivel acts as the main weight and it makes life so much easier not having to play around with putty making sure it all sits nice. This sits perfectly and I can get the rods back out on the money really quickly.
I was often asked while over Linear what spod mix I was using, because it was carnage some days. I am always honest with people and to start with I want something down there to almost fire up the spot. No matter where I am fishing or what rigs I am using, this is one part of my fishing that always remains the same.
I begin with Bloodworm pellets, sweetcorn and crushed and whole Manilla boilies. Once I have had a few bites and the action picks up, I start to introduce just Manilla boilies. Now, I did a lot of playing around this winter and, amazingly, the bright hook baits didn't seem to work. The best results came on a 16mm Manilla pop-up screwed on and slung out to the spot.
It was getting ridiculous at times and three-rod bust-ups were not uncommon. I even gave a few handfuls to some chaps that were struggling on one session… they weren't struggling for long. I have never experienced anything like it over Oxford, I am normally the grumpy old man sat there moaning about zigs and maggots, but now it seemed to be all about boilies.
I do experiment too and fishing with all three rods tight together, I can easily gauge what is working best. I have tried all sorts as hook baits but kept on coming back to the Manilla pop-ups.
When you have a bait that you have optimum confidence in, it makes rig choices easier. Once the combination of a good bait and a highly effective rig is placed together, all that is left to do is get on the fish.
Another advantage I found with the rig was that it allows me to use my little hemp-oil-infused PVA bags. You couldn't do this with something like a hinged stiff rig, for example, because it would straighten that curved section in the hook link. With the spinner rig, I can thread it down the hook link and know that it won't tangle and I have a small parcel of food around the hook bait too.
I feel that, right now, the combination of this rig and, of course, the Manilla, has been a huge edge for me and now, in sharing it with you in the pages of TC, I hope it offers you something similar.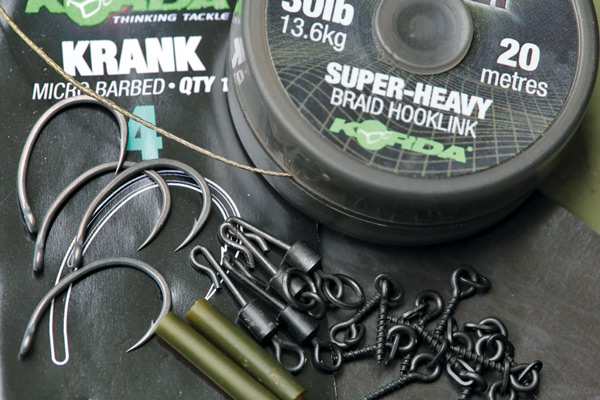 1 - After experimenting, Steve has settled on these reliable components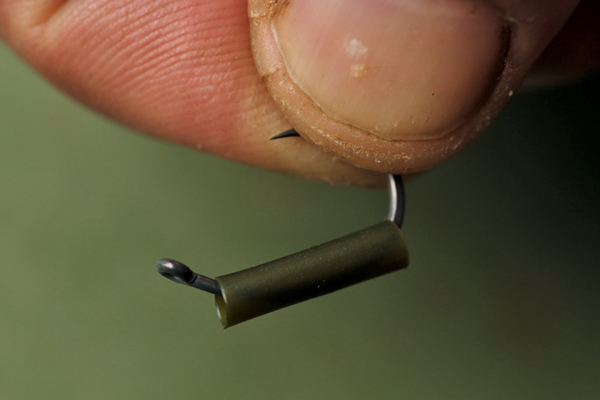 2. The first step is to thread some shrink tubing onto a size 4 Krank hook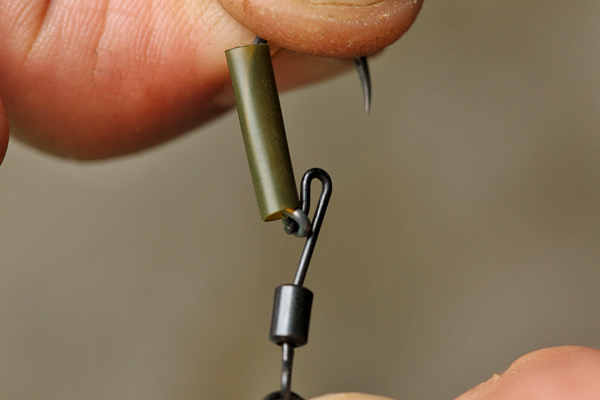 3. A Quick-Change Swivel is then attached to the hook, exactly as shown here
4. Tease the shrink tubing down the hook and onto the Quick-Change Swivel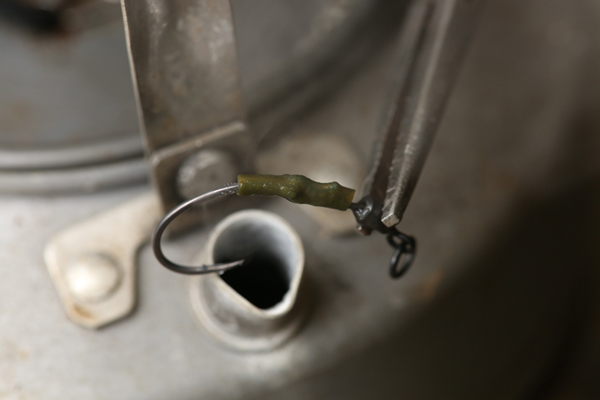 5. Being careful, the shrink tubing is then heated over a steaming kettle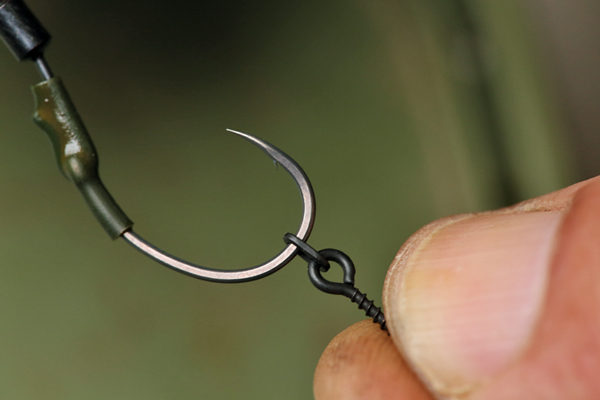 6. Next, on the hook goes a bait screw the type with the extra ring on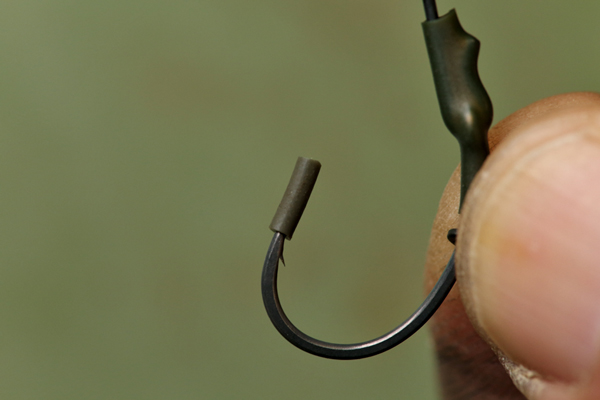 7. Steve follows this with a short piece of fine rig silicone carefully threaded on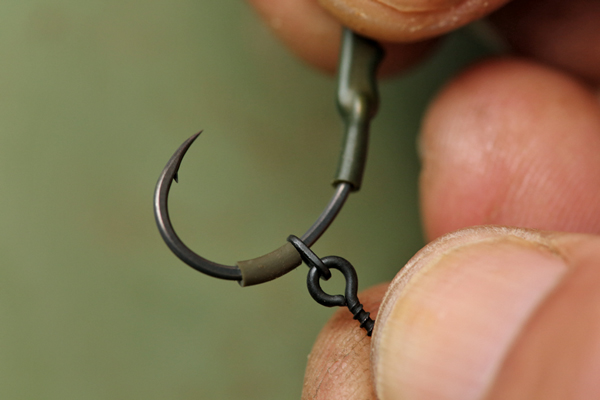 8. The silicone needs to sit in this position, and work as a stopper for the bait screw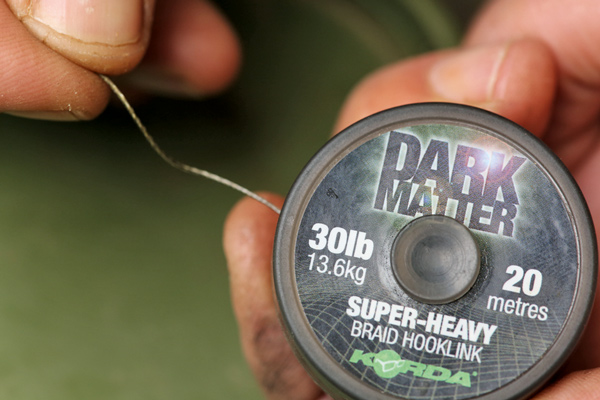 9. The hook link that he uses is 30lb Dark Matter sinking braid, from sponsor Korda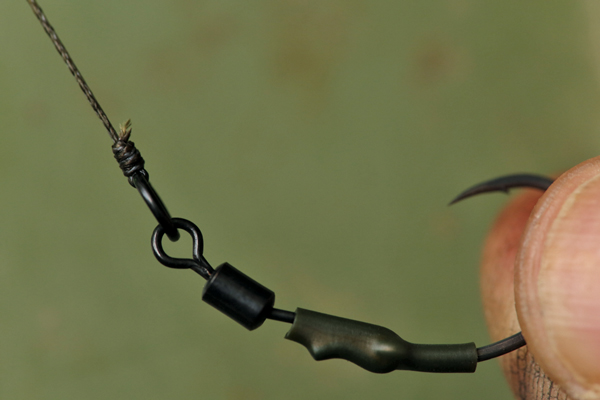 10. He ties this to the large ring on the Quick-Change Swivel and he's nearly done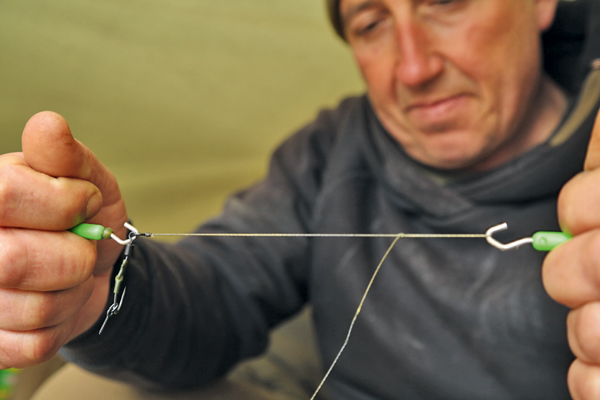 11. With a loop at the other end, the hook link is then pulled to straighten everything out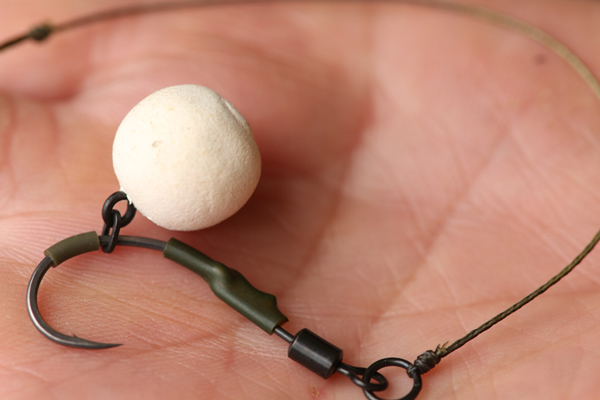 12. With his pop-up screwed on, the rig is ready to be tested and then cast out