Return to Chilham Mill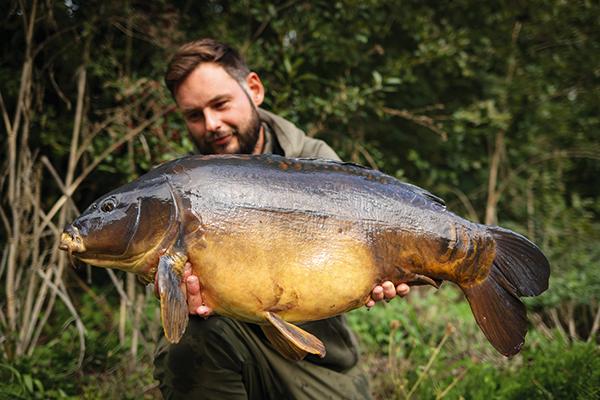 I'd fished Chilham Mill many years before and since then the stock has grown on considerably. Recently I was offered a chance to get a full ticket back on the lake and with it only being 25 minutes from my front door, it was a no-brainer! As well as a lot of the younger fish packing on the weight, there were also plenty of big old ones left to go for too, including a few I'd not caught before, so I was really looking forward to my return.
Being so close to home I could easily keep in touch with the lake, taking my dog for a walk and regularly baiting areas in a hope of getting them used to finding the boilies and making it a welcome food source. For the two weeks leading up to being able to start fishing, I spent most evenings at the lake, seeing what was going on, seeing where the fish were, the areas getting angling pressure and the sorts of tactics being used. With everyone being keen as mustard at the start of the season, it was always going to be busy. However, the lake is very broken up and at 26 acres with 34 swims, there were always going to be areas to go at where the carp weren't getting pressured quite as much. The lake's also relatively shallow and has weed in abundance, so those carp were going to be spread throughout the lake, not just held up in one area.
I spent the first few sessions just getting to grips with the lake, having a good lead around in swims to find out what areas were clear and presentable, as well as getting the bait going in around the lake in some less favoured areas. Prebaiting was going to be a big part of my approach and I was going in heavy with boilies. It was clear that the lake was dominated by bait boats and while it was going to form a part of my approach, I also wanted to stand out from the crowd too. Baiting up would be done in two forms, either by boat when I needed to get the bulk of the bait out quickly, but also via the throwing stick. When I could, ie. in the evenings when the birds had gone to roost, I'd take a couple of kilos of Cell and spread it far and wide in the swims I was looking to target, hoping that the carp wouldn't treat this with as much caution.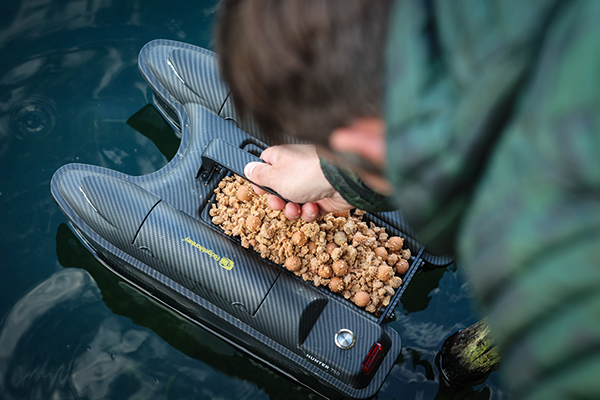 I was keeping an eye on the sign-in books, seeing which swims were getting fished and trying to determine whether any of the areas I'd been baiting were being left alone. These areas would be ideal, as the fish could get a consistent supply of food without being pressured. This was perfect as it would hopefully mean they would be well catchable on my short overnight sessions between work!
Looking on past form there were a number of areas that would always do plenty of bites due to having loads of water and lots of good features, however the trade-off was that many of these pegs would often be busier. Swims like Bailiffs Island, One Pole, Transformer, Shooters and Scaffolds always do big hits and so I wanted to try and get some bait going into one of these too. Scaffolds was going to be my choice as it's a small, uncomfortable swim out on an island, meaning it's a bit of effort to get your kit to, unlike most other swims on the lake where you can park behind your swim to unload. This extra effort would hopefully deter a lot of the long-stay anglers who are laden with loads of tackle, whereas I would keep things really minimal for my short overnighters.
I decided that my plan was to bait up twice in the week before fishing, ideally spreading 3 to 5kg of boilies around a couple of zones, giving me options for when I returned. Then when I returned to fish, I'd bait up again with a kilo of bait over each of the rods. The first session on the baited areas started off well and I had two 22-pounders and a 24lb mirror out of the dugout swims – the ball was rolling! A couple of sessions later I managed to get into Scaffolds for an overnighter after driving all the way to Cornwall and back for work! That extra effort was certainly worth it as that session I had five fish to 28lb!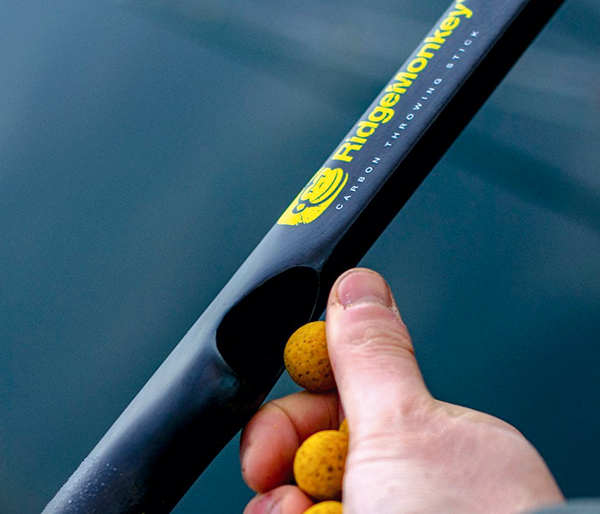 After that session I knew that I needed to get back in there the following week when we had a big weather front blowing in, coinciding with a couple of days product filming I had planned with RidgeMonkey. The day came for my session and when I got into the lock-up I was pleased to see that the Scaffolds was vacant! I claimed my swim and headed round to start getting my kit sorted for the session ahead, hopeful that I'd bag one ready for the cameras' arrival in the morning.
Before the lads arrived I'd already caught three fish and I knew that there would be a good chance of a hit of fish and a red-letter session! Well, what happened next blew me away as I went on to land the biggest fish in the lake, a fish called Single Line at 47lb 8oz, which was also a new personal best! It's one of the fish I came back to try to catch and was a great moment to share with a couple of the other syndicate members who smashed it on camera duties!
I had another two fish during the night and as the film crew arrived the following morning, they stepped into the swim and the rod up against Scaffold Island burst into life – how's that for timing! It turned out I was attached to The Pretty One; as the name suggests it's a stunning looking fish and one of the old guard of the lake just like Single Line – I was buzzing!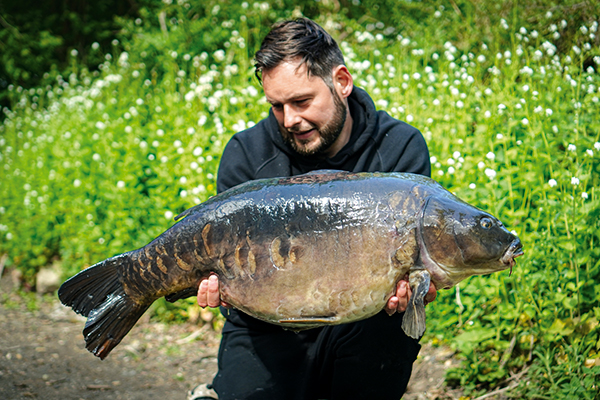 Things didn't stop there though; while filming some of the new RidgeMonkey Ruggage I had take after take and was stuggling to keep rods in the water while juggling the filming! The next take I had felt different though, much heavier and slower than a lot of the others and I knew I was attached to another big fish! When I netted it I looked across to the cameraman in disbelief – I'd recognised the fish immediately as Fat Boy Slim, a regular over the 40lb mark and when it spun the scales round to 43lb I was elated! The session, which was supposed to be a product shoot, was rapidly becoming one of my best angling sessions of my life!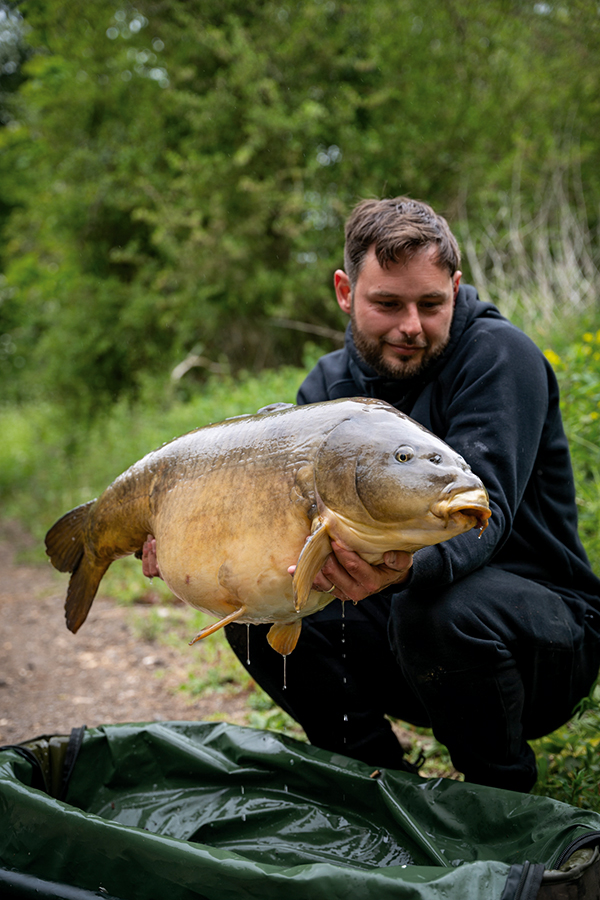 Over the course of the session I managed 17 fish, two forties, four over 30 and a hatful of twenties including a really stunning 27lb fully scaled in the mix. It was a session of a lifetime and the regular pre-baiting continued to pay off over the following sessions too, with 48 carp over eight sessions!
After a summer away with work, I'm back now for the autumn and winter and have hit the ground running, managing to catch three awesome fish live for the Total Carp cameras! Getting the carp used to the bait certainly paid off and the tactics have continued to work. I'm excited to see how the rest of the year pans out and hopefully it won't be too long before I look down into the net to see Starburst – the last one I really want from the lake!