Quick Questions With... Rik Johnson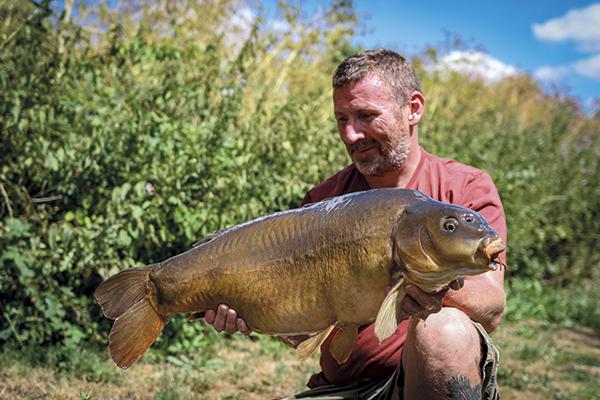 Prologic brand manager Rik 'Mr Consistent' Johnson spares a few minutes to undergo our rapid grilling.
Three words to describe yourself?
Busy, passionate, angler.
Who have been your biggest influences in carp fishing?
My dad, Rod Hutchinson, Bill Cottam.
Scariest moment on the bank?
I was fishing an estate lake up north and a big oak tree just a few metres away was split in half when it was struck by lightning. I sh#t my pants.
How long have you been carp fishing?
Since 1991, you can do the maths.
How did you start carp fishing?
By accidentally catching carp while barbel fishing on a river!
Other sporting interests?
Martial arts.
One day left to go fishing, where would you go?
I'd do a night on Cassien!
Worst fishing-related injury?
I once had a near 50lb grass carp give me 36 stitches to my left eyebrow. I ended up bear hugging it when it went mental and it must have headbutted me probably 15 times in just a few seconds!
Best three anglers you've ever fished with?
Penning, Hoggy (Mark Hogg) and my dad.
Your favourite moment in your carp angling career?
To see how my son fishes, how he is on the bank and his angling work ethic. Proud Dad!
Favourite capture?
As controversial as it is, the 30lb 8oz pike I caught recently on a lure from a river!
Three things you'd never go fishing without?
(Apart from rod/reel/line!) Pellets, hand-made hook baits and sadly, my phone.
Any regrets?
There's just never enough time.
What are your favourite bits about carping?
I love nature, being involved in it, it's a massive part of it for me.
Your least favourite bits?
Social media – people are so quick to criticise when they don't know the full story, and everyone goes fishing for their own reasons.
Who do you most admire in carp fishing?
I admire anyone who just going out and enjoys their fishing
Tell us a secret?
It's okay not to use boilies when carp fishing…
Tea or coffee?
Tea.
Favourite biscuit?
Chocolate Hobnob.
Favourite take-away?
Chinese.
Funniest moment on the bank?
Fishing with my son Tyler when he was 14. He'd caught one in the night and when he told me the expletives that came out of his mouth!
One fish you would have loved to have caught, past or present?
The Parrot from Wasing.