Quick Questions With... John Lam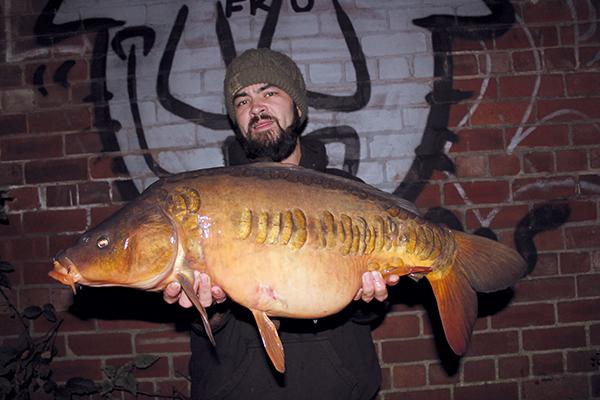 This time Urban Carp Collective's John Lam is answering the questions.
Three words to describe yourself?
Bish, bash, bosh.
Who have been your biggest influences in carp fishing?
Nick Smith, Marvin Wait, John Wilson.
How long have you been carp fishing?
Fifteen years but had different angling adventures in between.
Strangest place you've caught a carp?
An abandoned garden complex in Liverpool
What is the strangest bait you've ever used?
Haribo Egg.
Scariest moment on the bank?
Many a scary moment on the bank, the worst one I don't even think I can publish.
How did you start carp fishing?
Just evolved into it I would say from just general pleasure and match fishing really. Through the teenage years I suppose I got a bit fed up of watching the float as much.
Other sporting interests?
Football, boxing, darts, basketball, husky racing.
One day left to go fishing, where would you go?
Has to be Sefton Park, Liverpool.
Worst fishing-related injury?
Nice size 4 in the finger on the canal a few years ago. To be fair have been pretty lucky but was out of my depth when that happened. Good job Marvin Wait was about to come and sort it out, saving a trip to the hospital.
Best three anglers you've ever fished with?
Nick Smith, Marvin Wait and Laura.
Your favourite moment/capture in your carp angling career?
Has to be last year's success of managing to capture a solitary park lake mirror carp that evaded me for a good two years, topped off with an added bonus common.
Three things you'd never go fishing without (other than the obvious rod/reel/line/hook)?
Phone, mascot, charger.
If you could wind back the clock, what would you change?
I would change not having that argument with my mum in the car when I was doing my driving when I was 18. Got out the car and never got back in, but that's getting sorted.
Biggest character you have met through fishing?
Met many a character along the way – everyone's a character to me.
What are your favourite bits about carping?
I love the chase and the focus.
Your least favourite bits?
The judgement, the social-media slander.
Who do you most admire in carp fishing?
Grew up watching John Wilson – he certainly fuelled the fire so would have to say him. Unfortunately never got to meet the man himself but a true inspiration to myself and many others from my generation of anglers. RIP.
Tell us a secret?
I'm not a massive fan of balloons.
Tea or coffee?
Tea
Favourite biscuit?
Hobnob
Favourite take-away?
Has to be Chinese of course.
Funniest moment on the bank?
Waking up in my friend's bivvy when I slept on the floor – it rained and the groundsheet had a hole in, woke up in a puddle!
One fish you would have loved to have caught – past or present?
The Black Mirror.