Quick Questions with... Dave Ellyatt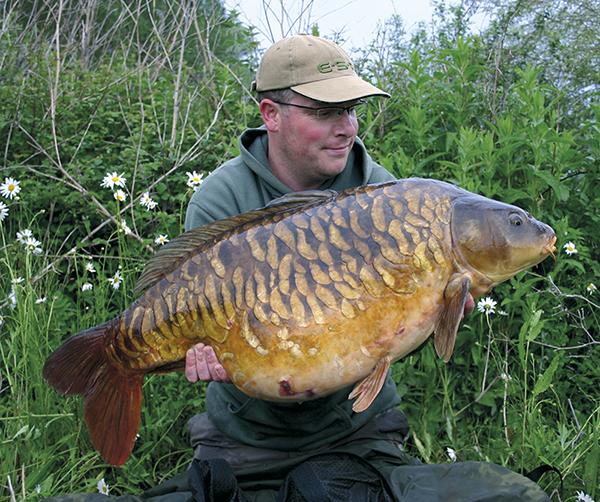 Three words to describe yourself?
Humorous, benign, thoughtful.
Who have been your biggest influences in carp fishing?
Not sure really, I guess there have been many – you tend to pick up lots of little things from lots of people as well as learning as you go, often subconsciously. Reading 'Casting At The Sun' by Chris Yates really caught my imagination when I was a kid. And then after that it would have been 'The Carp Strikes Back' and anything else I could glean on the subject.
Scariest moment on the bank?
There were a few unsettling moments at a park lake I fished several years ago. Nothing supernatural or threatening but just random weirdos wandering around at night. Maybe they thought I was the weirdo!
How long have you been carp fishing?
On and off since 1989 when I caught my first double. Through the early/mid 1990s I did a lot of barbel fishing on the Kennet but have fished pretty much exclusively for carp since the late 1990s.
How did you start carp fishing?
I caught my first carp while tench fishing in about 1985 but got the bug in 1989, fishing Newbury AA's Collins Lake, which had quite a tricky reputation at the time. It was all mismatched rods, Mitchell reels, cheap bite alarms and homemade trout pellet boilies. They worked though!
Other sporting interests?
Football and cricket.
One day left to go fishing, where would you go?
Where I'm fishing at the moment, I would want to get the job done!

Worst fishing related injury?
Probably a hangover.
Best three anglers you've ever worked with?
In terms of anglers I've fished with it would have to be Terry Hearn, Adam Penning and Jamie Cook. Terry because he is just so clinical it's scary, a very natural angler with a careful, logical approach to everything. I haven't fished with Adam for donkey's years but I think his success largely stemmed from an almost masochistic amount of effort while also having a great laugh along the way.
Most people reading this will never have heard of Jamie Cook. Any angler that has caught two different 3lb-plus river roach by design and then turns his attentions to carp fishing was always going to be dangerous. Jamie tended to empty the Reading pits he fished (before they were famous) in a rather short space of time doing little 10-hour overnighters while working in London, all the while never really appearing to try too hard. A complete natural.
Your favourite moment in your carp-angling career?
I'm hoping it's still to come if I catch the one I'm after, but it would have to be the Big Fully from a large Oxfordshire pit, after a day spent walking miles around the pit trying to find them, to eventually catching this fish right in the edge after clumsily spooking it an hour or so previously. It was the perfect early summer's evening, stood up to my waist playing this monster carp while looking down a vast expanse of deserted, wild gravel pit.
Three things you'd never go fishing without?
Bait, hooks, rods.
Any regrets?
Plenty! Anybody who goes through life without regretting a thing is either lying or deluded.
Biggest character you have met through fishing?
I've tended to avoid busy venues and have pretty much always fished alone, so not loads but I would say Kentish Stu, Terry Hearn and Nick Helleur are proper good old-fashioned characters.

What are your favourite bits about carping?
It was the mystery of carp fishing that first drew me to it. That was no doubt largely due to the romanticised writings of Chris Yates and although that element of the sport is rare these days, it's still very alluring. I like relatively quiet venues where I can pre-bait; I really enjoy this element, it makes the end result that much more satisfying when you know you have worked up to it and that groundwork has greatly influenced the outcome. It doesn't always work though! But all the failures make the few successes all the sweeter.

Your least favourite bits?
Otter predation. And people who think that to be a carp angler you have to have a list of sponsors. I think they're missing the point.
Who do you most admire in carp fishing?
A tricky question, probably a couple of the old-school legends, Jon Holt and Steve Allcott.
Tell us a secret?
Adam Penning's middle name is Heathcote!