Quick Questions With… Dave Robinson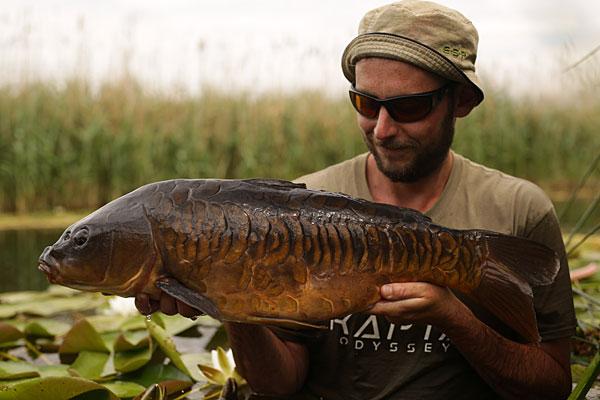 Cypography and rive carp maestro Dave Robinson is in the hotseat for these Quickfire Questions.
Three words to describe yourself?
Obsessed, opinionated and tall.
Who have been your biggest influences in carp fishing?
Steve Alcott and Greg Ellis.
Scariest moment on the bank?
The first and the last time the cameras followed me.
How long have you been carp fishing?
Flat out for 15 years, just not in the winter.
How did you start carp fishing?
My dad, he used to catch a few.
Other sporting interests?
There's other sports
One day left to go fishing, where would you go?
Down the river.
Worst fishing-related injury?
I sat on a bait needle in Cardiff and pinned my trousers to my leg.
Best three anglers you've ever worked with?
Simon Bater, Nigel Sharp, Tom Stokes.
Your favourite moment in your carp angling career?
When Elliott caught Big Orange – no ifs or buts.
Favourite capture?
It's impossible to pick one.
There are half a dozen captures where I experienced the same buzz. Three things you'd never go fishing without?
Backy, water and bacon.
Any regrets?
Ladywell.
Biggest character you have met through fishing?
Lewis Read.
What are your favourite bits about carping?
Feeding them.
Your least favourite bits?
People.
Who do you most admire in carp fishing?
Mike Bridger.
Tell us a secret?
Elliott caught his PB at night.
Tea or coffee?
Coffee.
Favourite biscuit?
Orange Club
Favourite take-away?
Indian.
Funniest moment on the bank?
When Elliott stood on a rusty nail.
One fish you would have loved to have caught – past or present?
The Black Mirror.