Quest for a day-ticket forty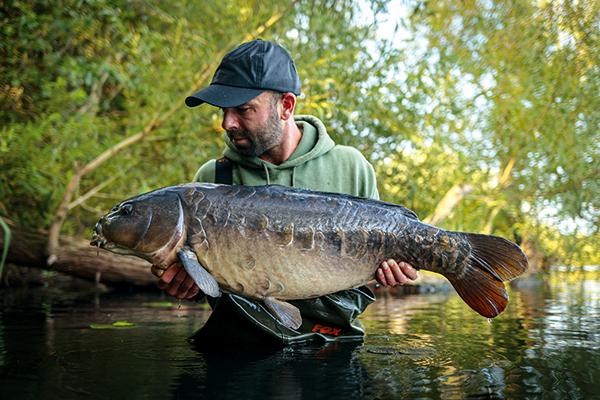 SESSION 53
After the success of the Junction 12 session and getting it in the bag nice and early, I was left with a spare couple of weeks in the month before I needed to get back out to go to our booking on Sandhurst. So rather than just wait, Matt and I planned another quick session in with the idea to stay a little more local and get a session in at Elsons on the Stanwick Lakes complex.
I've always wanted to fish Elsons in the warmer months, but for one reason or another I've ended up going elsewhere and only got round to the winter months. Being a relatively shallow lake it has good winter form, but I know it's also great for stalking and edge fishing – something I love to do!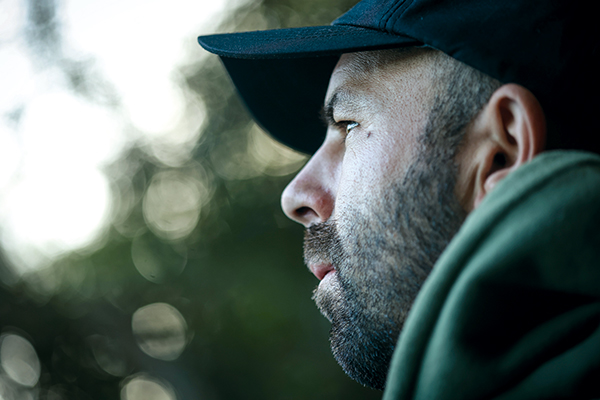 Matt had got to the lake a little before me and arriving after work I was going to be the last person on the lake, but with only half a dozen people booked on, I knew there would always be some reasonable swims to go for. Whenever I'd been to Elsons the water had been crystal clear, other than during the peak of flooding, and I was hoping for it to be the same again. However, on arrival it was clear the long hot summer had taken its toll and the water level was substantially lower and the water was pretty coloured with algae. This would make stalking hard work and it was clear that the marginal snags weren't going to be the place to fish.
I took a brief walk round before joining Matt to witness an angler landing a twenty. They had caught a few between then, fishing out in open water and it confirmed exactly what I thought.
Making our way back round to The Scrape, it was clear there were fish out in front, with subtle signs of fizzing here and there out in the open water, so I dropped my bucket and went to fetch the kit from the car. Matt was going to be down for the full time too, so he dropped into the first swim, leaving a swim's gap between us so as not to overly crowd the area when all the lines were out.
I'd had a few bites out of The Scrape before and knew that there were a couple of deeper holes in the silkweed where the fish had burrowed down to the solid lake bed. First with a bare lead, then with the marker float I located a couple of these out in the open water. I knew the rough area and found it after a few casts, but for some reason I never write these wraps down – I really should as it would save me a lot of effort in the long run! With the longer spot sorted, I also wanted to find something a little closer in and to the right where we'd seen some fizzing, but it just seemed like a vast expanse of blanket weed. Instead I decided to fish my third rod in the edge in a tiny swim to my left, a proper little stalking swim that I know has done some big fish in the past. However, I was unsure with the state of the water level whether it would be the right decision – I just had to give it a go and see.
I'd come with just one bait… boilies. I'd had a good run recently fishing with just boilies and I love the simplicity of it. Your head's not filled with such a variety of approaches and I really think it does make catching the fish easier when you get them eating just boilies. This is especially the case when fishing in the edge, where they seem to be particularly problematic when fishing over lots of smaller bits. Instead, just a few whole boilies can be enough to trip them up, so that was to be the plan of attack.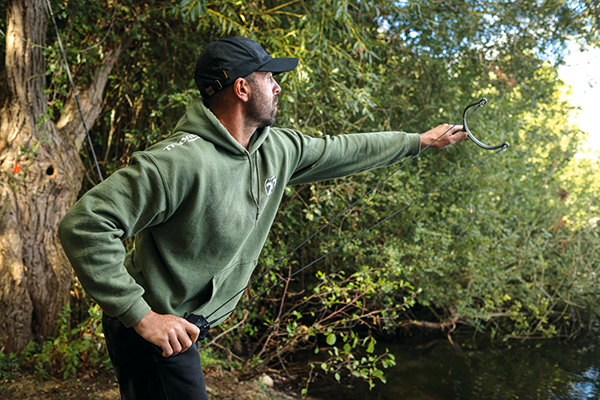 The margin rod would be fished on my faithful flipper rig with just a few freebies and then spinners out on the open water spot, fed with a few catapult loads over the top. It's about as simple as it gets!
That night went by pretty quietly in my swim, but in the early hours of the morning Matt caught a couple of doubles. He'd found a proper honey hole, bang on their patrol route, so it was no surprise that he got a couple of bites that morning as the fish travelled to and from the big snag bush.
The following morning things were pretty quiet out in front, but I wanted to sit on my hands for the morning period before winding in and going to look for an opportunity. There'd been a few fish using that big snag bush and the swim opposite Matt had plenty of shallow ground and you could even fish right up to the bush, so that looked likely to be the best option for a day-time bite.
As I thought, nothing came my way, so by mid-afternoon I was wound in and headed round to the first swim on the toilet bank for a look. Sure enough there were carp about and so I quickly broke up a few of the boilies and spread them around the swim in front. There was a large clear area just to the right, but to be honest most of the swim looked like it was just low lying silkweed. As such I headed back and changed over to helicopter rigs on two rods with the plan to flick a couple of rigs out over the bait for a few hours.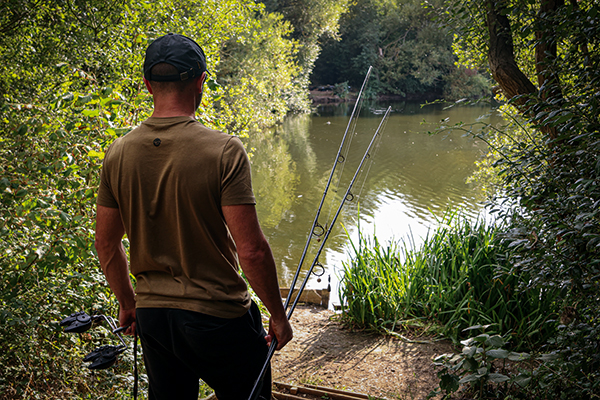 The carp were quick to get on the bait I'd broken up and thrown in and when I got back round to the swim with my rods there were a couple of carp tails up over the silkweed. I sprayed a few more chops out just to move them off, before flicking the baits where they'd been feeding with minimal disturbance. Everything was slackened right off and I sat back quietly. Thankfully the carp hung about and I soon had a couple of carp feeding in the swim.
A couple of tense hours passed when I heard Matt's alarms and looked across to see him bent into a carp. After a short while he landed it and let me know it was a good one too – a big scaly thing! I was simultaneously buzzing for him but also distraught that I hadn't had one yet, despite all the effort I'd put in. I felt like I was doing everything I could to get a bite, but just having zero luck. Then just as I was about to call it a day and head round, my alarm burst into life and I was finally in! As it happened it was a scraper twenty common, but it certainly took the pressure off a bit for now!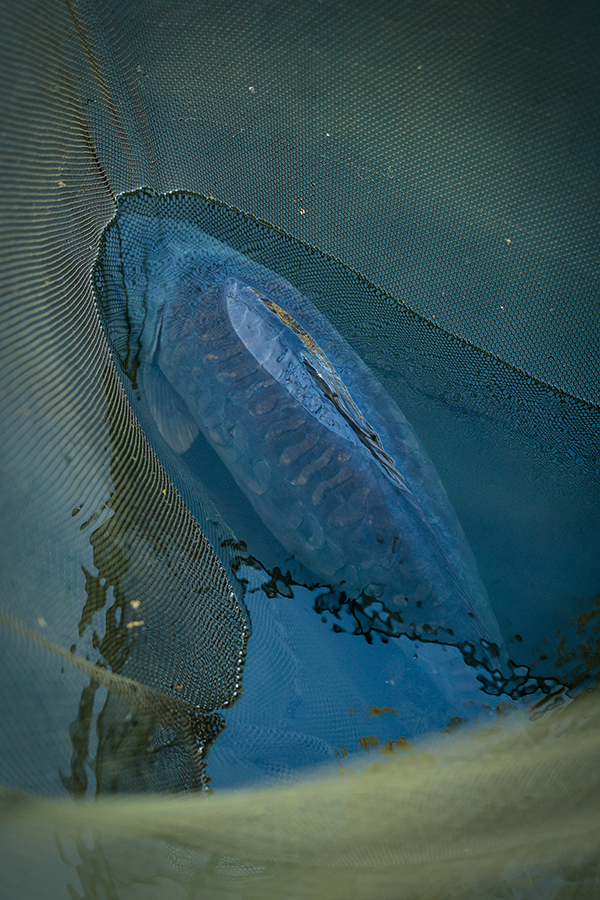 I headed back round to see the mega one Matt had, before going back to my swim for the night ahead. I decided to sack off the margin spot and find another spot out to the left of my main spot where I'd seen a bit of fizzing that morning. Sure enough I found a nice little hole in the weed and got my rods out for the night. I woke in the morning after a quiet night and Matt's spot had produced another bite. There were carp out in front of me, but for some reason I just couldn't seem to get a pick-up. Then the angler opposite had a take and as he lifted into it, the carp erupted on the surface. It just told me I needed to change things up, clearly they weren't getting down into those deeper holes just yet. Thinking back to a similar lake I'd fished years back, I remember having good success fishing little pop-ups in the shallow silkweed itself. So, with nothing to lose, I took the third rod, which was set on a helicopter, pushed the top bead right up and fired it out into the shallow water, followed by a spread of boilies over the top.
It couldn't have been out there long before the line pulled up tight and I was away! The fish charged around in the shallow water but something wasn't right and the line followed sluggishly, having picked up a big clump of silkweed. I continued playing it in, but it got to the point where I couldn't lift the silkweed, yet the carp was swimming around a couple of rod lengths behind it!
I called Matt down and thankfully he jumped in the waders and began clearing the huge clump of weed that had glued itself to the line. I gained a little bit of line, but soon clumps of silkweed were getting jammed in the eyes and all I could do was gently walk back as Matt carefully hand-lined the fish towards the net. There were a few hairy moments as the fish narrowly escaped netting, but eventually it went over the net cord – this one a much better common.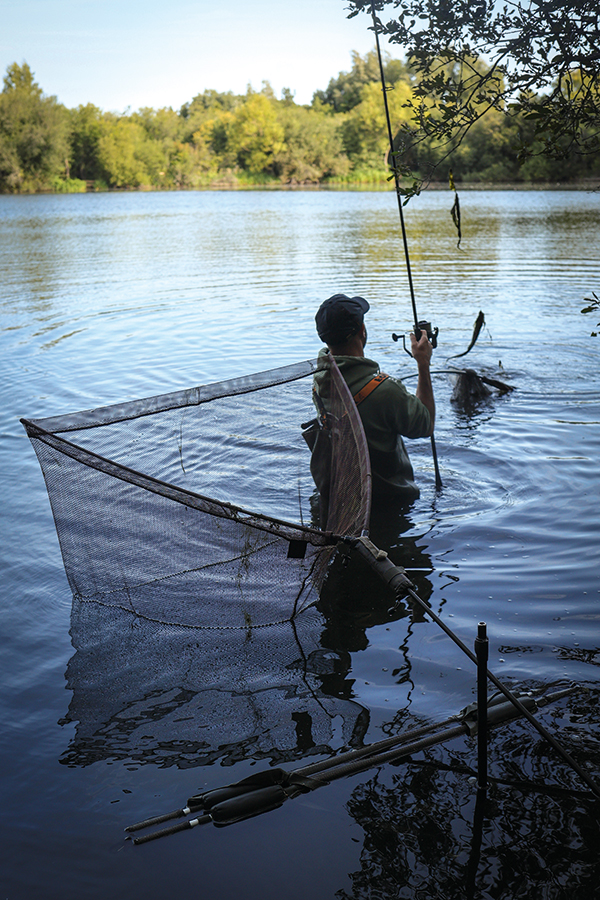 With that carp secured in the net, I just cut the whole lot off, stripped away the weed and retied the helicopter back on before getting it straight back out there. I had another rod on a heli too, so I promptly wound that one in too and whacked it out nearby, once again settling on top of the dense weed in shallow water. I fired out a big spread of boilies and then we set about getting the fish sorted.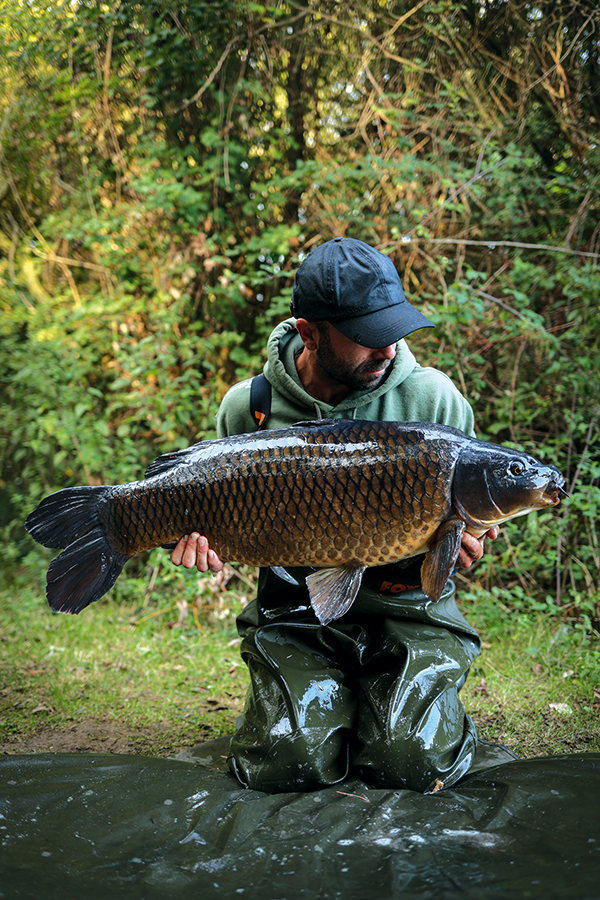 On the scales the common went just over 28lb, which I was more than happy with – a proper dark, long, lean common with a big rudder. We started getting a couple of shots, then the rod I'd just recast started screaming as I had another take! Matt quickly got the fish into the sling and back into the margins, while I did battle with another carp. This was another common, a proper battle-worn scarred-up 23-pounder with strange growths on its fins.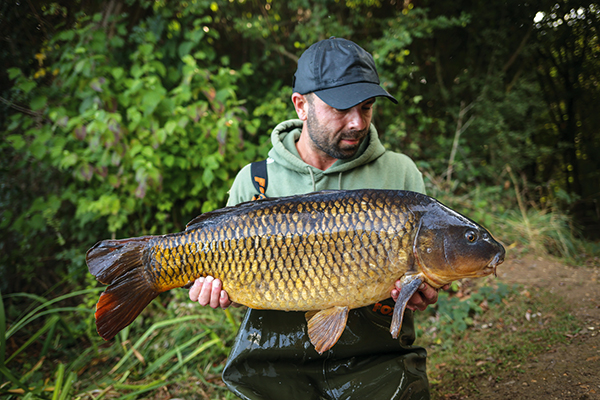 With the fish staked out in the net and the previous common in the retainer I got a fresh hook on and got it straight back out there with another 'pult full of boilies spread over the top.
I sparked the stove up to make a quick coffee and before the kettle had even brewed the bobbin whacked up tight and the rod lifted off the buzzer stripping line off – the rod was away again! I soon had it in the net and this time it was a cool looking mirror, a long, slate grey fish with linear scales interspersed along its flank. What a morning this had turned into!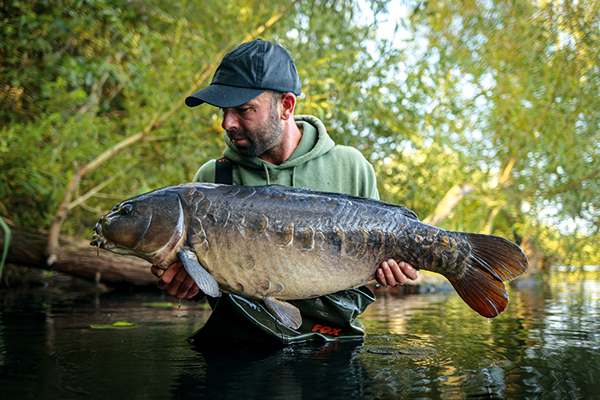 I sorted out the mirror first as it was quite a lively one and kept trying to escape. That one went just under 26lb, then it was time to get the shots of the smaller common. Finally we decided to get a few returners of the bigger common, but it was having none of it and went mental as soon as I tried to lift it, soaking me in the process. From really struggling to get a bite, I suddenly had three fish on the bounce before having to get wrapped up and packed away in double-quick time for the group booking who were just arriving – talk about skin of your teeth! It just goes to show though, both how important it is to keep working at your fishing during a session if things aren't working, but also to get the rod straight back out. I could have quite easily only had one fish that morning if I'd waited until after sorting the fish, but getting rods back out there kept the bites coming!