OUTLAW PRO | Krush Boilie Range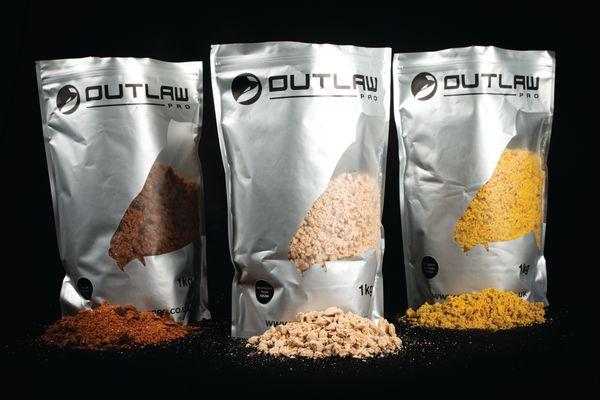 Crushed boilie has long since been recognised as an edge for anglers who choose to utilise it throughout the year, but even more so when the cold weather hits. A crushed bait is known to leak and emit attractors, flavours and nutritional food substances far quicker than a whole bait with a tough boiled skin.
Outlaw Pro recognises how essential crushed baits are for many an angler to have in their armoury to turn a tricky session into a fish fuelled frenzy. Companies have brought various tackle items to market to crush your own baits, but what's more convenient than having a shelf life variant ready to use at a drop of a hat, perfect for the opportunistic angler!
With six proven flavour profiles within the Krush Boilie varieties we are certain you will find a flavour to suit your existing boilie you choose to use, or one that will certainly begin to gain your confidence. For the fishy based bait fans among you, there is the Krilla Shelf Life and the Seafood Supreme, an attractive natural that is designed to mimic natural feed items in the water system, and there are also three fruity flavours that we cannot wait to look at in greater depth throughout the winter as, let's be honest, who doesn't like a nice fruity number at this time of the year? There is the Banoffee, Raspberry Rush and one of the most famous fruit combinations of all time, Plum & Mulberry to whet your appetite.
Matching the existing and fast growing popular boilie ranges available from Outlaw Pro, with the same high levels of valuable vitamins, minerals and essential nutritional contents the Krush variety is perfect to keep the fish grubbing around your swim for longer in search of your bait, while also being an absolute edge for prebaiting, offering instant attraction and actually being harder to hoover up than whole baits too.
Another added bonus of using Krush is enticing smaller fish species, increasing the competition activity within your swim. On waters that have a lot of waterfowl, we have also used crushed baits to ensure there is always bait on your swim, as ducks, moorhens and coots will often get fed up of diving down for crumbs, searching out whole baits instead, so this can be an invaluable addition to a spod mix, PVA bag or stick when you wish to boost attraction levels but without actually feeding the intended or indeed unwanted species too!
Each Krush bait comes supplied in either a 1 or 5kg bag, which is resealable to keep it in tiptop condition in between sessions or even throughout a long session, meaning you don't feel obliged to pile it in. The shelf-life nature of the bait means it can be used as little or as much as you see fit, and still keeps its goodness locked in, perfect for always keeping a bag in the car for a spontaneous trip or even a spot of prebaiting.
RRP: £8.90 TO £39.95
WEBSITE: www.outlawpro.co.uk