OUTLAW PRO | Krilla Range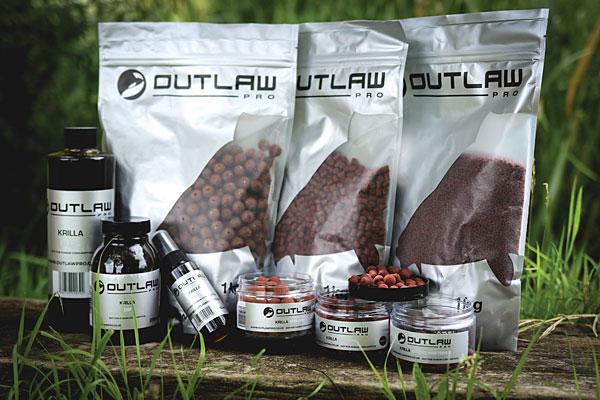 Quality fishmeal boilies have proved their worth for a number of decades, yet in more recent years there is no doubting that a krill-based bait will catch almost every carp that swims. Outlaw Pro is one such bait producer who created its very own krill boilies, but with a twist known as Krilla. This combines its own crustacean derived base mix with one of the very best flavours of all time in the form of Scopex, along with vanilla and a number of fish oils and milk proteins. The final result is an extremely attractive yet highly nutritional and soluble bait that carp will keep returning for time and time again. Once this bait is established on a water the consequence of such actions will result in aching arms and plenty of photos for the album!
Krilla is available in 12mm, 15mm, 18mm and 22mm and can be obtained in either 1kg or 5kg bags. The 1kg bags are great for whipping off the shelf and heading out for a shorter session while the 5kg will serve for a couple of days away. Packed in resealable bags, freshness is maintained and bait wastage will be non-existent. A 1kg bag of Krilla costs just £8.90 whereas a 5kg bag will set you back just £39.95, representing superb value for money. There are also bulk deals available offering significant discounts with the option to purchase 20kg, 50kg and 100kg of bait.
Supporting the food baits are a number of matching products including Outlaw Pro's Krilla Pop Ups and Wafters. Both are created with the very same liquid and powdered additives as used in the Shelf Life boilies and each offer perfect presentation on the lake bed depending on the angling scenario.
The Krilla Wafters are available in 12mm, 15mm and 18mm sizes and these carefully rolled matching hook baits will sink perfectly under the weight of a needle-sharp hook. The Krilla Pop Ups on the other hand will keep a hook upright for a number of days before needing to change the bait and are available in the same sizes as the wafters.
There are also two colour options to choose from, with the match the hatch in round or barrel shape as well as a pastel orange, which is sure to grab the attention of a passing carp and makes for a great single hook bait. Priced at £4.80 for each hook bait type these are an absolute must-have.
The Krilla range also boasts three matching liquids, each of which serves its own unique function. Outlaw Pro's Krilla Boost Spray is a highly effective PVA-friendly liquid supplied in a 50ml bottle, which enhances the attraction of hook baits tenfold without affecting buoyancy. For just £4.50 this bottle will last for a significant period of time, such is the potency of the spray.
The Krilla Dip, priced at £7.50, has been designed to pour over baits whether they be floaters, boilies or pellets and is extremely useful when dipping PVA bags prior to casting. For £8.50 the matching Krilla Glug supplied in a 500ml bottle has no limit of inclusion into spod mixes or when poured over boilies and this liquid is also PVA-friendly too.
The Krilla pellets are a fine addition to the range and are a versatile bait that comes in 2mm or 6mm sizes. Their application options are endless whether that be used in a spod mix, PVA bags or use for baiting in the edge when stalking. Much like the boilies the pellets can be purchased in 1kg or 5kg resealable bags and are priced very reasonably at £3.50 and £16.50 respectively.
RRP: £VARIOUS
WEBSITE: www.outlawpro.co.uk